Billing itself as an "artisanal Mexican kitchen," Qdoba has grown to more than 500 units and secured its position as a major force in the fast-casual restaurant segment.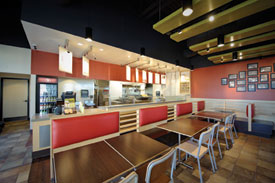 Consistently adding upwards of 50 units a year,
Qdoba
has wrapped up a formula for success that relies on a core menu of burrito, quesadilla and taco fixings prepared fresh in-store — including slow-roasting its pork and hand-shredding its beef — and sales- and traffic-building limited time offers, such as Mini Street Tacos and Summer Fresh Mango Salad.
While LTOs keep things interesting, the chain's best strategic innovation of late is its Craft 2™ menu option, launched in January 2010. "It allows guests to mix and match two of our most popular items in one entrée for an average price of $5.99," says Ted Stoner, director of strategic product development. "It lets them try different things in smaller portions or balance a smaller portion of a heavier item with a salad. When the economy was so soft we really had to look hard at how we could entice loyal guests to come back in more often and also to attract new guests. This was a huge success on both fronts and it continues to represent a nice percentage of sales."
In line with a recent drive to promote its more healthful menu options, Qdoba even offers customers suggestions on Craft 2™ menu combinations that come in at less than 600 calories.
Fast Facts
Year founded: 1995
Headquarters: Wheat Ridge, Colo.
Menu specialties: Fresh Mexican cuisine that is handcrafted and prepared on an open grill
Service model: Fast-casual, take-out
Ownership: Qdoba is a wholly owned subsidiary of Jack in the Box, Inc.
Units: 500 in 42 states (60 percent franchised)
2010 sales: $480,794,000
2010 growth: Sales increased 11 percent, number of units grew by 3 percent
Projected 2011 growth: 60 to 70 new locations
Typical location: High-profile end cap and inline locations
Average unit size: Approximately 2,400 sq. ft.
Average kitchen space: Approximately 800 sq. ft.
Average check: $9.88 (FY 2010)
Total unit cost: $633,000
Key Players
Chief Executive Officer: Gary Beisler
Chief Operating Officer: Richard Pugh
Chief Marketing Officer: Karen Guido
Vice President of Franchise Development: Todd Owen
Vice President of Real Estate Development: Peder Kruger
Director of Strategic Product Development: Ted Stoner