One of the challenges any restaurant chain faces is fighting for locations. Dallas-based Pizza Patrón has found that creating a variety of business models not only generates site opportunities, but also increases profit potential.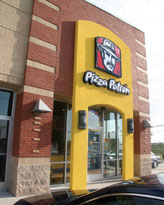 Pizza Patrón is a 100-site chain that targets first generation Hispanics. Since it started franchising eight years ago, the chain has grown from four Texas stores to 100 locations in seven states. The standard store is a carryout pizza format geared for in-line, community-based shopping centers.
It wasn't until March 2004 that the chain's first Rapidito prototype debuted at Dallas/Ft. Worth International Airport. This concept, which is only 500 to 700 sq. ft. in size, required the development of a completely different menu. "Those sales are geared toward individual purchases, such as personal-size pizzas and fountain drinks," says Andrew Gamm, Pizza Patrón's brand director.
Dine-in locations were added to the portfolio in May 2005 and now number 12 sites. "When we began looking for locations in smaller towns, we found the real estate was larger and the rents were cheaper, so we had an opportunity to become more of a destination for families," Gamm says.
To take the convenience factor up a notch, the first drive-thru Pizza Patrón opened in Grand Prairie, Texas, in May 2006. This was made possible by a joint venture with a conveyor oven manufacturer, which developed a custom attachment. "This cut our bake time from five-and-a-half to three minutes," Gamm says.
When Pizza Patrón created its first Quick Service Pizza (QSP) model in August 2008, it was the chain's first free-standing site. "With this concept, we get more community exposure and higher traffic patterns," Gamm says. "The brand awareness also is amped up with these models." As a result, the four QSP's are experiencing double the sales volume of its in-line sites.
Just a month after the first QSP debuted, Pizza Patrón opened its first concessions operation at Dallas' American Airlines Center. The success of this site garnered five more stands at the arena.
"We're very aggressive in finding as many opportunities as possible to get our brand out there and let people know who we are," Gamm says.
Fast Facts
Year founded: 1986
Headquarters: Dallas
Menu specialties: Chorizo topping, La Patrona pizza, La Mexicana pizza, La Hawaiana pizza, Lime-n-Pepper wings, Dulce de Leche filled Churros
Service model: QSR
Units: 100
2010 sales: $39.2 million
2010 growth: Sales increased 5 percent and the number of units increased by 5
Projected 2011 growth: Revenues expected to increase $2 million and the company plans to add 10 new units
Key expansion markets: Southern California, Chicago, Atlanta, North Carolina, Florida, New York, Texas
Typical location: Carryout restaurant in an inline strip center
Average unit size: 1,200 sq. ft.
Average kitchen space: 1,040 sq. ft.
Average covers per day: 102
Average check: $12.50
Total equipment investment per unit: $63,000–$74,000
Total unit cost: $199,000–$273,000
Key Players
President: Guillermo Estrada
Project Development Manager: Rikk Grant
Brand Director: Andrew Gamm
Operations Director: Ernesto Hernandez
Smallwares & Equipment: Next Day Gourmet
Food Distributor: Performance