While the majority of the foodservice industry took its lumps during the U.S. recession, the fast-casual segment remained resilient. In fact, the segment enjoyed a 4.5 percent increase in sales in 2009, according to Technomic, a Chicago-based market research firm. While the segment did benefit from consumers trading down, its success was also due to operators' willingness to continue to develop their menu mix to meet consumers' ever-evolving tastes. Take, for example, Camille's Sidewalk Café.
Founded in 1996, Camille's Sidewalk Café operates 86 locations throughout the United States. Along with such restaurant chains as St. Louis Bread Co., Camille's Sidewalk Café was among the first restaurant concepts to adopt the fast-casual style of service. "Everyone claims to be fast casual but we are one of the originators," said David Rutkauskas, founder and chief operating officer of Beautiful Brands International, the multi-concept operator that owns Camille's. Other restaurant concepts in the Beautiful Brands portfolio include Fresh Berry, Rex's Chicken, In the Raw Sushi, Dixie Cream Donut Company, Greenz, Blazing Onion Burger Company, Caz's Chowhouse and Top That Pizza.
"We like where we are today and feel we weathered the storm better than most," said Rutkauskas, adding that the restaurant chain has seen an uptick in business since the second quarter of 2010. "Our stores are being built smaller and we've adjusted the menu."
Camille's Sidewalk Café locations range from 1,500 to 2,500 square feet and lunch tends to be its busiest daypart. The core menu at Camille's Sidewalk Café consists of mainly salads, sandwiches and soups. Some of Camille's trademark menu items include its Creamy Tuscan Tomato Soup, tuna salad, chicken salad and chicken chili. Also a hit with customers is Camille's salsa, which the chain pairs with its tri-colored tortilla chips to serve as a side dish for all of its sandwiches. "At the end of the day, it is a sandwich shop. That's the main driver of the brand but we do have a little something for everyone," Rutkauskas said.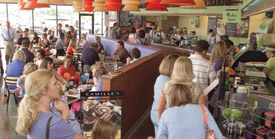 With the exception of the soups, which are made to specification offsite, all of the menu items are prepared onsite and made to order. "Our commitment is to make everything fresh, wholesome, healthy and delicious," said Rutkauskas, adding that on-the-go moms remain the chain's target demographic. "We targeted them from the beginning and they have stuck with us.
"We are the type of organization that is always looking at ourselves in order to improve. We don't worry about the competition." It was with this spirit in mind that Camille's decided to remake the pizza portion of its menu earlier this year.
"The flatbread pizzas were working fine and they were probably 6 percent of our product mix," Rutkauskas said. "We felt like we were capturing some of the pizza market but thought we could capture more. Plus, at this point, our soups are doing so well that we did not want to mess with something that is such a big part of our revenue stream."
To help research the enhanced pizza offering, Camille Rutkauskas, the concept's co-founder and the person for whom the concept is named, headed to New York City to research new menu options. "The fact that there is a real person behind it really helps make it even more special," David Rutkauskas said.
Camille, who is also David's wife, returned with a New York City-style water crust that the chain could properly cook using its conveyor oven. And then Camille's set out to retire its previous pizza offerings. "We looked at prep time and the labor model to make sure we can elevate the product without increasing our costs and that's what we were able to do," David Rutkauskas said. "In any business, when you are able to do that, it is a huge success."
In addition, Camille's makes limited time offers available to customers on a quarterly basis. When evaluating which LTOs to move forward with, the staff at Camille's takes a series of steps similar to the ones they used for the pizza enhancement to implement the temporary menu item. The team at Camille's then uses a mix of revenue generated and feedback from various sources to decide whether to keep the item on the menu long term. "You can have an LTO that you feel will be a success at the corporate level and it will perform well on the store level, but we find our core customers find what they want and stick with it," David Rutkauskas said.