The commercial foodservice equipment parts landscape is adding another player in the form of Marcone.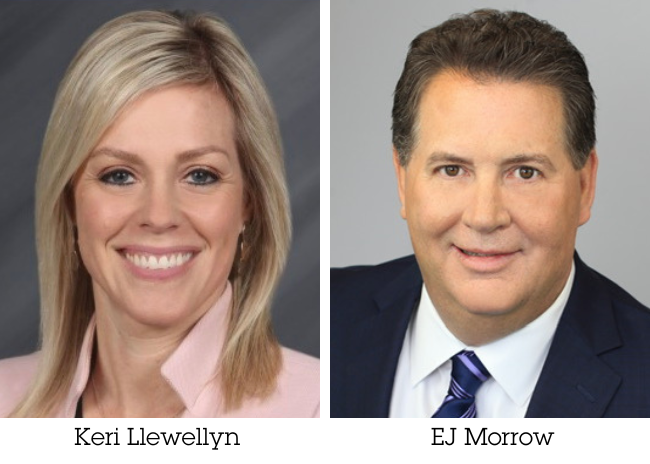 The North American distributor of home appliance, HVAC and plumbing repair parts and equipment, has added commercial kitchen equipment parts to its portfolio. To lead Marcone's efforts in this area, the company tapped two foodservice equipment industry veterans: Keri Llewellyn will serve as president and EJ Morrow as chief commercial officer of the newly created Marcone Commercial Kitchen Group.
Llewellyn most recently served as group vice president and chief commercial officer for Welbilt, a multiline foodservice equipment manufacturer that was acquired by Ali Group earlier this year. Her background also includes working with TriMark USA, a Massachusetts-based foodservice equipment and supplies dealer with offices throughout the country. While at TriMark, Llewellyn held a variety of senior leadership roles, including vice president of operations for the dealer's Orange County, Calif., segment.
Morrow's background includes working in leadership roles with a variety of foodservice equipment manufacturers, such as Lancer, Standex Cooking Solutions Group and Unified Brands. His foodservice equipment industry background also includes working with QualServ. "We are excited to have EJ on our team," Llewellyn adds. "He brings an extensive knowledge of the industry's value chain including the needs of manufacturers, dealers, service agents, and most importantly, the end users."
Marcone has chosen to enter commercial kitchen parts distribution during a pretty dynamic time as the foodservice industry continues to deal with ongoing challenges in the form of supply chain issues, inflation, labor shortages and more. Further adding to the challenging dynamic is the fact that commercial kitchen parts distribution features a handful of very established players, such as Parts Town.
While acknowledging these market conditions, Llewellyn remains enthusiastic about Marcone's latest endeavor. "For Marcone, this is something the company has researched well and it's a vertical integration they have wanted to bring on for some time," she says. "There is a want in the market for diversification in commercial kitchen parts distribution. There was plenty of research on the part of Marcone as to whether there would be interest in and willingness to partner with the company and the answer was a resounding yes. There's room in this market for multiple players."
While commercial kitchen equipment may be a new vertical segment for Marcone, the company is not exactly starting from scratch. Headquartered in St. Louis, Marcone operates 113 facilities, has approximately 2,000 employees, and serves more than 60,000 professional customers, per a company release. The Marcone Commercial Kitchen Group will leverage the company's existing sizeable infrastructure, which includes 14 distribution centers and its e-commerce platform, per Llewellyn. "We want to parlay the company's previous success in other segments into success in commercial kitchen parts distribution," she says.
Llewellyn also acknowledges there is work to be done as Marcone gets up and running in this segment. "Certainly, there are relationships to be built in the service segment," she says. "Those relationships are what's going to make this successful."
She reports to Avichal Jain, who serves as Marcone's chief operating officer and points to his "strong relationships on the commercial side" playing an important role in the development of Commercial Kitchen Group. Llewellyn's own experience should blend nicely with Jain's. "By having such a strong knowledge about how the channel operates from servicers to dealers to chain restaurants, I understand what they need in terms of service, follow up and more. So, knowing how the channels operate and integrate will be critical in growing this business," she says.
In terms of its product offering, the Marcone Commercial Kitchen Group will focus on distributing OEM (original equipment manufacturer) parts. "We are an OEM player on the residential side and want to stay in that lane in the commercial kitchen equipment side," Llewellyn says. "We want to partner with manufacturers by seeing what gaps they have and where we can bridge them. And we are excited to work with the service network, too. These are entrepreneurial companies. Family businesses. Thriving businesses. They are looking for options for parts fulfillment, timely communication, partnership and next level ways to grow their businesses. We want to be a strong partner for them."