The National Association of College & University Food Services recognized a quartet of foodservice professionals for their contributions to the organization and the industry.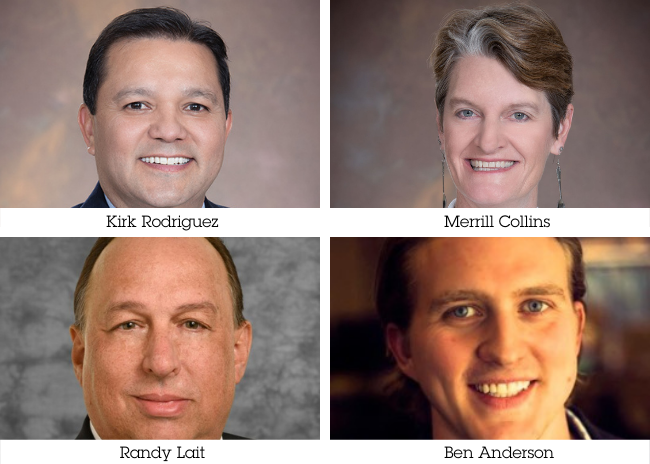 Notably, NACUFS presented The Theodore W. Minah Distinguished Service Award to Dawn Aubrey, Compass Group, working on the campus of the University of Minnesota-Twin Cities. This award serves as "recognition of an individual's exemplary and enduring contributions to the association and the collegiate foodservice industry," per a NACUFS release.
Aubrey has more than 30 years of experience overseeing multi-million dollar higher education programs and departments in contract-managed and self-operated institutions. For the past 25 years, she has been an active NACUFS member serving in various leadership positions, including the regional membership chair (2020, 2021), co-chair of the NACUFS Collegiate Dining Body of Knowledge Task Force (2018, 2019), co-facilitated the Foodservice Directors Symposium (2020, 2022), and serving as the president of the Association (2016). After her presidency, Aubrey served on the nominating committee (2017), executive committee (2017), and the Board of Trustees (2017). She was previously honored by NACUFS with the Richard Lichtenfelt Award (2017).
Other notable NACUFS awards include:
The Richard Lichtenfelt Award: Selected by the association's president, this award honors individuals who have provided contributions to NACUFS at the national level. The 2022 Richard Lichtenfelt Award recipients are Kirk Rodriguez, managing director, hospitality services, Texas Tech University, and Merrill Collins, director of auxiliary operations, Connecticut College.
The David R. Prentkowski Distinguished Lifetime Member Award: Nominated by peers and colleagues, this award honors an individual who has retired from a college and university foodservice leadership position or other position that supported the betterment of college and university foodservices. The 2022 David R. Prentkowski Distinguished Lifetime Member Award recipient is Randy Lait, co-founder and director of Menu Analytics, LLC.
The Daryl Van Hook Industry Award: Nominated by peers and colleagues, this award honors an industry member who has provided educational support, product innovation, and outstanding service to the association. The 2022 Daryl Van Hook Industry Award recipient is Ben Anderson, director of business development, Grubhub Campus.