Amundsen Commercial Kitchens, an Oklahoma-based foodservice equipment and supplies dealer, has moved into a new headquarters. This is the company's 4th move in its 81-year history.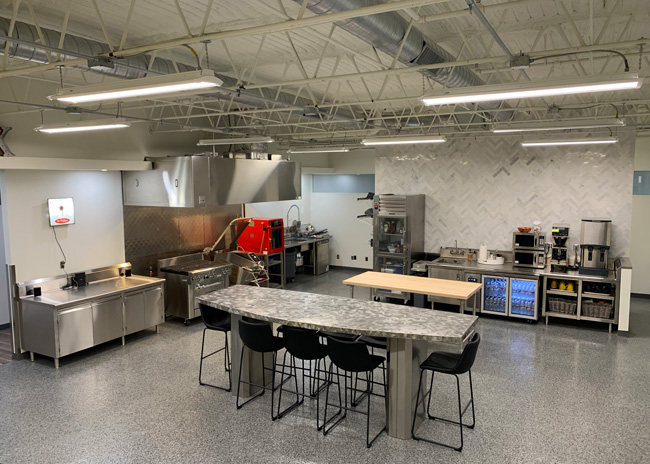 Amundsen Commercial Kitchens' new location features a combination test kitchen and break room.The new facility at 3805 NW 36th Street in Oklahoma City has a 12,000 square foot showroom, 20 offices, a test kitchen, 35,000 square feet of warehouse space and a covered outdoor storage area. "We did not want to move locations – we had to move," says Cary Amundsen of the dealer's new Oklahoma City location. "Our new facility checks all the boxes, more warehouse space, bigger showroom, better office space, better location and much better parking."
Indeed, continued company growth, in terms of revenue and scope of work, contributed to the need for a new space. Some of Amundsen's recently completed projects include the Texas Rangers new baseball stadium, the Omni Hotel in Oklahoma City and the renovation of the Tampa Bay Buccaneers stadium. "These larger projects require more warehouse and storage space to operate," says Tom Nash, president of Amundsen. In 2019, Amundsen reported annual revenues of $40.28 million, an increase of more than $7 million. This growth moved Amundsen up eight spots on FE&S' 2020 Distribution Giants list, which ranks the top foodservice equipment and supplies dealers by sales volume.
Of course, making such a move during a pandemic can complicate matters. Still, the Amundsen team found a way to keep things festive while keeping people safe. The grand opening featured an all-day remote radio broadcast from a local radio station two area food trucks served lunch outdoors. "We debated on whether to have a grand opening celebration in this age of COVID-19 and in the end, we decided to have it but with COVID-19 protocols in place," Amundsen says.