The coronavirus crisis continued to evolve over the weekend forcing municipalities to take dramatic steps and various operators to adapt their approach to serving customers.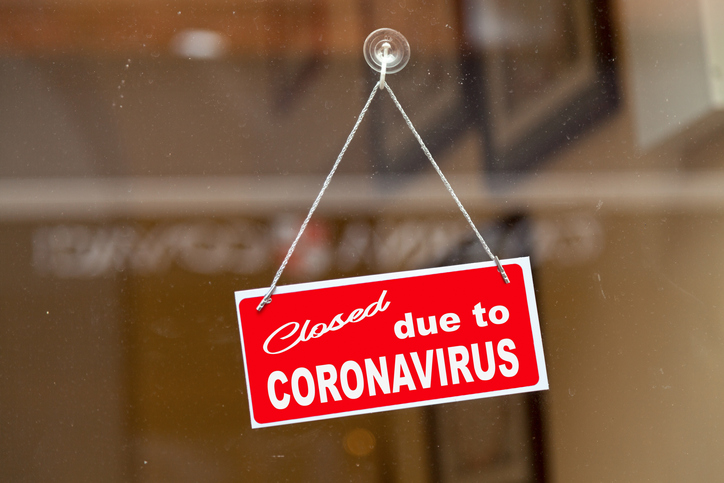 In Illinois, for example, Governor JB Pritzker closed all bars and restaurants to dining on late Sunday afternoon. Restaurants will be able to provide drive-thru, curbside and delivery service. This came a day after St. Patrick's revelers ignored pleas for social distancing by flocking to many of Chicago's restaurants and bars. Similar restrictions were implemented in Ohio and other states.
Last week, Starbucks CEO Ken Johnson said the company may temporarily change its service model to allow only digital ordering to protect consumers and crew members. On Sunday, Just Salad did exactly that. The fast-casual chain will temporarily suspend in-store dining and shift to 100% digital ordering effective the close of business on March 16.
As part of this augmented approach, Just Salad's New York City, New Jersey, Philadelphia and Chicago locations will provide pickup orders at the front door, with a 15-minute-or-your-money-back guarantee. All on-premises dining and ordering at these locations will be suspended until further notice. Just Salad will waive all delivery fees on orders placed via its app or the website. The chain will also accept phone orders.
Just Salad will also use tamper-proof packaging as it provides contactless delivery. The latter involves couriers leaving deliveries on a customer's doorstep or other chosen delivery location; the couriers will be calling all customers to confirm their delivery drop-off location. This approach should minimize contact between customers, staff and delivery personnel. Customers placing pickup orders will be greeted and served at the front door by a Just Salad team member.
"In light of recent events, and for the safety of our team members and valued customers, we have decided that the best and most efficient way to serve food right now is through pickup and delivery orders," said Nick Kenner, Just Salad CEO and founder. "This change will support the social distancing guidelines issued by government officials and allow us to provide the highest level of service."
Just Salad will also expand its delivery zones in New York City, Chicago and Philadelphia. Just Salad's menu will also be available via a variety of third-party delivery platforms such as Grubhub. By temporarily removing in-store dining and ordering, the company will be able to expand its capacity to fulfill digital orders. "By focusing solely on digital orders, our team can execute at an even higher level and is well-suited to handle the increased demand we expect from customers who are working from home," Kenner said.
The company's locations in North Carolina and Florida will remain open to in-store ordering for the time being but are prepared to shift to digital if needed.
"More than 1,000 employees and families depend on Just Salad as an employer," Kenner said. "As we see more orders come in through our digital channels, these measures will help minimize impacts to their work schedules and maximize their safety. We are also providing an additional free meal to employees and their families, should their work schedules become impacted by the COVID-19 situation."
Late Friday afternoon, Danny Meyer's Union Square Hospitality Group temporarily closed its restaurants. In an announcement posted on the Union Square website Meyer said, "Of course, we SO wish we could do business as usual, keeping all of our people working and offering the comfort of our cooking and hospitality to our guests. But it's unequivocally necessary and responsible that we do our part to keep everyone safe. For those of us who find purpose and passion in bringing people together, we must confront the reality that togetherness may be a threat to the health and safety of our community at this time."
And it did not take other restaurant chains long to follow suit. Pacini, a 33-unit Canadian restaurant chain with an Italian-themed menu, will close all of its locations for 14 days also starting on March 16. "Very large companies, such as Apple and Nike, have already closed all their stores, no matter what it costs," says Pierre Marc Tremblay, owner of the chain. "We applaud their sense of responsibility and their courage, and we put our shoulder to the wheel," adds Nathalie Lehoux, president of Pacini.
Like so many other foodservice operators facing similarly difficult decisions amid possibly declining customer traffic, Meyer added that Union Square Hospitality is looking for the appropriate ways to support staff.
Just about every foodservice operator that continues to serve customers keeps doubling down on food safety efforts. Take, for example, multiconcept operator Yum! Brands, which owns KFC, Pizza Hut and Taco Bell. In a statement, CEO David Gibbs notes the chains continue to increase the frequency of cleaning and sanitizing throughout the restaurants; focusing on sanitizing high-touch areas such as front counters, pin pads, tables, trays, etc.; reinforcing the company's sanitation, handwashing, and health and wellness policies for employees; making hand sanitizer always available in the restaurants for team members and customers, and creating feedback channels for restaurant teams and franchise partners to help quickly answer questions and provide any necessary guidance to the restaurants.
Yum! Brands anticipates delivery will be critical in its attempt to serve customers as this dynamic crisis plays out. "In addition, our brands are working with delivery partners around the globe to prepare for an increase in demand for online ordering and delivery services," Gibbs said.
Like countless other operators, these concepts will continue to monitor the health of their associates. Most chains have pretty explicit procedures pertaining to emplpoyees reporting to work while ill. With COVID-19, though, the stakes are even higher. "Should one of our restaurant team members become directly exposed to or diagnosed with a confirmed case of COVID-19, the affected employees will be required to self-quarantine," Gibbs said. "We'll work with local health authorities, thoroughly clean and sanitize the restaurant, and if an employee is confirmed, close the restaurant until it is safe to reopen. We're working closely with our franchisees around the world to reinforce this strict policy."
Because our people are the heart of our organization, and we understand the impact these actions can have, at our company-owned restaurants, we'll be paying employees who are required to self-quarantine, or who work at a restaurant that is closed, for their scheduled or regularly scheduled hours. We're also encouraging our franchise partners to take a similar people-first approach.
The changes due to COVID-19 will extend beyond the store level for most chains, Yum! Brands, included. "At our corporate offices and restaurant support centers, we've directed employees to postpone all nonessential business travel (and we've prohibited travel to highly affected countries) while we continue to assess developments both abroad and in the U.S. Based on the dynamic nature of COVID-19, our global RSC offices also have plans in place so employees can work remotely as needed," Gibbs added. "As the world's largest restaurant company, our customers span ages, backgrounds and borders, and we remain committed to serving them in a way that protects their health and safety. Times like these are a reminder that we are all globally connected and each have a role to play in helping others."