Samantha Slocum joins editorial team, creating original content for Zoomba Group's digital and social media platforms.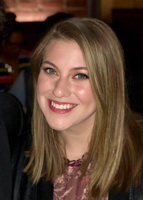 Samantha SlocumSamantha Slocum has been named digital media editor at Zoomba Group, publisher of Foodservice Equipment & Supplies (FE&S) and restaurant development + design (rd+d).
In this newly created position, Slocum will curate content for all of Zoomba Group's social media platforms, develop and edit content for the various email newsletters and enhance the reader experience online through categorization and search engine optimization. She will report to FE&S' editorial director, Joe Carbonara, and editor in chief of rd+d, Rebecca Kilbreath.
"Zoomba Group's mission is — and always has been — to create original content for the foodservice equipment and restaurant design industries," says Maureen Slocum, publisher and CEO of Zoomba Group. "Samantha will be a valuable asset to an incredible award-winning editorial staff. We're making ongoing investments in our digital products and Samantha's experience in generating engaging content in the digital space will help Zoomba Group grow and further our position as an industry leader."
Prior to joining Zoomba Group, Samantha worked at Lombard, Ill.-based manufacturer's rep group Mirkovich & Associates where she spearheaded the redevelopment of its website and launched the company's social media presence. At the same time, she managed the BauscherHepp showroom — partners of Mirkovich & Associates — located in Chicago. She has a degree in corporate communications from Dominican University.