No matter the foodservice operation, it's a sure bet that the grill station serves as heart of the kitchen. More often than not, this area encompasses the culinary team using charbroilers and flattop griddles in tandem to prepare a majority of menu items.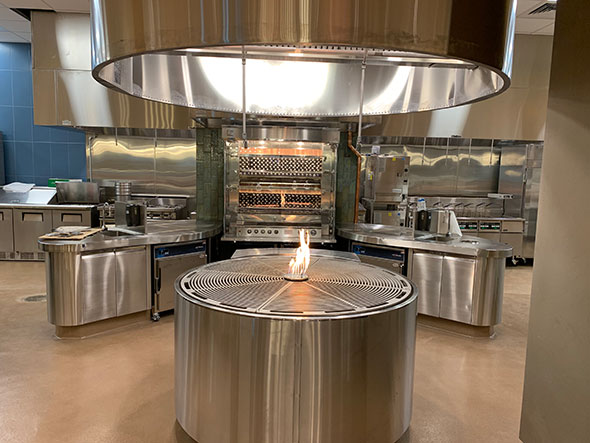 With RJS & Associates' Foxwoods Rainmaker Buffet project, the circular grill is front and center, flanked by other cooking equipment.
Grills provide results that other equipment cannot duplicate. "There are those who like to use charbroilers, as they can't get the same outcome in a combi oven," says Kris Morphis, president of Foodesign, Charlotte, N.C.
Whether located in the back or front of the house, a grill station allows staff to execute various menu items for the breakfast, lunch and dinner dayparts. "This cook station is charged with preparing eggs, French toast and pancakes in the morning and BLT sandwiches, burgers, chicken patties and multiple menu items for lunch and dinner," says Ray Soucie, senior project manager, Webb Foodservice Design, Portland, Ore.
In terms of design, the grill station's size hinges on the concept and menu. While a pancake house requires a larger grill station with flattops for higher-volume cooking, a steakhouse may require a charbroiler or clamshell, depending on the desired outcome.
"Charbroilers have their own place in kitchen design, since these produce a different flavor profile," says Soucie. "Operators can incorporate grill stations with grooved griddles that mark the meat if they don't want to invest in a charboiler. This accomplishes the same product appearance as a charbroiler."
As for function, a flat griddle is generally more versatile than a charbroiler; it allows saute pan use and can even function as a bain marie when used with food pans filled with hot liquids.
Ensuring Good Functionality
Like most equipment, the menu dictates grill station design, which impacts the proper type and size. These may include charbroilers, flattops with or without grooved tops, wood-burning grills and clamshells with top heat that cook both sides simultaneously. Sizes range from 12 inches to 72 inches in length, with depths averaging 24 inches to 36 inches. A kitchen putting down 20 burgers or chicken breasts at once requires more firepower than a small restaurant cooking to order.
Operators must also factor in recovery time when designing a grill station, as cold or frozen product immediately lowers the griddle surface temperature. This may necessitate a larger cooking surface that can handle the volume. Available utility hookups represent another design consideration, as grills and griddles come in electric and gas versions.
Recent innovations have provided added flexibility with these sections. For example, griddles with separate temperatures on different sections can produce a variety of products simultaneously. Operators can consolidate these stations to serve a smaller footprint. "A third of the griddle can handle fast grilling at high temperatures, like for onions, while another section that's at a lower temperature can hold product or toast buns," says Dan Bendall, principal, FoodStrategy Inc., Rockville, Md.
Also, newer, round cast iron griddles with self-contained ventless stations are geared for spaces without kitchen exhaust systems. "Now there are ventless grill stations that don't require venting to the outside," says Soucie. "This uses electric power and requires a built-in fire protection system, which is a different solution to the venting problem."
Otherwise, designs must take traditional ventilation into account and allot the necessary space either above or below. "Typically, griddles have to be protected by a Type 1 grease filtration exhaust system," says Soucie. "This captures grease in the hood above, or some systems utilize a multistage carbon filter hoodless system that sucks grease down into a lower cabinet."
Equipment Neighbors
Because of the intense heat omitted, a grill station's proximity to other cooking equipment is a key design consideration. For example, charbroilers and grills with open flames cannot be directly adjacent to fryers, as this increases the risk of grease fires.
"As a station within the cooking lineup, grilling equipment should be in good proximity to the saute and fry stations as well as the ovens and steam kettle areas," says Bendall. Placing the stations in this manner ensures flexibility, versatility and efficiency.
It's also common to place salamanders next to grill stations. This equipment provides quick access to top browning of food items. "For those with saute and grill stations, this provides quick cheese-melting capabilities," says Soucie. "When we lay out a kitchen, it's all based on flow, with cold storage, cold prep, hot cooking and hot prep."
For this foodservice project in Canton, Mass., RJS & Associates brought a food hall look into a corporate office setting. Here, the grill station is front and center and includes a rotisserie. Support equipment is behind the scenes.
For a seamless flow, the grill typically sits closest to the pickup line area. This allows waitstaff to pick up food when it's hot off the grill. "This is especially critical with items like pancakes, which are taken hot off the grill, buttered and immediately sent to the pickup window so they're served right away," says Soucie. "The grill and fryer are very close to the pickup station, so heat is retained as much as possible when serving."
More grill stations are moving from the back to the front of the house. "Open kitchens provide enticing smells and aromas from the grill," says Morphis. "This is why grill stations are employed in a lot of display cooking applications right now."
That approach became part of a concept at a University of Alabama dining hall where the wood-fired grill is visible to customers. "In this case, we had to take into consideration how the heavy heat load is exhausted," Morphis says. "The flames come up, and it's a great display, but a lot more heat is coming out."
How much heat the equipment emits, as well as interior design compatibility, are both key considerations with front-of-the-house grill stations. "If it's out front, you want functionality for the chef and menu, but the station has to blend and coordinate [with the decor] so there's a happy medium," says Rick Sevieri, president, RJS & Associates in Old Lyme, Conn. "Blending architectural interior features with the grill is critical. It's about how we present it with the functionality and aesthetics that bring all the components together."
Most operators don't want an industrial appearance with front-of-the-house grill stations, Sevieri adds, yet the equipment still has to perform. "With our The Block Kitchen project in Canton, Mass., we worked on a kitchen where we brought a food hall look into a B&I account, and the grill station was front and center with a grill and rotisserie, but supporting equipment was located in the back of house," says Sevieri. "Decorative pieces and clean lines were the focus with this design."
On a recent project at the Foxwoods Resort Casino Rainmaker Buffet, RJS & Associates worked on a large carvery grill station that incorporated a rotisserie and carvery, all in the front of the house. "Here, the design's focus was on a circular center grill with an open flame," says Sevieri.
Webb Foodservice Design was able to include a fryer (item 2-51) next to the 6-burner range (item 2-52) in this culinary arts kitchen at McKay High School in Salem, Ore. A food shield (item 2-39) exists between the range and the fryer. If the cookline had extended an extra 12 inches, the designers would have opted for a 12-inch spreader table where the existing fryer sits.
Designing for Ancillary Equipment
With grill station design, it's about efficient workflow and, for tighter spaces, making the most of vertical space. Shelving and storage going up the walls are designated for shelf-stable ingredients, such as hamburger buns and even plates. "The design is not just about the grill itself but also accessory items that make it a success," says Bendall.
There is typically refrigeration nearby, which may include pullout refrigerated drawers underneath griddles for easy product access. "Many times, operators are cooking to order, taking the product off the grill or saute pan and plating it," says Soucie. "In that instance, it's nice to have those adjacencies with cold storage."
Having a decent workspace by the grill station to assemble dishes is also a necessity. "All the ingredients that go into developing a grilled product should be in close proximity, either in a refrigerator or workspace nearby," says Bendall. "There also should be storage space for bread and rolls that may be grilled."
During grilling, the cook should not have to walk to the refrigerator or turn around and take steps to grab a plate. It's about ergonomics as well as allocating appropriate production space. "It should be no more than one step to the grill, refrigerator and workspace," says Bendall. "It's about getting the components that go into it together, and this can be in a lineup or with refrigeration underneath, to the right or to the left, but in close proximity."
When it comes to undercounter refrigeration, operators can choose from a variety of features to enhance the efficiency of these stations. "Many combination units have refrigeration and a freezer, but space should be allocated for saute ingredients and cold pans," says Morphis. "We're doing a lot of fire-and-ice situations with a cold rail behind the burners, so everything is easily accessible."
Equipment options are available for those with limited space that don't compromise production. For example, contact or clamshell grills are recommended for high-volume applications or kitchens that don't have wide footprints but still need a grill station. "If a 4-foot grill is required but space is an issue, a clamshell can do the same job in a 35-inch footprint, since it takes less time to cook," says Soucie. "Contact griddles in quick-service restaurants can speed up the cooking process 30 to 40 percent."
Savvy operators will invest in subtle design advantages, Soucie adds, such as grills with pull-out drawers underneath. This ensures the cook doesn't have to move more than a step or two from the station while cooking, yielding better speed of service.
The most functional design considerations take speed and the proximity of other equipment into account. And, for front-of-the-house grill stations, appearance and aesthetics are big factors as well.