Desserts often provide chefs creative freedom. Look no further than Instagram for an array of over-the-top confections with an explosion of colors, shapes, textures and flavors. Yet, at the same time, duplicating time-honored traditional favorites remains fashionable, whether they are regional specialties or nostalgic childhood favorites. It seems today's menus have room for both.
Dessert Advice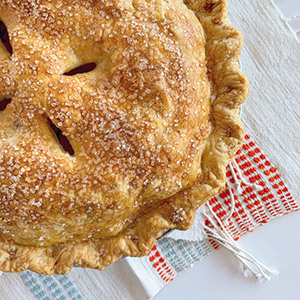 Jan Knobel, owner of Upper Crust Bakery in Overland Park, Kan., started her pie adventure in 2005 with her sister Elaine Van Buskirk at a local farmer's market. That lead to the duo opening a small bakery they operated on a part-time basis and eventually a brick-and-mortar storefront in 2011.
Q: What inspires your recipes?
A: Initially, our recipes came from our mother and grandmother. Over the years, we've experimented and modified ingredients. We also visit pie restaurants across the country. I'm more of a traditionalist when it comes to flavors, but we recently added a salted caramel pecan bar on the menu, which is now one of our bestsellers.
Q: What equipment is integral to your business?
A: All of our items are made from scratch and require mixers, convection ovens and a dough sheeter, which is a lifesaver in our business.
Q: What is your dessert advice for others?
A: It's easy to take shortcuts with premade fillings or crusts, but there is a big difference when a pie is made in-house.
---
Next Year's Dessert Experiments
Desserts in 2020 will be more experimental, according to research by Culinary Tides, a Tualatin, Ore.-based food forecaster. Comfort, historical and regional desserts will also be prevalent. Along with Asian sweets and Thai rolled ice cream, naked cakes and regional pies will serve as vehicles for experimentation using alcohol, herbs and even vegetables.
---
Dessert Trends to Watch for in 2020
Classic desserts with unique twists
Vegan options
Spicy selections
Ethnic with exotic flavors
Floral
Cider
Bourbon
Clean ingredients with natural sugar added, such as maple, agave or dates
Drip-down sprinkles
Featuring a unique twist on French macarons and ice cream sandwiches, Milk Bar in Los Angeles offers cookie and ice cream flavor varieties with add-ons that include a choice of sweet cereal toppings.
---
New Take on Old Favorites
More traditional flavors, like apricot and dates, are showing up in today's desserts, says Karen Car, owner of Just Like Mom's Pastries in Weare, N.H. The full-service bakery, which serves breakfast and lunch, has been in operation for more than three decades. Staff produce items such as cakes, pies, whoopie pies and finger pastries, with a mixer, sheeter, proof box and convection oven.
"People also are looking for unique desserts and frosting that's not too sweet," Car says. "Individual-sized desserts also are becoming more popular."