The Association for Healthcare Foodservice recognized the accomplishments of several of its members and business partners with a series of annual awards.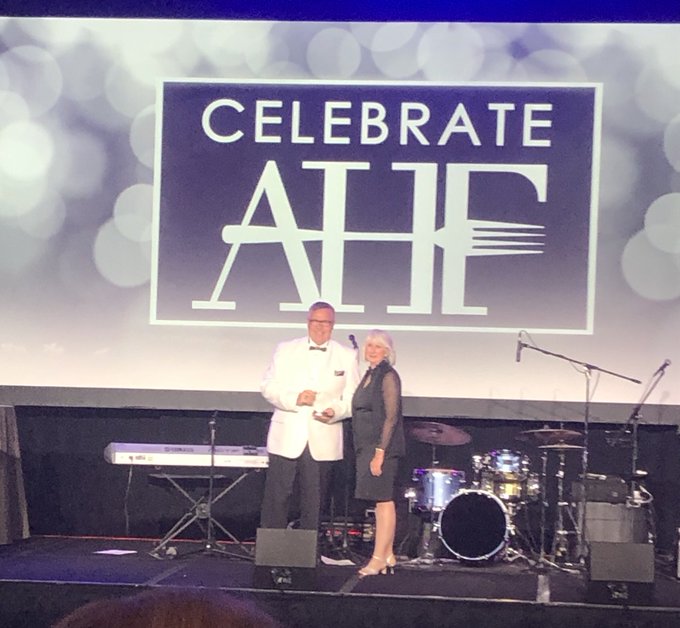 Randy Sparrow, Prohealth Care, and Martha Rardin, Hendricks Health
Joanne McMillian of Saint Clare's Hospital and David Reeves of St. Jude's Children's Research Hospital received AHF's Presidential Service Awards. AHF also presented its Lifetime Achievement Award to Randy Sparrow of ProHealth Care and its Making a Difference Award to Rob Geile of Ali Group.
Kathy Kesling of Franciscan Health in Michigan City, Ind., received AHF's Partnership in Leadership Award. This award honors a member facility that demonstrate a strong commitment to self-operation and currently supports the foodservice director or the foodservice administrative director.
Andrew Bregman of ProHealth Care in Waukesha, Wis., was the recipient of AHF's Future Horizon Award, which recognizes an operator member new to management and demonstrates a desire for future growth through contributions to their hospital or community.
Seth Grant of Eskenazi Health in Indianapolis received the Spotlight Award, presented to members who enhance their operations by embracing new ideas and industry trends.
Timothy Schoonamker of Lynchburg, Va.-based Centra Health earned the exemplary leadership award, recognizing a member that best reflects the commitment to operational excellence.
Mary Houston of Mercy Hospital Joplin in Joplin, Mo., received AHF's Benchmarking Award, which recognizes a healthcare facility that has used AHF's Benchmarking Express consistently, showed improvement in key performance indicators and utilized the data to improve operations.
In addition, AHF presented its inaugural Sustainability Award to Dawn Cascio of The Valley Hospital in Ridgewood, N.J. This award recognizes AHF members who implemented or continuously improved and expanded foodservice waste reduction efforts on the path to sustainability.