Capping off a 25-year run with the company, Greg Creed will retire from his post as CEO of Yum! Brands effective Jan. 1, 2020. Company veteran David Gibbs will replace Creed at that time.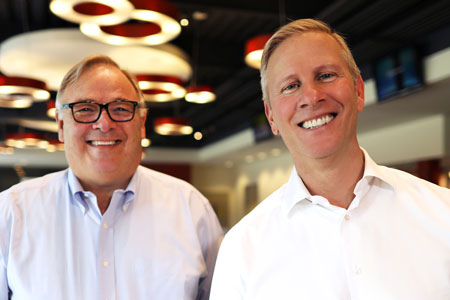 Yum! Brands CEO Greg Creed (left) will retire at the end of 2019 and will be succeeded by President and Chief Operating Officer David Gibbs (right).
Since joining the company in 1989, Gibbs has held a variety of leadership roles in all three of YUM's brands including global strategy, finance, general management, operations and real estate. Earlier this year, Gibbs was promoted to an expanded role as president and COO, assuming operating leadership of the global KFC, Pizza Hut and Taco Bell divisions.
In addition to remaining as CEO through the end of 2019, Creed will serve as a part-time advisor next year and also remain on the Yum! Brands Board of Directors, per a release announcing this transition. Creed served as Yum! Brands CEO since January 2015. During his tenure Creed oversaw the 2016 spinoff of Yum China. Since 2017, Yum! Brands transformed its business model to more than 98 percent franchised. Before his time as Yum! Brands CEO, Creed led the global Taco Bell Division as its CEO.
As Yum! Brands CEO, Gibbs will assume responsibility for the company's overarching strategies, structure, people development and culture and will focus on driving global growth and sales and profitability at all Yum! franchise businesses worldwide.