Regynald G. Washington, president of Paradies Lagardère Dining Division, was the winner of the 2019 Gold Plate Award presented by the International Foodservice Manufacturers Association. Paradies Lagardère Dining Division is an Atlanta-based restaurant and travel retail company operating 174 restaurants in 43 airports in the United States and Canada. The operator has revenues in excess of $350 million.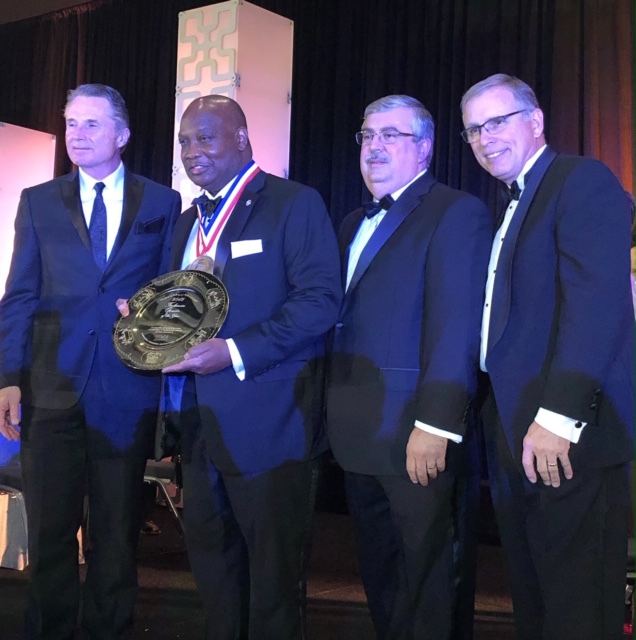 IFMA's 65th Gold Plate recipient, Regynald G. Washington.Washington spent 12 years with the Walt Disney Company. In November 2018, Paradies purchased Washington's former company, HBF, where he served as a Morgan Stanley Private Equity portfolio CEO, member of MSPE/HBF board and equity partner.
Selected from a slate of nine IFMA Silver Plate Award winners, Washington represented the Retail & Specialty Foodservice category. Here's a recap of the other eight 2019 Silver Plate Award Winners.
Independent Restaurants/Multi-Concept: John Arena & Sam Facchini, Pizza
Chain Full Service: Beverly Lynch, Golden Corral
Health Care: Bill Marks, Hennepin Health
Elementary & Secondary Schools: Rodney Taylor, Fairfax County Public Schools
Chain Limited Service: Peter Cancro, Jersey Mike's Subs
Colleges & Universities: Randy Montgomery Lait, North Carolina State University
Business & Industry/Foodservice Management: Lorna Donatone, Sodexo
Hotels & Lodging: Don Falgoust, RLJ Lodging Trust