Foodservice Equipment & Supplies named Nick Pope, project manager for The Boelter Companies in Chicago, its 2019 DSR of the Year. Pope accepted his award during FE&S' 2019 Dealer of the Year and Industry Awards Gala, which took place May 18 at the Four Seasons Hotel in Chicago.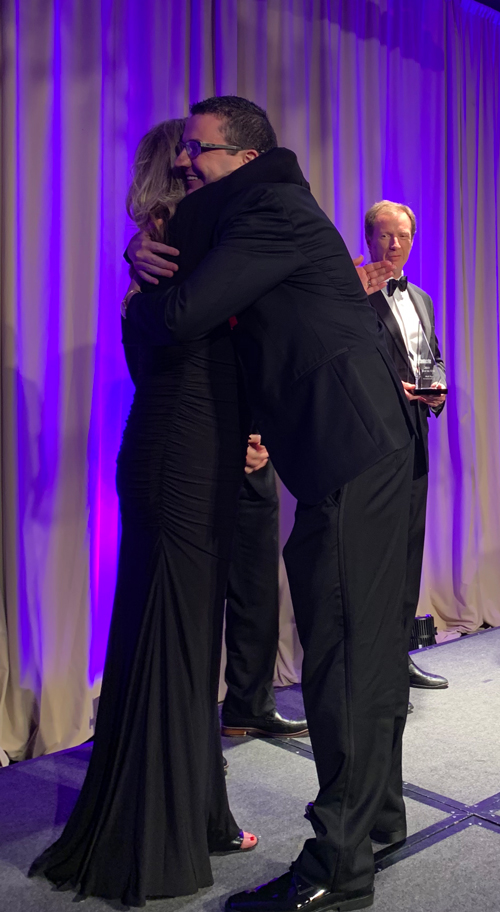 Nick Pope, The Boelter Companies, hugs FE&S Publisher Maureen Slocum as he accepts the DSR of the Year award.
Pope had visions of becoming a chef while attending culinary school and working at an equipment dealership part time. He realized being a chef wasn't for him when he took a 12-hour class that ended at 2 a.m. "It put me over the edge," he recalled.
So Pope shifted gears and began his foodservice industry career working for a variety of dealers, moving his way up from stocker to store manager. He joined The Boelter Companies four years ago as a project manager and now handles large projects, including many high-profile items, in the business and industry (B&I) sector.
"Nick has shown a true skill in being able to track the necessary details that go into completing projects on time while being resourceful enough to solve unique problems for several high-profile B&I clients," said Maureen Slocum, publisher of FE&S. "All the while Nick does this while maintaining a warm and welcoming demeanor that makes this individual approachable to both operators and other members of the supply chain. That approach continues to pay dividends. Over the past five years our 2019 DSR of the Year has seen their annual sales grow tenfold."
FE&S will profile Pope's career in its September 2019 edition.