Call them the next food trucks. Ghost restaurants continue to quietly pop up around the country as a back-end support for delivery-only and high-volume restaurants. In some cases, these facilities take shape as large commissaries, while others resemble shared kitchens offering support for restaurants with delivery-only models or those looking to expand delivery and catering potential.
Ghost Restaurant Closeup: Kitchen United
This growing shared kitchen concept that supports off-premise sales for concepts through delivery and pick-up sales received $10 million last year from a variety of backers. Kitchen United operates a 12,000-square-foot facility in Pasadena, Calif., as well as one in downtown Chicago.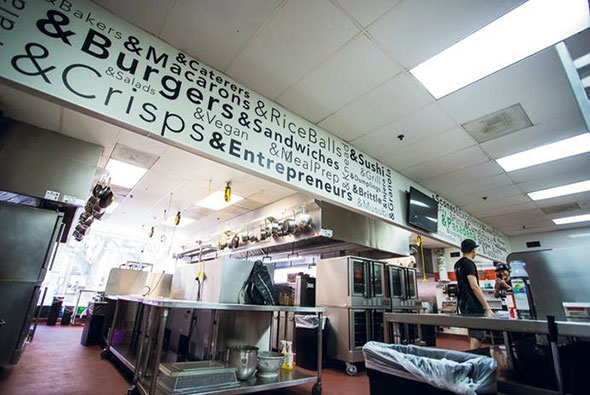 The company plans to open 15 additional locations in the coming year in markets including Los Angeles, Phoenix, Seattle, Denver and New York City. The new outposts will feature Kitchen United's traditional setup of 10 to 20 kitchens together under one roof with ample parking for third-party delivery drivers as well as support staff for restaurant concepts using these spaces. These locations are suitable for a variety of operators, including those with existing restaurants that want to grow their off-premise sales without compromising service to dine-in customers.
Kitchen United expects to open the first of these new facilities in Columbus, Ohio, and Atlanta this spring. The Columbus Kitchen Center will open in Grandview Heights, near the redeveloped Grandview Yard and close to major thoroughfares as well as downtown and The Ohio State University. Located in a high-growth area of Atlanta, the West Midtown Kitchen Center will open inside a newly redeveloped creative office with easy access to on-site office workers as well as a growing group of Millennials that live in the area. The company takes a data driven approach to identify the most promising locations for its kitchen centers, aggregating insights on demographics, income levels and cuisine-specific demand, as well as drive time, traffic patterns and other information.
---
Potential Benefits of Ghost Restaurants for Operators:
Low barrier to entry
Cheaper rent, flexible real estate spaces
Shared resources
Potential for high-volume capabilities
Potential for less labor requirements
No need for front-of-the-house design dollars
Collaboration opportunities with food trucks
Increased efficiencies through reduced energy and food waste
Multiple menu opportunities
---
Ghost Restaurant Examples:
Chick-fil-A: Operates virtual restaurants in Nashville, Tenn., and Louisville, Ky. These locations span more than 4,000 square feet each for delivery- and catering-only food production. The Nashville location has easy access to highways as well as a cashless walk-up counter with the full menu.
Seaside's: The new delivery- and carryout-only operation opened by Chicago-based Lettuce Entertain You Enterprises shares a kitchen with Oyster Bah, its next-door neighbor that operates a more traditional restaurant.
SushiYaa: This concept operates an in-store restaurant as well as a virtual restaurant through Uber Eats.
---
Technology Commonly Associated with Ghost Restaurantsens:
Mobile payment
Artificial intelligence
Cloud-based, integrative software solutions
Delivery aggregators