Display kitchens and live cooking stations may sell the sizzle and even wind up on Instagram, but well-designed, smoothly functioning prep kitchens and behind-the-scenes elements play just as critical of a role in achieving operational success. After all, that's where the food products coming into a kitchen's back door begin their transformation into the specific menu items, specials and signatures that wind up on customers' plates or out the front door for off-premise consumption.
Whether it's produce being prepped for salads or sandwich toppings, cuts of meat being trimmed and portioned for the grill, cheese being shredded or sliced, doughs being mixed and proofed for fresh baking on-site, or signature soups or sauces being made and simmered before service, all of it — and much more — starts in the prep kitchen or specific areas designated for prep within the overall kitchen footprint.
The cook-chill portion of the Jacksonville, Fla.-based Duvall County Public School's prep kitchen is designed for efficient, large-batch cooking and chilling of foods for future consumption. Photo courtesy of Mackesey and Associates
Designing these areas to ensure efficiency and functionality requires careful analysis of several critical factors, according to Bernard Vazquez, foodservice design specialist at Miami-based consultancy The Restaurant Group (TRG). Top and first among them, he says, is the menu.
"You really need to take a close look at the menu as the first step, including the type of ingredients that will be used and the style of service that's planned, before thinking about how you'll design prep areas," Vazquez says. "Is it limited menu or full service? Are they planning on fabricating and portioning proteins on-site? Will they need to clean and prep fresh produce sourced from local farms or use mostly preprocessed produce? All of that impacts the specific equipment and configuration needs of the prep kitchen."
In operations where specialty prep processes will occur or where clients have specific equipment needs or requests, Vazquez says his designs typically start with placing those pieces. "If an operator really wants a blast freezer or plans to do sous vide, for instance, we know those pieces of equipment and processes take a certain amount of space," he says. "We try to accommodate them first and then work to get all of the other basic things they'll be using in as well."
Another key factor influencing prep kitchen design: anticipated sales volume. Figuring that out has become more complicated than simply looking at overall square footage, number of seats and estimated turns. As online and mobile app-generated orders for takeout and delivery continue to grow in popularity, how operators and designers think about a kitchen's capacity to prep and store sufficient quantities of food must change accordingly.
"It's no longer just about the capacity of the brick-and-mortar location," Vazquez notes. "Operators are looking outside the four walls to grow sales through services like Grubhub and Uber Eats. We're even getting requests now for larger prep kitchens with no dining areas whatsoever. They're like multifunctional spaces where the owners are using them for catering or delivery orders or as commissary kitchens to service other units with small kitchens. When not in use, they might rent them out to food trucks or other operations."
Paul Mackesey, FCSI, president of Madison, Wis.-based Mackesey and Associates, concurs. He notes that the changing dynamic due to mobile apps and third-party delivery has big implications for both overall kitchen planning and labor.
"Here in the Madison market, for instance, Pizza Hut is down to just one dine-in restaurant. All the rest are small carryout and delivery-only prep options," Mackesey says. "They can sell just as many pizzas through these units as they can in traditional units and with much lower operational costs. I also have clients that in the past five years have gone from less than 10 percent of their volume to more than 40 percent of volume being generated via mobile app orders for off-premise consumption. That kind of change drastically affects operations and space planning because you now have to prepare and package those orders to go without burning out employees or disrupting the dine-in experience."
Power Points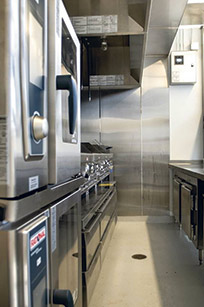 Footprint and available space, of course, also dictate many prep kitchen design and equipment decisions, as do what in some cases are architectural barriers. Sometimes, says Vazquez, chefs or operators must temper their vision based on the realities of space and mechanical infrastructure.
"It's pretty common for chefs or operators to say they're going to design their own kitchens," Vazquez says. "They lay everything out, put tape on the floor. In theory, it looks great. But without very carefully calculating their mechanical, electrical and plumbing requirements, seeing where these things are coming in, what's available to them and what local codes may require, it's not based on anything real."
Power, water and exhaust are as important for prep areas as they are for primary cooking stations, particularly with tech-based solutions increasingly replacing manual processes and with more food being pre-prepped for fast-casual-style operations and live cooking/finishing stations.
Footprint and available space dictate many prep kitchen design and equipment decisions, often calling for multifunctional equipment and smart use of vertical space in tight work stations. Photos courtesy of The Restaurant Group"Every workstation in a prep kitchen, whether a wall-mounted table or some kind of island configuration, has to have an adequate amount of utility outlets so that the appropriate equipment can be plugged in," adds Mackesey. "The goal really should be for employees to not have to leave their stations in order to access and use equipment that they need to complete the prep process. That often means special configuration for providing those outlets."
The same goes for the ability of kitchen employees to have all of the products and smallwares their jobs require within or as close to their stations as possible.
"In the most efficient kitchens, the prep cooks come in, and the first thing they do is make a trip to the walk-in cooler or dry storage area to pick up bulk items," says Vazquez. "The ideal is for their station to be preset with all of the other tools that they need so they get right to work, finish their prep, package everything up, store it, clean and reset their station. That's the type of efficiency you need. Just as behind the line or behind the bar, you don't want employees having to walk all over to get what they need or do what they have to do. Minimal steps equal maximum efficiency."
Enabling that type of efficiency requires thinking as much about what's necessary to supplement the prep process as about the process itself. Shelving above and below prep tables, kept well organized and stocked with tools and utensils color-coded for the job at hand, are part of the solution. And where space allows, Mackesey always includes a cart parking space at the end of prep tables.
Mackesey also suggests maximizing active prep table work space by incorporating adjacent stands for tabletop equipment, such as food processors, small mixers and slicers. Such preplanning, he says, builds in flexibility, optimizes the amount of hands-on work space, and prevents dangerous and unproductive scenarios that force staff to navigate around carts and other items staged in aisles.
In addition to close proximity to refrigerated storage, cold food preparation stations also need access to water. These stations, Mackesey says, have become larger and more mission-critical over the years due to the increased amount of fresh vegetable preparation happening in many market segments.
"Fresh produce prep requires a proportionate amount of wash sinks so that employees can adequately clean products to help ensure safety," Mackesey says.
Designers and food-safety professionals recommend basing prep kitchen designs at least in part with critical adjacencies in mind. The goal: Configure the stations so that cold foods remain out of refrigeration in transit and during prep for the shortest amount of time possible. Also, keep fruits and vegetables physically separate, if possible, from protein prep stations. In ideal situations, vegetable and meat prep stations are incorporated directly within separate walk-in coolers or chilled rooms to prevent cross-contamination and retain quality.
Efficient prep kitchen design includes adjacency to storage areas, work stations that are as self-contained as possible and aisle widths that comfortably accommodate movement of both carts and people. Photo courtesy of Mackesey and Associates
"In operations that have the space, we like to do double-sided walk-in coolers and freezers," Vazquez says. "Product goes in from the receiving area, gets prepped and packaged inside, and someone takes it out from the other side already portioned and ready for the front line."
Whether inside of a cooler or out, product flow should dictate design. What's the path that products will have to take on their journey from receiving door to point of service? The more direct and concise that path is, the greater the efficiency and productivity.
"Anything that requires additional steps is problematic," Mackesey says. "It's not always easy depending on the size and configuration of the space, but in design, it's all about following the food, having a direct flow into storage, into prep and into service."
One caveat that both consultants note is the need to design not just for process efficiency but also for employee comfort. As rising real estate and labor costs force many operations into smaller footprints, the challenge is to shrink work spaces without sacrificing ergonomics.
Codes in most municipalities dictate 3-foot kitchen aisles. But while that may work well for cooklines and bar areas, Vazquez says it's often insufficient for prep kitchen aisles. "If you really design a 3-foot aisle, that's one person walking through at a time," he says. "That creates bottlenecks in busy kitchens, and you don't want that. Employees need enough space to move around and maneuver carts, etc., without having to wait for someone to get out of the way. You also need to think about growth. You don't want to design yourself into a corner and create constraints or inefficiencies as your business grows."
Also carefully consider storage space, something Vazquez believes many operators skimp on up front but pay a high price for as their businesses grow. "If you don't design enough storage in, the immediate impact is that you have to take more frequent deliveries from suppliers," he says. "You don't want to be receiving and checking in orders every day. It takes too much time and labor away from other things."
Frequent deliveries due to lack of storage also create increased vulnerability to theft, Vazquez adds, which is another important consideration. With a near constant flow of products from receiving areas into and out of prep kitchens, good design incorporates loss-prevention measures. It's all part of keeping everything moving in the right direction — seamlessly and efficiently toward the guest.