Ah, the bar … Like the first sip of a well-crafted cocktail, it can be a pleasant harbinger of things to come or a stand-alone experience savored entirely on its own. Integral to most full-service restaurant operations — and directly responsible for the profitability of many — the bar plays an increasingly important role in generating buzz and creating some of what restaurant guests crave most: experiences that are social, casual, welcoming, open, friendly, engaging, energetic, craft-driven, authentic and unique.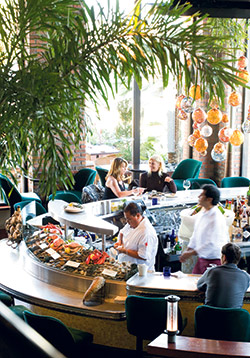 Water BarThose expectations fuel efforts to design bars that deliver much more than they may have in the past — indeed, much more than well-crafted cocktails alone.
Jim Meehan, veteran professional bartender, founder of bar consulting firm Mixography Inc., and author of The PDT Cocktail Book and Meehan's Bartender Manual, suggests that truly successful bar design focuses on user experience, which includes both guests and bar staff. Guest expectations have changed through the years, he says, and in ways that should directly inform bar design.
"You need to look at human behavior," says Meehan. "For instance, bars in the 19th century didn't have stools. Everyone stood at the bar and, for the most part, women weren't allowed to, or simply didn't, drink in them. Fast forward to 20 years ago, before Tinder and the other dating apps emerged, and bars were often crowded places where people went to flirt with each other. That's just not happening much anymore. And if you were on a date or with friends, a lot of people wanted isolated spaces and dark corner tables. Sitting at the bar and watching the bartender wasn't something we were interested in. Today, we want open spaces and interesting sightlines. We're sitting right at the bar — even eating there — to socialize and take in all of the action. Human behavior changes and bar designs, furnishings and concepts need to shift accordingly."
In the restaurant-and-bar segment, more operators today recognize the need for bars that complement the overall concept while also offering a strong enough experience to stand on their own, according to Meehan.
"When I started working in restaurants in New York back in the early 1990s, a lot of chefs and restaurateurs viewed the bar as nothing more than a siloed-off waiting area for the dining room. Most were set up generically, with an ice well and a work station with a soda gun, a single rack for bottles attached to the undercarriage of the bar. Depending on size and the number of guests you served, there might be one or two or three such stations," Meehan says. "They weren't configured for a unique menu but simply for beer, wine and traditional pours. And bars were almost always built and installed before anyone was hired to tend bar there."
That scenario is now shifting, with bartenders and managers ideally having a seat at the table early on and programming coming before, not after, making decisions about design and equipment. As with kitchen design, which logically begins with chef input on menu, process flow, ergonomic considerations and anticipated staffing needs, bar design should incorporate similar input from bartenders, Meehan says. Bar design directly impacts a bartender's ability to work quickly, efficiently and safely, while ensuring quality and providing guest hospitality at the same time.
The craft cocktail trend fuels the most innovation behind the bar, says Frank Stocco, principal and lead designer at Minnesota-based National Restaurant Design Inc. That trend falls second only to bar design and equipment modifications that address specific beverage menu needs and space limitations, he notes. With unique craft cocktails requiring multiple specialty ingredients, as well as unique tools, glassware and ice, bar design is shifting in earnest to focus more sharply on the bartender experience.
The newest wrinkle over the past several years, Stocco says, has been the move to install cockpit-style bartender stations that stock specialty cocktail ingredients within easy reach. "The goal is to design a station that the bartender doesn't have to step away from to access what they need, whether it's fresh herbs or mixers or ice, which today often means including storage for multiple ice types," Stocco says. "Such stations take up a little more room, and they're more expensive to incorporate, but if your bar program is very cocktail focused, the return on investment can be high."
Additional trends Stocco sees include more operators requesting dedicated storage units for red and white wines to ensure service at the proper temperatures, and fewer requests for curved bars as operators look to keep costs in line. "It's very hard to get equipment into curved bars," he notes. "They tend to require a lot more custom work and more filler pieces, all of which gets very expensive."
U-shaped and straight-line bars both remain popular, but each presents its own challenges, Stocco adds. For instance, while U-shaped bars are great for creating a more social, energetic bar vibe, they have less storage space and typically require more labor — a minimum of one bartender working each side. Straight-line bars, which bartenders tend to prefer from an efficiency and service standpoint, are less social and, unless positioned under a window, leave guests staring at the back bar wall.
"That's where the architect and/or interior designer comes in," Stocco says. "There's no right or wrong approach or style when it comes to bar configuration and design. The main thing is that it be based on the concept and vision of the client, on the desired bar program, and that it's designed with both form and function in mind."
Fresh, California-Crafted: Fern Bar, Sebastopol, Calif.
Conceptualized as a "bar-focused restaurant" where craft cocktails and small plates star, Fern Bar opened in December 2018. At the helm of its bar program is operating partner Sam Levy, a Sebastopol, Calif., native who left his former position as bar manager for the three-Michelin-star Restaurant at Meadowood in Napa to join four other partners in Fern Bar.
Designed with ergonomics in mind, the bar at Fern Bar extends farther back toward bartenders than is typical to reduce bending and reaching. It also includes two identical stations that put craft-cocktail tools and ingredients right at hand, and a tap system for three featured cocktails. Photo by Kelly Puleio
The 75-seat space is light, airy and filled with greenery. Its name and decor pay homage to its namesake plant and communicate Fern Bar's commitment to food and drink creations that tap nature's local bounty. And the bar is its centerpiece.
"The bar needed to be the crown jewel," says Levy. "It had to command attention and convey the essence of the light, fresh, casual concept that we were after. But we also wanted to incorporate some modern, stylistic touches, which we did with things like light fixtures, furniture, poured concrete planters and finishes using the Japanese method of burning wood."
Wooden beams create a sort of rustic frame that wraps around the bar. They provide a home for plants and objects d'art above and solved the issue of how to deal with existing support structures in a way that is functional and adds aesthetic gravitas to the bar.
Topped in Carrara marble and clad below in warm wood, the bar proper is a traditional, straight-line bar with seating for 12. Servers pick up drinks from a small service counter at one end while shelving along the back and far walls provides storage and display space for bottles and glassware.
While concept-enhancing aesthetics are important on the guest side of the bar, Levy says design considerations at Fern Bar shift sharply to ergonomics and efficiency behind the bar. "Bars have long been designed in a certain way — fridges down low, the bar top a little farther away, for example," he says. "It's hard for bartenders to work in bars like that for very long because of the amount of bending and reaching required. For this bar, we made some simple changes. Bringing the bar top a little farther back toward the bartenders than is typical was one. It enables them to spend more time upright and to put drinks up on the bar without having to lean over so far. We've also designed in two stations, which as much as possible put everything each bartender needs within arms' reach. The stations are identical — the same space, tools, ingredients and equipment in the same places. The goal is to have all of your bartenders be able to work any position seamlessly without having to relearn or adjust their systems."
A perforated metal rail fronts each station; it's a system Levy prefers over rubber drink mats that collect drips and debris throughout service. Additionally, hooks keep the strainers bartenders use to prepare various specialty cocktails organized and at hand. And each station includes a beer-glass-style, jetted washing unit for quick and easy cleaning of shakers, as well as an ice well, bottle rails and a sink for dumping ice and washing hands and tools.
Tucked along the wall at the far end of the bar, away from service areas, is a three-compartment sink and low-temperature glass washer.
"High-temp is ideal for wine glasses because it doesn't leave a residue," Levy says. "But for high-volume cocktail glasses that hold drinks made with ingredients like egg whites and fruit juices, the low-temp sanitized wash is a better system. Ideally, all of the dirty glasses would go to the back, but we have a lot of items that we like to wash at the end of the night, as well as glassware, so we went with a dedicated system in the bar."
A tap cocktail system, which Levy says suits the concept better than beer taps, adds speed and efficiency to Fern Bar's operation. The menu features three cocktails on tap, each held in stackable, 2.5-gallon kegs kept in a low-boy on the back bar wall. A separate cabinet next to it houses the gas unit for the kegs.
"Cocktails on tap is new to us, but we found the right drinks that we think we can sell the most of and put them on tap," Levy says. "I had a guest come in recently and ask why we don't have beer on tap. Well, we're selling some 300 cocktails a day and around 20 beers by the glass. So it's about speed of service and consistent quality."
As for beers, Fern Bar offers a small selection of house-brewed beers which are held in a back-of-the-house walk-in cooler. Staff pour these, along with wines by the glass, in back and bring them out front for service. "We only serve our own beers — no bottles or cans," Levy notes. "I've worked in restaurants with great beer lists, but that takes a lot of space and energy to maintain without a lot of return. As a craft cocktail-focused bar, we dedicate our fridge space and outfit our bar accordingly."
Classic and Iconic: Waterbar, San Francisco
Open since 2008, Waterbar capitalizes on its waterfront location and offers an iconic, seafood-centric San Francisco dining experience. Pat Kuleto and his team at San Francisco-based Pat Kuleto Restaurants, a development, design and management company, designed the restaurant. Incorporating a vibrant bar was central to that mission, according to Pete Sittnick, managing partner at Waterbar and director of project development for Pat Kuleto Restaurants.
Designed for high energy and high volume, Waterbar's bar is a destination in its own right. Views set the stage, while an integrated oyster bar, quality finishes and comfortable furnishings help attract locals as well as tourists.
Situated in a slightly raised area just to the left of the entrance and open to the 6,000-square-foot-dining room, Waterbar's bar and lounge area immediately draws guests' attention. It has become both a popular pre-dinner and standalone destination, and for good reason. Guests in the 40-seat, 1,500-square-foot space cannot only enjoy well-crafted classic and seasonally inspired cocktails and fresh seafood, they can do so while drinking in panoramic views of the Bay Bridge, city
skyline and pedestrian activity on the promenade just outside.
The zinc-topped, horseshoe-shaped bar includes seating for eight on each side. Its front end features a built-in oyster bar, with additional seating at a lower, ADA-height counter. Its back end abuts a wall with exposed brick and floor-to-ceiling windows.
Ceding that wall to views meant sacrificing a traditional back bar, which in turn created storage challenges. "We were able to put some shelving there for glassware and bottle storage but not much," says Sittnick. "We also built a few storage cabinets along that the bottom portion of the wall and installed a center island within the bar. We keep our high-end spirits on display there and have refrigerators below. Standard brands are kept in rails down in front of the ice wells so everything is within easy reach."
Set up to accommodate two to three bartenders, the bar includes three work stations: one on the bar/lounge side and two on the dining room side. One to two employees typically work the oyster bar area as well.
"It's all laid out so one bartender can efficiently serve each side and not have to turn their backs on guests or leave their station," Sittnick says. "And one can handle the server station for drinks going out to the dining room. We even built a pass-through tunnel for sliding trays of dirty glassware through to the side of the bar where the glass washer is located."
Overall, it's a functional design with staying power. The only significant modification made to the bar over the years was a draft beer tower, which was added in 2010 but later removed. With cocktails and wine being higher-volume beverages, the team opted to sacrifice the profitability of tap beer and revert to bottled beers, which like other bar inventory items, are replenished daily from a nearby storage facility, which the operator rents due to a shortage of on-site storage.
As for materials, from the bar top to the cushioned chairs, Kuleto's strong focus on hospitality and on the psychological aspects of design drove selections, according to Sittnick. "Pat is all about using materials that are well-crafted and that make people feel good," he notes. "Bartenders will argue that bar design needs to be first and foremost about operational efficiency. That's a given, but we feel the biggest key to a successful bar is creating an environment that feels good and has energy. Our views create an energetic backdrop, and music and lighting contribute. But design elements bring it to life. For us, it's the oyster bar; comfortable seating and varied table heights; an adjacent patio for an indoor-outdoor vibe; and a big, beautiful oval bar where people can see each other and interact. It's not one thing; it's many elements together — including efficiency — that create buzz."
When British-born chef Oliver Ridgeway developed the concept for Camden Spit & Larder on Sacramento, Calif.'s downtown Capitol Mall, he envisioned a polished-casual restaurant and bar that would serve multiple user occasions. It would draw in the many lobbyists, lawyers and politicians working nearby for lunch, drinks and dinner; serve as a stopping-off point for patrons headed to events at the adjacent Golden 1 Center, home to the NBA's Sacramento Kings; be a destination for suburbanites heading downtown for dinner and a show; and offer bar and dining experiences that, while complementary and cohesive, could stand equally well on their own.
Camden Spit & Larder's two-sided bar makes the most of a tight footprint by utilizing a center island with double-sided reach-in refrigerators. A freestanding vertical backbar provides visual separation and definition between the bar/lounge and dining room. Photo by Eric Rorer
And it would need to accomplish all of this in one long, rectangular, 4,000-square-foot space — including back-of-the-house areas.
Designed by Brendan Koon, principal at VITAE Architecture Planning Interiors, and opened last December, Camden Spit & Larder emerged as a natty, California-meets-Savile-Row-inspired eatery. With Ridgeway's father's background as a London tailor sparking creative inspiration, Koon mixed textile prints, textures and patterns; raw and refined materials; cheeky British artwork and bespoke fixtures and furnishings to bring the concept to life.
Its bar, which comprises a third of the total space, sits strategically in the front corner, with glass walls overlooking both Capitol Mall and Sixth Street and opening to an outdoor seating area. "People are naturally drawn to an activated space, so we specifically positioned the bar portion of the restaurant at the front corner to give it that exposure," Koon says. "We also intentionally didn't design in a waiting area in order to help build a bar scene. Guests enter from the side of the building into a space between the bar and the dining room and are channeled directly into the bar if they're waiting for a table."
Setting the stage for a bar that supports but is also independent of the dining room presented architectural challenges. The solution, Koon says, was to design a two-sided, "square donut" of a bar with a freestanding vertical back bar that visually separates the two spaces.
"Our solution was to build a multisided bar. One side faces the dining room and is a little more about being a service bar, while the other side faces the lounge and the street outside."
The side facing the dining room includes one bartender station plus a glass-washing machine, while the side facing the lounge has two bartender stations. The center island beneath the backbar holds double-sided refrigerators and cabinetry containing the glycol system for beer taps.
"The chef didn't want to have a large beer tap system," Koon says. "So we have seven taps, tucked into the backbar's counter along with the POS machines. The cocktail menu is fairly simple and classic — no blended drinks, etc. We were able to use standard equipment and keep the bartender station design fairly straightforward. Having a freestanding backbar, however, means significantly less room is available for bottle storage so the bartenders needed larger wells down below than is typical."
Fabricated from blackened steel, the backbar provides space to display higher-end spirits, some glassware, and two TV screens visible only to guests on the bar side. Visually, it bookends the dining room, providing definition without segregating the two areas.
Topped in black-stained butcher block, which Koon says will patina and reveal patterns over time, the bar itself seats 18. On the bar's face, blackened-steel-framed panels affixed collectively with more than 9,000 buttons further the haberdashery-inspired design aesthetic. The bar's lounge area includes communal tables, soft seating, wing-back armchairs and tufted cushion poufs that subtly evoke a tailor's pin cushions.
"Like the dining room, the bar design reflects the overall concept of the restaurant," Koon says. "It has to function well for the bartenders and accommodate the anticipated volume, but it also has to play a strong role in helping to tell whatever story it is that the chef or owner is trying to tell."
---
Drink for Thought: Alcohol Consumption Shifts
A few key shifts in alcohol consumption patterns could have implications for bar program developers and designers, according to global beverage market data analysis firm IWSR's U.S. Beverage Alcohol Review. Here are a few key takeaways gleaned from 2017 sales data:
The total volume of U.S. alcohol consumption declined for the second consecutive year by -0.2 percent. While slight, it represents a quickening decline — more than double the volume lost in 2016.
Beer sales, down by 0.5 percent for 2017, account for most of the slump.
Spirits volumes grew by 2.3 percent and wine by 1.3 percent, but these gains were not enough to make up the difference in volume "due to beer's overwhelming 79 percent share of total beverage alcohol," according to IWSR. A slow-building trend of moderation and consumer interest in health and wellness is contributing to
decreases in total alcohol consumption.
Consumers may be drinking less but they're spending more. Premium-and-above offerings made up 33 percent of the spirits category in 2017 and 22 percent of the wine category. That compares with just 12 percent and 2 percent, respectively, in 1990.
Within spirits, whiskey showed the most positive momentum, up 3.9 percent. Non-whiskey spirits consumption grew by 1.7 percent, led by tequila, mezcal, brandy and Cognac.
Consumption of wine grew by 1.3 percent, led by sparkling wines, in particular Prosecco, which saw volumes rise by 23.2 percent.