Lemonade Restaurant Group and Modern Market Eatery will merge to form Modern Restaurant Concepts, a self-described better-for-you restaurant platform. Both Lemonade and Modern Market Eatery are part of a portfolio of companies owned by Butterfly, a Los Angeles-based private equity firm.
As part of the transaction, global investment firm KKR will contribute its investment in Lemonade to the merger and become a shareholder in Modern Restaurant Concepts alongside Butterfly and the management team. Financial terms of the transaction were not disclosed.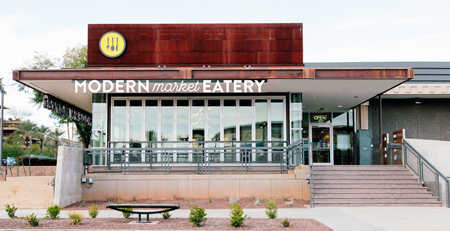 Anthony Pigliacampo and Rob McColgan, co-founders and co-CEOs of Modern Market Eatery will lead Modern Restaurant Concepts, while Larry Kurzweil, most recent CEO of Lemonade, will resume his role as operating partner of Butterfly and advisor to the company.
As a result of the merger, Modern Restaurant operates 58 restaurants across 10 markets including Denver; Austin, Texas; Dallas; Phoenix; Washington, D.C.; Maryland; Los Angeles; San Francisco; San Diego; and Orange County. The Lemonade and Modern Market Eatery brands will each continue to operate and expand both in existing and new markets via corporate growth in addition to franchising and licensing, per a release announcing the transaction. "We're excited to continue to work alongside these two highly differentiated concepts to expand their footprint throughout the country and internationally," added Dustin Beck, Butterfly's other co-founder.
To help drive that growth, Modern Restaurant Concepts hired Jim Sullivan to serve as chief development officer. He comes to Modern Restaurant Concepts from CKE Restaurant Holdings, parent company for Carl's Jr. and Hardee's, where he held the same title. "With Lemonade and Modern Market Eatery under one roof, we will have an offering that will thrive in more markets and nontraditional foodservice outlets across the U.S. than any comparable single-concept company," said Sullivan. "We look forward to partnering with franchisees and landlords across the country to bring these great concepts to their markets and customers."