Like delivery and farm-to-table trends before it, Instagram-ready dishes have captivated the food and restaurant industry across multiple segments. Some diners even make a living off of the photo-focused platform.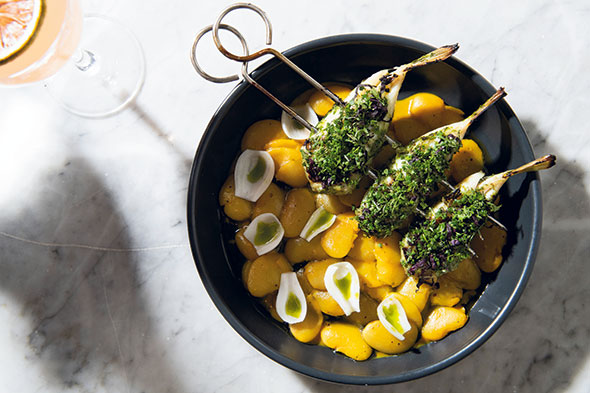 Instagram post from Sunday in Brooklyn.
Like it or not, these influencers, with their 15K, 20K, even 40K or more Instagram followers, can launch a restaurant into the scene-stealing spotlight with just a few snaps of their meal. With many chefs now keenly aware of this, they continue to upgrade plateware, plating techniques and their photographic "eye."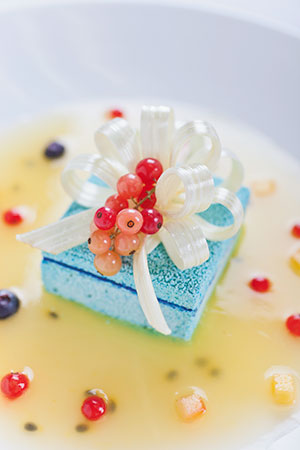 Instagram: phil.mansfield Composition and balance: The emphasis for plating photo-ready dishes should be on composition and balance, according to Phil Mansfield, an instructor and resident photographer at the Culinary Institute of America in Hyde Park, N.Y. Even restaurant designers must take note of the Instagram explosion, building new spaces with more natural light and considering how furnishing choices will look in a picture. Case in point: Designers for Tiffany's Blue Box Cafe inside New York City's iconic jewelry store seemingly had social media in mind as evidenced by the light blue showstopping space and tabletops drenched in camera-friendly natural light. And it's not uncommon now at restaurants around the country to see the installation of spotlight bulbs over tables to help create photograph-ready lighting, that kind of natural shadowing that doesn't require a flash or reflector
Jenna Cuccia, co-owner of 17 Summer in Lodi, N.Y., with her chef/brother Joseph Cuccia, credits the growth of their business and online brand in part to paying attention to plateware choices and plating techniques and how that all unfolds in photographs. "Instagram has had a huge impact on our business," she says. Last year, they won a competition sponsored by a major tabletop manufacturer, which provided a slew of new products that enabled the restaurant to expand its plating repertoire and ramp up social media activity.
"We started out with classic white plates, but when we introduced the new plateware, suddenly we had customers sitting up in their chairs when a dish was presented to them," Cuccia says. "As chefs and restaurateurs, that's always the reaction we're going for."
Instagram and food photography have had such an impact on the restaurant and chef community that learning the fundamentals are becoming one of the most popular elective courses at the Culinary Institute of America (CIA)'s campus in Hyde Park, N.Y.
"Chefs are beginning to understand how the visual arts are having a greater impact on their day-to-day business operations," says Phil Mansfield, CIA photographer and instructor of the food styling and photography course. He encourages dedicating a corner of a kitchen or other space with good lighting to take photos. "We rarely see traditional presentation anymore, where the dish is a face of a clock and you put your protein at 11 and starch at 6. There needs to be more of a wow factor, and it's almost become a ritual of dining for guests to take photos of their food."
Social media continues to influence food presentation in the noncommercial segments, too. Mansfield points out that a growing number of colleges and universities continue to enhance their approaches to displaying, presenting and serving food with the idea that students might snap and share photos of their meals. Universities can possibly even become more competitive if the food looks great online; it's an effective way to advertise an increasingly important university-level amenity.
Telling a Story
Many chefs have long recognized the benefits of telling a story to in-house diners through plating techniques. That same principle can translate to social media.
"It's all about remembering your audience," Mansfield advises when it comes to food photography. "If you're a fine-dining restaurant, you're probably using tweezers and don't want to show any crumbs on a plate, but a local diner might want Instagram photos of a half-eaten homemade pie and a cup of coffee. Maybe a beauty shot isn't how you tell the story but rather the bread sopping up the sauce. Knowing how to plate for social media has a lot to do with understanding visual communication."
These stories can — and should — have a noticeable impact on plateware selection. "We don't put more than three ingredients on a plate at one time," says Cuccia of 17 Summer's plating strategy. "We need a serving vessel that can stand up to that and complement the dish really well."
Instagram: 17summerrestaurant Adding action: Clear glass milk jugs add color and action. Here, a bright pea and langoustine soup is poured tableside at 17 Summer restaurant in Lodi, N.J.
Though some may consider 17 Summer a fine-dining restaurant, Cuccia says she and her brother strive for a more approachable space, so they're cognizant of how that comes across on the plate. They swap the polished silverware for more matte, hammered stainless steel forks and knives with weight; skip the tablecloth in favor of bare wood; and reach for marble plates to add a pop to homemade pasta dishes. She even keeps a few extra tabletop pieces, such as wooden boards and larger plates, specifically to take Instagram shots in the back-of-the-house space since the pieces would prove too large to fit on the small restaurant tables. She schedules regular photo shoots each week for social media posts.
And while many chefs reach for tweezers and tiny spoons for plating perfection, Cuccia says she and her brother take the "no-tweezer" approach, simply working with clean hands to create a more rustic yet still elegant approach.
Instagram: marriottpv Telling a story: The Marriott Puerto Vallarta Resort & Spa has its own agave azul on-site to produce a proprietary brand of tequila as showcased in its tequila cake.
Color and Texture
Food stylists of days ago might have shied away from photographing less vibrant-colored dishes like meats and mushroom risotto, especially when white plates were more the norm. Nowadays, with the widening range of colored plates and bowls on the market, it's possible to make any beige dish pop, with or without the help of colorful herbs and accoutrements.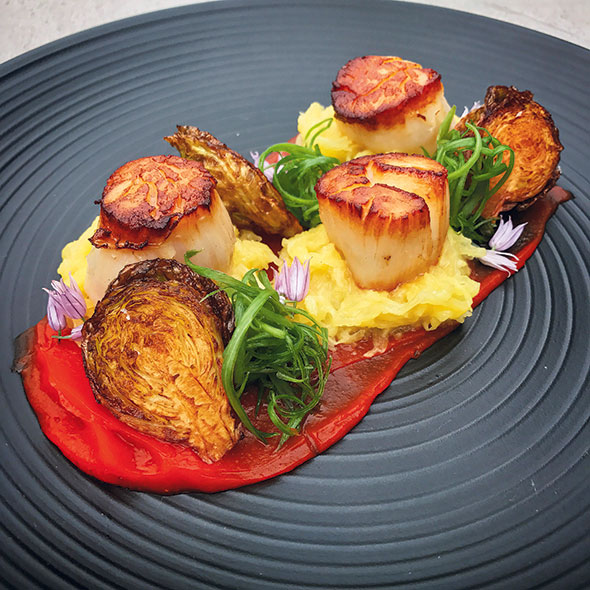 Instagram: anc_chefdrew @kincaidgrill Color contrast: Plates in deep grays offer a backdrop for Alaskan Kodiak scallops with apple-celeriac puree at Kincaid Grill in Anchorage, Alaska.
At 17 Summer, Cuccia reaches for whimsical bright blue dishes when plating richer-looking (and tasting) dishes like duck hearts and potato pancakes. Black matte plates bring out the char of cabbage that's plated alongside pink porkchops, and shinier black "lava" plates help reflect the purples and blues in any lavender or nasturtium garnish, especially when captured with a little light for a photo. "We try to first think about what the food is going to look like and then work backward from there when selecting the color of the plate," she says.
Instagram: @anc_chefdrew @kincaidgrill Color contrast: Plates in pastels offer a brighter backdrop for a white-hued Alaskan halibut and coconut rice dish at Kincaid Grill in Anchorage, Alaska.
Additionally, patterned vessels and those with a textured appearance can help naturally brighten less colorful dishes both in person and in photos. Cuccia works with plates that have a knit-like texture. "We like dishes that have some texture or pattern to help frame the food for photos but that are still smooth so they don't get in the way of eating," she says.
Rimmed or coupe dishware in various forms can help bounce light off a plated menu item as well as create some natural shadowing that works well when photographed, Cuccia says.
Even the weight of plateware comes into consideration when choosing the tabletop setup. The heartier a main ingredient, like a roast chicken, the heavier the dish or platter Cuccia will pick. "We wouldn't serve a homey dish like that on a very delicate plate, so we chose a large, stoneware bowl to create a more approachable feel that can also hold all the juices and pairings," she says. For example, she'll use a heavy, black oval dish for a shareable steak served with a dramatic, vertical presentation of the bones.
Composition Considerations
Instagram: eatatthenest Color contrast: Dark-colored, texturized dishes make eggs and strawberry cobbler pop at The Nest in Bellflower, Calif. Photo courtesy of Oneida Food composition is as important in plating a chef-driven dish as it is for paint on a canvas. Throw in the Insta fever, and now chefs have to be "even more aware that they are dealing with a frame," says Mansfield. When considering plating for Instagram or Facebook specifically, remember social media's penchant for square formats: Sometimes a vertical shot works; sometimes it doesn't.
"You want to look at all the circular forms and other shapes in the frame and decide the best angle to capture all of that," Mansfield says. If there's a concern about how well the photographed dish might show up online, he suggests the chef should think about how and where the shapes of the food and ingredients sit on the chosen dish. That could mean layering the food higher on one side of a square or horizontal platter, which can help with depth effect or buildup in the middle of a flat-rimmed round dish for what could end up being an overhead shot.
Adding Action
Social media photography from the table requires a natural approach without food styling tricks such as glue. Any kind of action adds a bonus and can show the complexity and layers of a dish. Take soup, for instance. It's difficult to make a cream-based soup visually appealing at a dining table, and it's even harder to make it appealing on camera. To counter this, more chefs now send out bowls of soup attractively sprinkled with some of the ingredients or herbs and have the servers pour in the base tableside.
There's a functional benefit to this as well. "One of the main reasons we like to do tabletop pouring is so that the liquid doesn't get all over the place once it leaves the kitchen pass — and for a cleaner presentation that also offers a little show," Cuccia says.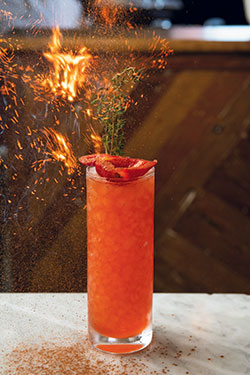 Instagram: sundayinbrooklyn Adding action: Natural lighting, marble tabletops and playful vessels combined with smoke and fire bring life to the dishes and cocktails at Sunday in Brooklyn. Photo courtesy of Evan Sung PhotographyThat doesn't mean servers come bearing mugs or saucepots. Cuccia prefers see-through glass beakers and mini glass milk jugs so diners (and Instagram followers) can actually see the soup inside the pouring vessel before it flows into the bowl. She's taken this approach for a bright green snap pea soup poured over langoustines and edible flowers, a favorite among the restaurant's Instagram followers.
And then there's the bagged or enclosed dishes with smoke, first made popular by forward-thinking cocktail lounges looking for a tableside show. Action presentations like these also have a fun-plus-function aspect to them; they can help contain the aromatics in a dish as it makes its way from kitchen to table while also setting the stage for a great Insta shot diners can show off to friends.
When it comes to modern food presentation, chefs, restaurants and other operators now have more tabletop items and techniques at their fingertips than ever before. Combine that with some basic photography skills and a new mindset that incorporates social media sharing, and the possibilities for presentation in this digital day and age are endless.
Top Tools for Insta-Friendly Plating Techniques
Offset spatulas
Small spoons
Air blowers for clean presentations
Brushes for oils
Spray bottles of all different sizes for misting and water droplets
Wipes
Tweezers
Toothpicks