Americans' love of ethnic foods has supported the influx of Mexican restaurants over the years. The segment continues to transcend from the ubiquitous tacos and tamales to more authentic and regionally inspired concepts.
Mexican food connects to many of today's ethnic trends, which include street food-inspired dishes, ethnic-inspired breakfast items, authentic ethnic cuisine, ethnic spices, ethnic-inspired children's dishes and ethnic condiments. All six ranked among the top trends in the National Restaurant Association's What's Hot Culinary Forecast for 2018.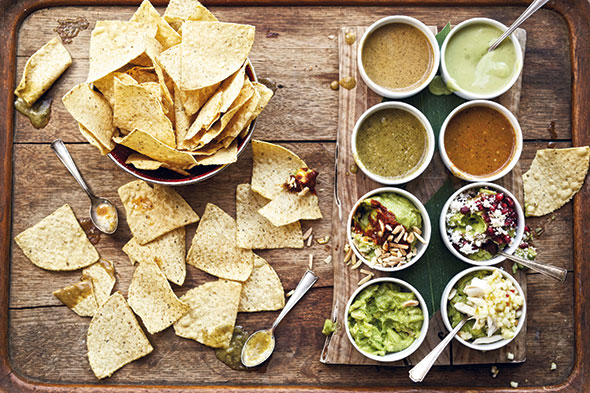 The Mexican restaurant segment grew by just 2.8 percent between 2012 and 2017, according to IBISWorld, Los Angeles. Revenue dollars hit $41 billion in 2017 among 40,948 Mexican restaurants.
Despite this essentially flat growth, the segment ranks No. 6 on the list of limited-service restaurant sales for 2017 with $23.3 billion in sales, according to Technomic's Top 500 Chains report. It also had the largest percentage of growth at 5.8 percent. The top Mexican chains comprised 83 percent of the share of sales. In terms of full-service operators, Mexican restaurants took in slightly more than $16 billion, per the Technomic report, an increase of 4.7 percent from the previous year. This also was the highest amount among all segments.
The total number of limited-service Mexican restaurants in the U.S. was 25,221 in 2017, according to Technomic, an increase of only about 1 percent from the year prior. Slightly more than 50 percent of these were chains. There were 33,535 full-service Mexican restaurants, a 2.4 percent increase.
Top limited-service chains in terms of growth in this segment include Fuzzy's Taco Shop, Torchy's Tacos and Costa Vida Fresh Mexican Grill, according to the Technomic report. Chuy's, Uncle Julio's and Gloria's Latin Cuisine are growing full-service concepts in the Mexican space.
"The challenge is many of these restaurants are regionally based, but they're succeeding in spite of the fact that they're chains," says David Henkes, senior principal of Technomic. "Taco Bell has had strong success and is continuing to grow, and Chipotle, now run by Taco Bell's former CEO [Brian Niccol], is growing at about 6 percent. This is much less than the 14.6 percent from 2017, but it's still growth."
A Ripe Climate
The strength and appeal of the Mexican restaurant segment led food management company Aladdin, the education and healthcare arm of Elior Co., to create Chilaca. "The top three retail brand concepts [for college students] are Chick-fil-A, Starbucks and Chipotle, so we brought in Chilaca as our internal brand," says Joseph DeSalvo, director of operations for Aladdin.
Aladdin introduced its new Chilaca Mexican concept to students at Fairmont State University in Fairmont, W.V., a college for which the contract feeder provides foodservice, at the start of the 2018-2019 school year. The university's central kitchen supports the fast-casual restaurant for both prep and cooking functions. Campus staff then transfer ingredients to its Falcon Center dining hall. Here staff make tacos, burritos and salad bowls to order, Chipotle-style, in front of customers.
The made-to-order format of Chilaca enables Fairmont State University students to customize tacos, burritos and bowls.
"It's fresh Mexican prepared the way customers want it in an upscale environment," says DeSalvo. "We took a square footage footprint that had two concepts last year and made it into one, Chilaca — and doubled our retail foodservice sales with it."
Chilaca's success largely comes from providing students the type of food they prefer, says Guy Kellner, the university's senior director for culinary development, who works for Elior North America. Fairmont State's foodservice team had long sought to provide Mexican dishes in a fast-casual format — a challenge various operators face. For Kellner, the answer came from a visit to Mexico City. There, he tasted authentic recipes, learned how this food was eaten and experienced firsthand how it was presented to customers.
"Chilaca is a bit more authentic than Tex-Mex, and that was the goal," says Kellner. That authenticity comes from the traditional Mexican recipes and ingredients. "We spoke with college students and conducted scientific research as well as informal discussions, and it was evident that higher-education students are looking for fast-casual Mexican food," he says. "That's where our growth is."
Kellner's comments connect to the larger trends around more regional, authentic cuisine. The creativity comes in how operators connect the dots between regional and authentic and the bigger-picture Mexican segment. For example, Texas is well known as the home of Tex-Mex, but there is a fine line between this cuisine and authentic Mexican fare.
"The uprising in the '70s and '80s between Tex-Mex and Mexican cuisine was powerful and revolutionary for this area," says Rick Lopez, executive chef at La Condesa in Austin, Texas. "Today, the cuisine is more inspired by Mexican culture and speaks volumes about the chefs who honor it."
The 2,456-square-foot, 184-seat restaurant focuses on modern Mexican, which blends traditional Mexican dishes with Southern fare. This includes dishes like Tostada de Atun with yellowfin tuna, pickled cucumber, crispy shallot, chipotle mayo and habanero mustard; and Tamal de Camote with sweet potato tamal, mole amarillo, grilled greens, tomatillo and herbs.
"We're blending cultures," says Lopez. "When offering modern Mexican, there are more options, and for us, it's about doing right by the culture."
A decade ago when the restaurant first opened, Austin wasn't only entrenched in Tex-Mex concepts but also strongly rooted in street food and tacos. It was Lopez's vision to take these dishes to a different level. "Modern Mexican is more prevalent in larger cities, but it's not about one type of dish or culture," Lopez says. "It pays homage to many regions and traditional dishes while allowing us to put our own spin on it and tell our story."
Kitchen Innovations
Though the Mexican segment tends to be fairly straightforward when it comes to production, Charles Chuman, vice president of sales at Chicago's CHD-Expert, notes that equipment innovations [such as blenders and mixers] have been critical in creating mole sauces, which can take an entire day to properly prepare.
The degree of authenticity varies in relation to service style, says Technomic's Henkes. "Authenticity on the full-service side is critical with ingredients and prep styles, whereas on the quick-service side, it's more fun and laid-back," he notes.
Centuries-old basic prep equipment, such as the mortar and pestle, is now almost commonplace in authentic Mexican concepts. "How we treat corn, cooking it with lime and grinding it with a mortar and pestle, then hand-cranking it through a machine to produce tortillas, is emulating the process from pre-Hispanic times," says Lopez. "Many chefs are going this route for polenta and grits, too. It's more work, but people appreciate it."
At La Condesa, it's the large plancha grill that really gets a workout as grilled foods of all types figure more prominently on modern Mexican menus. "We burn poached oak from Central Texas on this grill to create vegetarian quesadillas stuffed with grilled greens, including kale, mustard greens and Swiss chard," Lopez says. "We treat vegetables like meat on the grill, and add salsa, pumpkin seeds, chili, garlic oil and salt. It emulates barbecue or grilled meat. It's big and bold and vegetarian as we try to do right by the vegetable. To accomplish this, we smoke and grill everything from butternut squash on glowing embers to taco ingredients. With French foods, you roast bone, but in our space, we like to get a good char and flavor in the food using a cast-iron pan and plancha."
Light and bright, La Condesa's color scheme emulates a Mexican fiesta.
A predilection toward vegetarian represents another trait of today's Mexican cuisine. "One thing Mexican does extremely well is vegetarian," says Fairmont State's Kellner. "Much of the food is really healthy when it's authentic, and there are a great array of vegetarian options."
Because the university supports Chilaca via a central kitchen, the change in menu did not require a change in equipment. The concept shares food production space with other university food programs. Back-of-the-house space on-site holds Chilaca's cold prep, such as salsas.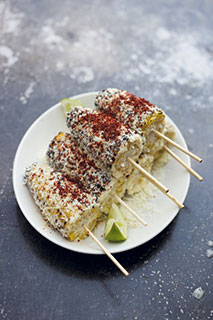 Elotes at La Condesa consist of grilled Mexican sweet corn topped with queso cotija and aleppo chili. "We use existing equipment, and all our food is cooked fresh daily," says Kellner. "We utilize steamers, combi ovens, flattops, and grills for our unique recipes and flavors."
In response to students wanting more ordering options, the university upgraded its technology to include mobile ordering for Chilaca. "Our customers can order in advance when they're on their way, and this queues the order in our system," says DeSalvo. "It also helps us keep track of daily production and customer counts so we're continuously producing fresh food and ready for the flows."
Mexican fare does not necessarily require ornate equipment. All it takes to prepare authentic Mexican food is a standard kitchen consisting of a grill, griddle, fryer and oven, in addition to a good blender, says Ashley James, a celebrity chef based in Los Angeles. "Anyone's kitchen is adaptable to this cuisine," he says. "The focus should be making corn tortillas from scratch; it makes a huge difference." James specializes in international food concepts, drawing from his 17 years at the Four Seasons Hotels and Resorts in Beverly Hills, Buenos Aires, Punta Mita (Mexico) and Singapore; his work in Michelin-starred restaurants in England, France, Germany and Spain; and his experience hosting food-focused shows on PBS and on the elgourmet Latin food channel.
"Mexican food respects seasons and geographical locations, and there are many reasons for this," says James. "In many ways, logistics and transport are more expensive in Mexico, so they don't have the luxury of buying ingredients from all over like in the U.S. and Europe."
For this reason, James believes, Mexican food remains more connected in terms of traditional and authentic cuisine to specific areas. Seafood dishes like red snapper and shrimp, for example, are prevalent on the coasts of Mexico and typically grilled over wood. The inland regions by Guadalajara tend to favor slow-cooked and braised dishes. Restaurants further inland by Puebla are famous for poblano peppers and black mole or mole negro.
"One of my favorite condiments found throughout Mexico that also is popular in the U.S. is achiote," says James. "It is great to marinate a snapper filet, mixing the seeds with vinegar, chili and lime juice into a thick red paste similar to the Indian tandoori. It's also used in tacos al pastor."
On Mexico's east coast, one of the most popular dishes is suckling pig, which is wrapped in banana leaves and cooked for five to six hours in a covered pit. "People are demanding more of an authentic Mexican food experience, unlike 15 years ago when this cuisine was dominated by fajitas, nachos, tacos and burritos," says James. "This food has adapted to local tastes."
The Differentiators
As with ethnic restaurants overall, success in the Mexican space hinges on not trying to be all things to all people.
"The challenge with Mexican is that it is ubiquitous," says Henkes. "Concepts are not just in competition with other Mexican restaurants but also eateries that have Mexican offerings on their menus."
Setting a Mexican concept apart can require some vision and creativity, such as La Condesa's take on the modern version of Mexican cuisine. "One of our most popular dishes is our carrot salad, called Zanahoria, which includes roasted local carrots, pickled currants, crispy quinoa, carrot top chimichurri and cardamom-white mountain yogurt," says Lopez. "This dish is a play on my favorite food as a baby — carrots."
Because Mexican culture places less emphasis on meat due to its more limited availability, La Condesa has another reason to emphasize vegetables as well as beans on its menu. "Another popular dish that's simple is our bowl of beans," says Lopez. "This includes red beans cooked in the style of taro beans with poblano peppers, garlic, tomato, smoked bacon and cilantro. Many use it as a dip, and it's a favorite."
Menu items change quarterly. Another unique dish came with La Condesa's take on tamales, which feature lamb, sweet potato and corn. "Normally, these are made small and served six or seven at a time, but we like to shine the light on the production and make one large tamale," says Lopez. "What people are looking for is the freedom to pick what they want to eat, add the sides they want and create their own dish. The pretentious fine dining and funky techniques are falling by the wayside."
With Mexican fare, as in other segments, people are seeking simplicity in addition to attention to detail. FE&S