A year after Hogadon Basin Ski Area's big renovation anniversary, staff readied for another successful season feeding skiers, hikers and event participants.
A year prior, the city council had faced a difficult decision: either close the lodge or build a new facility. The 59-year-old lodge at the Hogadon Basin Ski Area in Casper, Wyo., had reached the end of its functional capabilities.
"Part of the old lodge had been condemned," says Chris Smith, superintendent of Hogadon Basin Ski Area. Expanding for year-round park usage was another attractive opportunity for city council in its decision to rebuild.
Perched on 8,000-foot Casper Mountain, the new lodge's structure consists of board-form concrete, steel, metal siding and wood.
"Our biggest obstacle was getting the funding for the lodge," Smith says. "We're subsidized by the city and provide a service to the community, which includes 59,000 people. Even though it is close to Casper, few people were taking advantage of the area because they thought it was just for skiing and hiking."
The final approval to fund construction of a new lodge meant a new full-service kitchen, a cafe, a full-service bar and dining rooms for daily service and catered events. The multiple food stations are a sharp contrast to the single serving line, grab-and-go case and cashier in the former lodge.
"With the new lodge, we are rebranding the area as a year-round facility and park where people can ski, snowboard and hike and also hold events," Smith says. "Last year the mountain issued nearly 500 season ski passes and had almost 16,000 skiers and snowboarders. We had about 16 weddings in the first season the lodge was opened."
Located 8 miles south of Casper atop Casper Mountain, Hogadon Basin Ski Area's scenic views stretch about 150 miles from downtown Casper to the Big Horn Mountain. The lodge sits at the top of the mountain at 8,000 feet.
Sunlight shines through windows at the bar. The patio area accommodates guests on clear sunny days and on warm nights.
The lodge's design team wanted to capture the spectacular, panoramic views of the mountains and city below and make sure the building complemented the landscape. "We selected a structure of board-form concrete, steel, metal siding, which are durable, so we won't have to provide constant maintenance," says Garett P. Chadwick, AIA, LEED AP BD+C, principal of GPC Architects in Driggs, Idaho. GPC Architects worked with San Francisco architectural firm Bull Stockwell Allen. "Snow accumulation must be factored into the design, which features slow sloping roofs. This way snow stays on the roof all winter and won't slide off and pile onto walkways and doors."
The interior design features wood and glass elements, which contribute warmth and natural light. "We wanted the interior to also be low maintenance and durable so the building could be used for a variety of functions from skiers walking in their heavy boots to weddings." For instance, the dining room features flocked, anti-microbial flooring that looks like carpet but acts more like sheet vinyl.
Customers pass through cashier stations on their way to the dining room.
Classic Production Principles
When designing the foodservice, the design team followed classic production principles to make sure food would flow seamlessly from delivery to staging to preparation to service. "This was to expedite the delivery of goods to the associated storage areas and not impact preparation and display cooking areas or the openness of the bar and dining rooms," says Michael Miles, FCSI, principal, H-C Design & Consulting, Bozeman, Mont. "The project highlights the capabilities of this unique facility to entice the patrons with the larger selection of options and a varied service format within a small footprint."
Food deliveries arrive twice a week, on average, at a loading dock on the south side of the lodge. Staff bring the deliveries from the loading dock through the front door of the lodge. "Rubber flooring here prevents slippage by deliverers and staff," says Tim Hammerschmitt, director of food and beverage, Spectra Venue Management by Comcast Spectacor, Hogadon Basin Ski Area's foodservice and hospitality provider.
Staff place food and supplies into storage, which includes a walk-in cooler and freezer. In the cold preparation area they cut vegetables, cheeses and proteins and prepare house-made salad dressings. The back-of-the-house kitchen also contains a reach-in refrigerator, a slicer, a food processor and a microwave oven.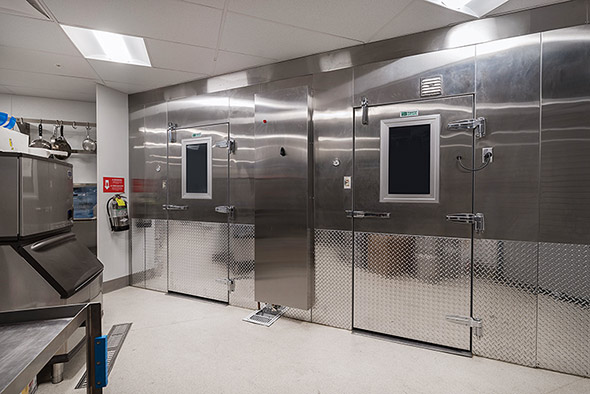 Walk-in coolers allow for storage of twice-weekly food deliveries.
"We pride ourselves in featuring fresh food made from scratch," says Hammerschmitt. "We offer cook-to-order menu items on weekends. During the week, when there is less traffic, we offer more grab-and-go salads and wraps."
This kitchen area also features a tilting skillet, a double-stack, a full-size convection oven, a 36-inch range, a 20-quart mixer and stand, a bun pan rack and a low-temperature cook-and-hold oven.
The dishwashing area includes clean and dirty dish tables, a disposer and a warewasher that staff use to clean china and glass after events. "At the end of the dishmachine we have room to let two dish and glass racks dry at a time," Hammerschmitt says.
Hogadon Café currently uses eco-friendly disposables. "Because of the cost of these products, we're switching to wrappers for burgers and sandwiches," Hammerschmitt says.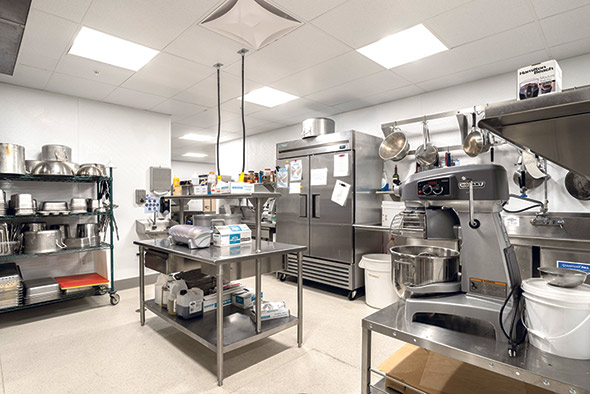 Walk-in coolers allow for storage of twice-weekly food deliveries.
Front-of-the-house design features a food-court-style layout so customers don't have to wait in long lines. The first station customers see is the flatbread pizza station. Staff take ingredients from a reach-in refrigerator and drawers beneath the pizza prep table to make cheese, barbecue chicken, Margherita and pepperoni pies that they heat in two quick-speed ovens. The ovens also heat casseroles. Staff display pizzas on heated shelves and casseroles in steam table pans and on the induction warmer.
An adjacent action station features two single-burner induction hobs that staff use to prepare daily a la minute specials.
A grill and sandwich station features burgers, prime rib Philly sandwiches, beef brisket, turkey melts, BLT sandwiches, and macaroni and cheese. Equipment supporting this station includes a drawered refrigerator that holds ingredients, a flattop griddle, an undercounter refrigerator, two reach-in freezers, a four-burner range for heating soups and sauces, and a sandwich/salad refrigerated rail. Staff use a single-burner induction cooktop to prepare and display the soup of the day.
During the week, staff prepare most of the menu items to order. On weekends, when demand is especially high, staff batch-prepare menu items in the back of the house and bring them to the front of the house for faster service. Heated glass merchandising warmers hold ready-to-eat grab-and-go foods.
Thanks to the food court-style setting in the servery, customers can pick up food quickly without standing in one long line.
When traffic is high, a carving station provides customers with menu choices of fresh turkey and tri-tip beef. This station contains two round, heated wells for soup and a refrigerated sandwich/salad unit. A refrigerated self-service case holds ingredients for made-to-order sandwiches. Behind the station, a reach-in refrigerator holds additional ingredients. A bun pan rack holds freshly baked bread.
The beverage area contains cold soda and water and hot drinks such as coffee, tea and cocoa. Grab-and-go air-curtain coolers hold salads, sandwiches, yogurt and energy drinks. Two cashier stations accommodate customers before they enter the dining rooms.
The bar contains five drainboard cabinets, a glass washer, a three-compartment sink, a single-bowl sink, a backbar cooler and storage. The area also features mug frosters and a keg cooler.
As the lodge enters into its second full year, the City of Casper and Spectra Venue Management anticipate growth of about 20 percent in servery and catered sales. Word of mouth will undoubtedly serve as one of the lodge's strongest sales tools. As the guest count grows, the foodservice staff will continue to experiment with recipes and service styles that elevate expectations for dining at 8,000 feet.
Wood ceilings, doors and accents add a warmth to the open space.
Floor-to-ceiling windows enable guests to see spectacular views of the nearby mountains and city below.
Facts of Note
Opened: Nov. 4, 2017
Scope of Project: A new building and dining operation, including a kitchen and seating area
Size: Lodge, 16,000 sq. ft., including; kitchen 972 sq. ft., Hogadon Café serving area;1,550 sq. ft., and bar; 210 sq. ft.
Seats: 150, including 42 bar seats and 40 outdoor balcony seats
Average Check: $8
Transactions: In the winter, up to 400 on weekends and up to 50 on weekdays; 16 weddings in the first year
Hours: 10 a.m. to 4 p.m., Wednesday through Sunday during ski season
Staff: 7 full-time equivalents on weekends; on weekdays and slow periods, can run with 3 if necessary; special events, up to 13
Total Project Cost: $6 million
Equipment Investment: $460,000
Website: hogadon.net
Key Players
Owner: City of Casper, Wyo.
Superintendent of Hogadon Basin Ski Area, City of Casper: Chris Smith
Associate Engineer, City of Casper: Alex Sveda
Director of Food and Beverage: Tim Hammerschmitt, Spectra Venue Management by Comcast Spectacor, Hogadon Basin's foodservice and hospitality provider
Executive Chef: Richard White Eagle
Architects and Interior Designers: GPC Architects, Driggs, Idaho: Garett P. Chadwick, AIA, LEED AP BD+C, principal; Bull Stockwell Allen (San Francisco office): John Ashworth, principal
Foodservice Design Consultants: H-C Design & Consulting, Bozeman, Mont.: Michael Miles, FCSI
Equipment Dealer: Commercial Kitchen Supply, Centerville, Utah: Jamie Larsen
General Contractor: G.H. Phipps in Laramie, Wyo., and Sheridan, Wyo.
Facility's Financial Supporters: Friends of Hogadon, a nonprofit group of businesspersons, including Bob Kidd, Ray Bader and Bruce Lamberson