In today's food photo- and Instagram-obsessed world of dining, chefs from every segment know the importance not just of plating food beautifully but also of selecting the right plate, bowl or vessel to round out the whole presentation. Even cocktail specialists have become presentation artists in their own right — from choosing the simplest of glasses to let their beautifully garnished creations shine to reaching for more ornate glassware to add a special je ne sais quoi to a simpler drink.
Why go to all this trouble? For one, it's fun and a form of creativity for the chefs. Perhaps more importantly though, diners these days simply demand this kind of quality, style, "scene" and experience when they go out, regardless of the menu, style service and, yes, even price point. It's not just a possibility that diners will take pictures of their food; it's an expectation, and those making the food take that into consideration on a daily basis. Chefs, restaurateurs and even noncommercial institutions such as forward-thinking colleges and universities simply understand the value of better food presentation.
Stubborn Seed's Dessert Daisy, made with tequila, beet, orange bell pepper, habanero shrub, lime and carrot habanero dust. Photo courtesy of Grove Bay Hospitality Group
Even the design planning and opening stages of restaurants now allocate more time for tabletop and presentation planning. "Chefs and restaurateurs are becoming very thoughtful in that they are allowing more time to plan for their presentations and customize the pieces that they want, from creating their own steak knives to etching logos on a plate or glassware item," says Morgan Tucker of M. Tucker/Singer NY, a New York-based equipment and supplies dealer. "They want more flexibility and room to be creative in terms of designing their own immersive and interactive dining experience."
There seems to be no end in sight for the variety of tabletop items now available. Here's a visual array of what's new and trending.
---
Starters and Snack Presentations
The Restaurant: Fisk & Co. in Chicago
The Chef: Austin Fausett
The Dish: Salmon Tartare with avocado and curry emulsion
Presentation Notes: Chef Fausett reaches for a slate grey board (more commonly used for cheese plating) to emphasize the pastel pink color of the salmon and light greens of the avocado balls he creates using a melon baller. He uses a vegetable peeler to shave market-fresh carrots pickled in sesame and soy with herbs and pairs this with pickled shallots sliced about 1 1/2 inches thick. Using tweezers, Faucett carefully places chopped chives upright like a small bunch of wheatgrass along with black and white sesame seeds.
Photo courtesy of Kimpton Hotels and Restaurants
---
The Restaurant: Vol. 39 at The Kimpton Gray in Chicago
The Chef: Brian Millman
The Dish: Turkish meatballs
Presentation Notes: To support his attempt to recreate his childhood's most comforting food memories, Millman chooses playful vessels for his various dishes. He serves his Turkish meatballs in a white porcelain version of a mini crock pot.
Photo courtesy of Kimpton Hotels and Restaurants
---
Greens on Display
The Restaurant: Stubborn Seed in Miami Beach, Fla.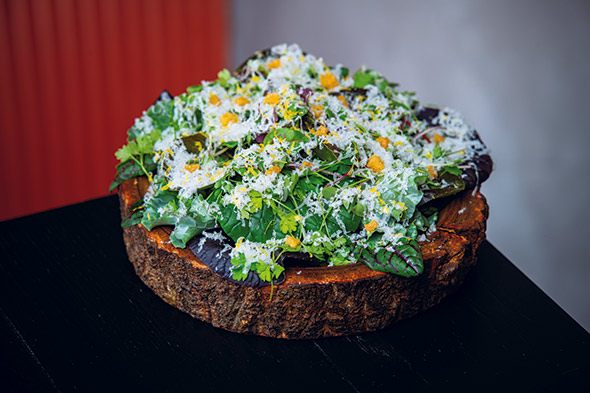 The Chef: Jeremy Ford
The Dish: Simple Greens
Presentation Notes: Ford swaps a traditional bowl for a carved-out, roasted Japanese squash in which he layers mixed, locally sourced baby greens garnished with fresh herbs, Meyer lemon zest and shredded aged parmesan.
Photo by Gina Shonek
---
Pasta Staging
The Restaurant: Sable Kitchen & Bar in Chicago
The Chef: Amber Lancaster
The Dish: Sweet Corn Raviolo
Presentation Notes: Lancaster serves her homemade ravioli creation in the center of a round, white plate with 1/2-inch deep sides for a more geometric twist on the once ubiquitous coupe plate. She makes the dish using her own pasta dough and, instead of smaller pieces, stuffs two giant dumplings with fresh corn, ricotta and goat cheese before topping it all with basil, truffle and brown butter.
Photo courtesy of Kimpton Hotels and Restaurants
---
The Restaurant: Biella Ristorante in Sunny Isles Beach, Fla.
The Chef: Jorge Cabrera
The Dish: Spaghetti alla ruota
Presentation Notes: A decadent tableside preparation, the spaghetti alla ruota is the latest dish to join the menu at Biella. First, a whole block of Parmesan cheese is split in half and its surface is set on fire to lightly melt the first layer. Next, Cabrera throws a pan of house-made spaghetti with pancetta on top of the cheese, carefully mixing the ingredients on the warm surface of the wheel until it catches the robust flavors of Parmesan. The spaghetti is then plated in a classic white bowl, along with the scrapings of the crusty surface of the cheese and a garnish of truffle oil and fresh parsley. Placing a mound of wound pasta in the middle of the white bowl's deep well creates visual intrigue for the diner.
Photo courtesy of Kimpton Hotels and Restaurants
---
Meat Exhibition
The Restaurant: Kuro in the Seminole Hard Rock Hotel and Casino in Hollywood, Fla.
The Chef: Alex Becker
The Dish: The Japanese Wagyu Hot Stone Ishiyaki
Presentation Notes: Staff grill aged Wagyu beef and vegetables over Japanese binchotan (white charcoal) and serve the food atop a mixed-material platter combining two types of glazed ceramics that create different compartment-like spaces on the vessel.
Photo by Michael Pisarri
---
The Restaurant: El Che Bar in Chicago
The Chef: John Manion
The Dish: Parrillada
Presentation Notes: One of national dishes of Argentina, the parrillada takes its name from the simple iron grill barbecue, a parrilla, found prevalently throughout the country. Meant for family-style sharing and tasting, Manion compiles this summer parrillada using spicy chorizo verde and morcilla sausages, tender sweetbreads, decadent bone marrow and asado-style flank steak. Smoked salt, salsa criolla made of pickled chili peppers, onions and tomatoes and homemade chimichurri make up the accoutrements. A rustic menu item like this deserves a rustic presentation, and it gets one courtesy of the oval-shaped wooden serving vessel that showcases the meats, vegetables and sauces in a sophisticated yet approachable manner.
Photo Courtesy of Chicago Food CoOp
---
Seafood Semblance
The Restaurant: Stubborn Seed in Miami Beach, Fla.
The Chef: Jeremy Ford
The Dish: JoJo Tea–Cured Snapper
Presentation Notes: Ford gently simmers the fish in tea from local brand JoJo, and using tweezers, interplays the white fish with pops of color from cara cara oranges, compressed radish and bright green herbs along the curved rim of a shallow, hand-indented, pottered white bowl. Servers pour celery broth tableside.
Photo courtesy of Grove Bay Hospitality
---
The Restaurant: StripSteak by Michael Mina in Miami Beach, Fla.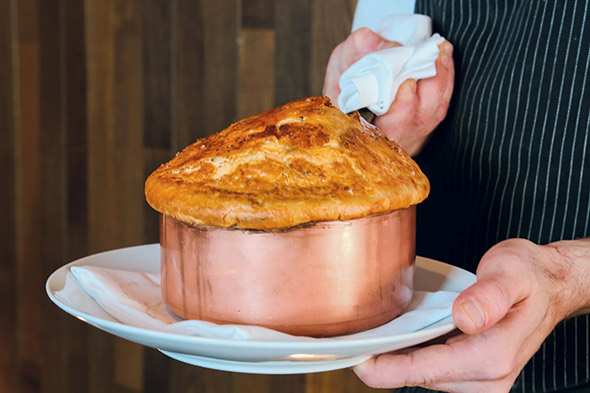 The Chef: Chef De Cuisine William Crandall
The Dish: Lobster pot pie
Presentation Notes: The restaurant bakes and serves lobster brandy cream, seasonal vegetables and truffle in a rose-colored copper pot. The pie pastry puffs up for ooey-gooey goodness when the forks hit the crust.
Photo by Kevin McCullough
---
The Restaurant: Salt Traders Coastal Cooking in Round Rock, Texas
The Chef: Chris Ten Eyck
The Dish: Snapper collar with bull red sauce
Presentation Notes: A blue-lined, white tray presents the whole, roasted snapper collar and its variety of accoutrements: bull red sauce in a squeeze bottle, tartare sauce, ceviche in a speckled blue bowl, a handled tin of sardines and, in a mini cast-iron dish, hushpuppies with jalapeno, cornbread batter and remoulade.
Photo courtesy of Kenny Braun Photography
---
Dessert Displays
The Restaurant: ETARU in Hallandale Beach, Fla.
The Chef: Hamish Brown
The Dish: Dessert Platter
Presentation Notes: Meant for sharing, this indulgent selection of ETARU's most popular decadent desserts arrives tableside in a large, dark green and brown ceramic bowl set with ice and a mix of smaller ceramic vessels. The treats include guava mousse with grilled papaya, mango biscuit and passionfruit sorbet; smoked coconut with passionfruit parfait and raspberry; peanut, vanilla and chocolate sundae with sesame poki sticks; dark chocolate and green tea pudding with crunchy jivara and pear ice cream; and a selection of assorted fruits and Japanese mochi.
Photo courtesy of ETARU
---
The Restaurant: Mason in Miami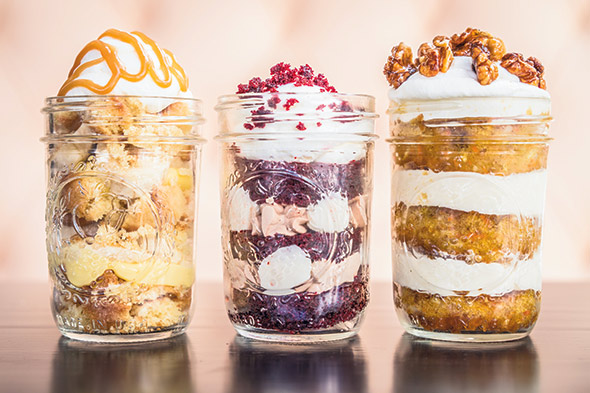 The Pastry Chef: John Maiel
The Dish: Cake Jars
Presentation Notes: At Chef Brian Nasajon's late-night eatery, Maiel lines mason jar upon mason jar for deconstructed cakes that resemble trifles in different flavors such as carrot cake, red velvet and banana cream.
Photo by Robert Packar
---
The Restaurant: Stubborn Seed in Miami Beach, Fla.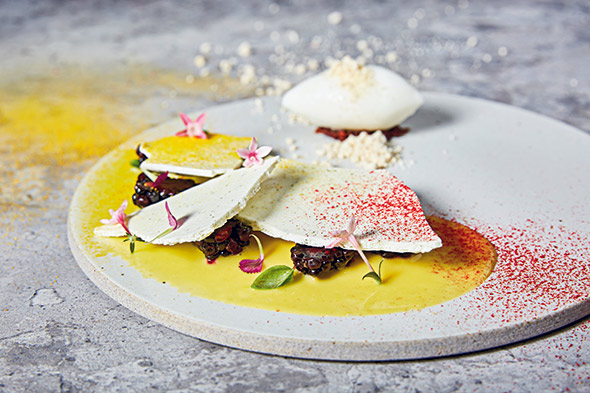 The Pastry Chef: Dallas Wynne
The Dish: Corn Pavlova
Presentation Notes: Wynne prepares a classic meringue infused with bay leaves that's spread thin, cracked into pieces and served with summer berries atop a Meyer lemon and sweet corn pudding spread onto a solid white stone dish to match the meringue. A quenelle of buttered popcorn ice cream and a light dusting of chile and tiny edible flowers gently placed throughout round out the dish.
Photo courtesy of Grove Bay Hospitality
---
Breakfast and Brunch Tabletop Trends
The Restaurant: The Nest, a Breakfast Joint, in Bellflower, Calif.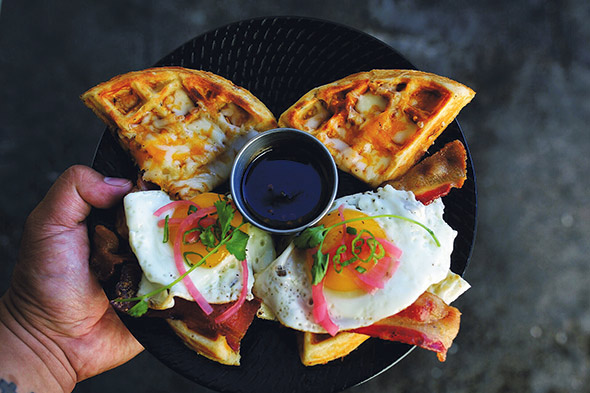 The Chef/Creator: Ron Sararana
The Dish: Custard french toast with tres leches sauce
Presentation Notes: Sararana's team reaches for black porcelain coupe plates with gentle grooves to allow the colors of the dish to pop more than they would on a stark white plate. The white of the eggs, whipped cream and bourbon sauce and the toasted caramel colors of the toast, bacon and waffle really stand out in this presentation.
Photo by Ron Sararana
---
The Restaurant: Sunday in Brooklyn in Brooklyn, N.Y.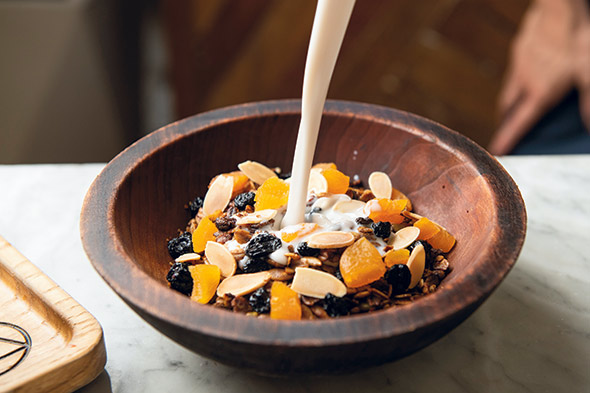 The Chef: Jaime Young
The Dish: Granola with dried apricot, almond milk and mango
Presentation Notes: As bowls continue to be all the rage, chef Jaime Young turns to a rustic wooden version to create an appearance that is casual yet allows the white of the milk and orange-hued mango and apricot to stand out better than against plain white.
Photo by Evan Sung Photography
---
Cocktails with Pizzazz
For Brunch
The Restaurant: 312 Chicago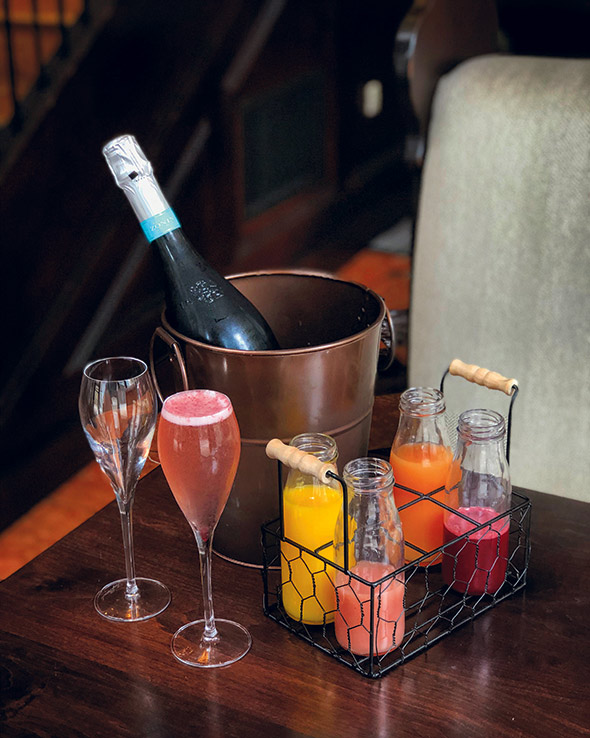 The Bartender: Marko Milunovic
The Drink: Build Your Own Mimosa
Brunch goers can purchase the Build Your Own Mimosa, complete with a bottle of Prosecco and freshly squeezed juices.
Presentation Notes: A copper pail keeps champagne chilled, served alongside an iron basket holding fresh-squeezed orange and other juices.
Photo courtesy of Kimpton Hotels and Restaurants
---
For A Show
The Restaurant: Stubborn Seed in Miami Beach, Fla.
The Drink: The Half Baked cocktail at Stubborn Seed in Miami Beach, Fla., with eight-year rum, Swedish punsch, sweet potato, orgeat, angostura, lime and real smoke from a smoking gun.
Presentation Notes: Bartenders mix the cocktail in a wide-bottom beaker and then fill it with aromatic smoke for a full sensory presentation.
Photo courtesy of Grove Bay Hospitality Group
For Tableside Service
The Restaurant: Council Oak Steaks & Seafood in Hollywood, Fla.
The Drink: The Smoked Rare Manhattan. At Council Oak Steaks & Seafood at the Seminole Hard Rock Hotel & Casino, bartenders mix and pour cocktails tableside. The Smoked Rare Manhattan features Macallan Rare Cask single malt whisky, sweet vermouth, orange bitters, a sugar cube and smoked cinnamon sticks.
Presentation Notes: The mixologist mixes and smokes the cocktail tableside using a smoking gun and dome and then pours the final product over an ice sphere.
Photo courtesy of Seminole Hard Rock Hotel
---
Trending Tabletop at a Glance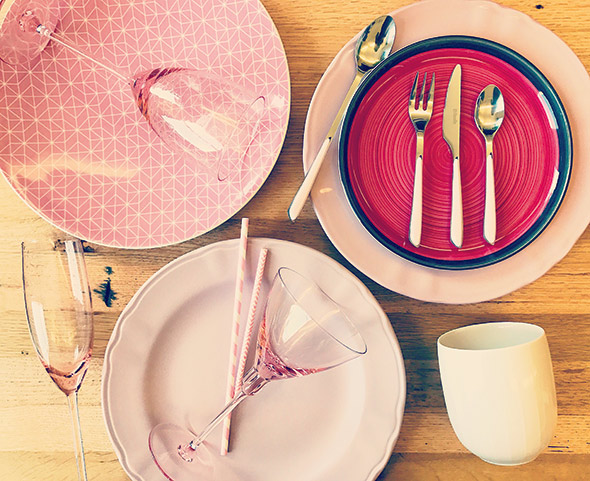 A rainbow of tabletop products on display highlights emerging color trends. Photo by Sarah Bulmer
Marble-inspired plateware at Tanzy Restaurant in Boca Raton, Florida. Plating by chef Charles Voudouris. Photo Courtesy of Tanzy Restaurant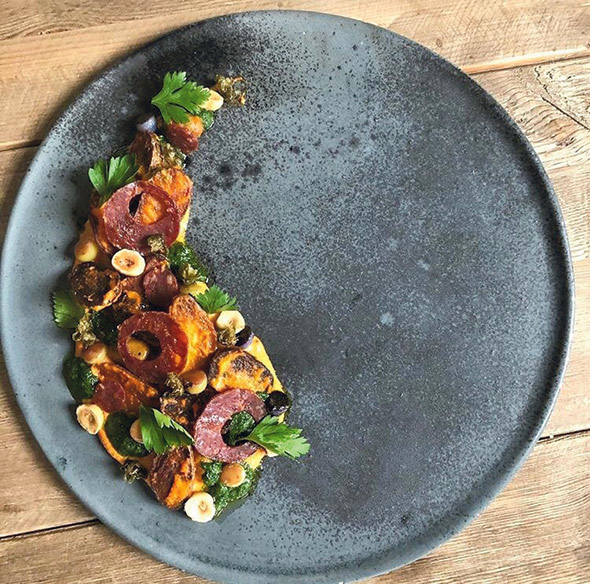 Rustic slate dinnerware at Auberge Resorts in Napa County, California. Plating by chef Ross Kilkenny. Photo by Mars Lasar
Shades of pink dinnerware at Untitled in New York City. Plating by chef Suzanne Cupps. Photo by Sarah Bulmer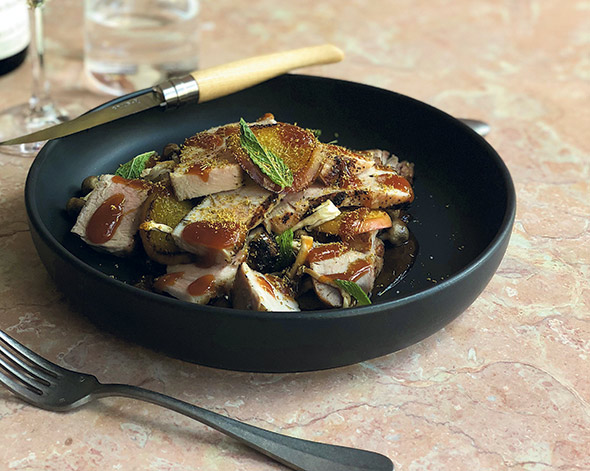 Matte black dinnerware at The Usual in New York City. Plating by chef Alvin Cailan. Photo by Sarah Bulmer