A team of chefs from Rogue Valley Manor in Medford, Ore., took first place in the annual Culinary Competition hosted by the Association for Healthcare Foodservice. The team's winning entry was a plant-based dish called 30th Street Corn Risotto. Winning chefs from Rogue Valley were Robert Navarrete, CEC, and Diane Menzie.
Chef Robert Navarrette, CEC and Diane Menzie of Rogue Valley Manor, winners of the 2018 AHF Culinary Competition. Photo courtesy of Amy Coppersmith
Second place went to Antonio Sanchez and Moulay Hida of Hennepin Healthcare in Minneapolis. Richard Farmer and Michael Vetro, St. Jude Children's Research Hospital in Memphis, took third place.
The finalists, teams from five hospitals and long-term care facilities, competed to create the best meal from original recipes, with judging on organization, culinary skills, taste and presentation. Meals had to be suitable to serve in healthcare foodservice facilities and meet cost requirements of no more than $8 per meal and nutrition parameters of no more than 700 calories, 23 grams of fat and 750 mg of sodium.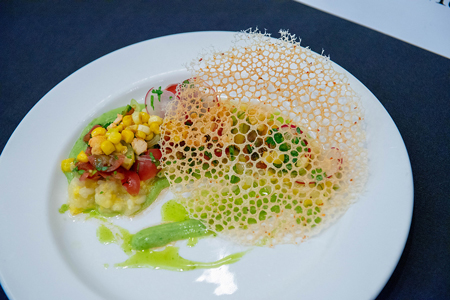 The winning dish: 30th Street Corn Risotto. Photo courtesy of Amy Coppersmith
Navarette said his team's winning dish was inspired by grilled Mexican street corn called elotes, served with crema, cotija cheese and spices. Menzie said he used a seaweed stock with avocado to make a crema-like sauce and pickled cauliflower and cilantro oil to get the cheese flavor from plant-based ingredients. The corn was topped with spices and garnished with fresh tomatoes and green onions.
Just before the final competition, chefs received a "mystery ingredient" to incorporate into their meal. This year's ingredient was a choice of a craft brew beer from the Minnesota-based craft brewery Surly Brewing Co.
The winning team incorporated the ingredient into the risotto. The beer made the recipe not purely plant-based, but it complemented the flavors of the dish, Navarrete said.
Other finalists competing were:
Captions: Chef Robert Navarrette, CEC and Diane Menzie of Rogue Valley Manor, winners of the 2018 AHF Culinary Competition. Photo courtesy of Amy Coppersmith