Photos courtesy of Hendricks Regional Health
The first hospital in Brownsburg, Ind., came with another first for the Hendricks Regional Health system as this site marks the system's first micro site.
Located 18 miles from its sister facility in Danville, Hendricks Regional Health system's new Brownsburg facility contains six beds, a full-service emergency room, immediate care services, on-site physical therapy and cardiac rehab therapy, as well as a full-service lab and radiology services. Hendricks Regional Health owns and operates both hospitals. By expanding into Brownsburg, the hospital system gains a competitive marketplace advantage and expands its outreach. Hendricks also serves six additional suburban Indianapolis towns.
Though its patient population is small, Brownsburg offers full room service. "The decision to do room service was difficult due to the cost and small number of patients," says Martha Rardin, RDN, director of Nutrition & Dietetics, Hendricks Regional Health. "However, my team and administration felt it was important to uphold the high standard of care and high level of patient satisfaction in this smaller hospital as we have in Danville. The administrators agreed. They didn't want people to pay hospital rates and not get good meal service."
Martha Rardin, Hendricks Regional Health, checks the high-speed oven at Brownsburg before associates begin patient tray preparation.
Daily Operations
Brownsburg provides room service from 6:30 a.m. until 6:30 p.m. The 160-bed Danville hospital provides room service to patients from 6:30 a.m. until 8:45 p.m. Two employees staff the micro hospital's food and nutrition department. Starting at 6:30 a.m., a Brownsburg nutrition and dietetics associate, who works the first shift from 6:30 a.m. until 2:30 p.m., visits patients' rooms and takes menu orders for breakfast. That associate or the second-shift associate also comes back to the rooms during the lunch and dinner meal periods.
Patients select their menu choices from printed menus they receive in their rooms. Associates either use an electronic tablet to place the order or patients can call their orders in to the call center in Danville. A tray ticket for each patient prints out at the Brownsburg location to guide the associate through the preparation process. "We want patients at Brownsburg and Danville to experience the same level of service and receive the same quality of food," Rardin says.
The associate also takes an inventory of food items in Brownsburg and faxes a list of food and supplies needed to Danville. In Danville, associates cook menu items such as roast turkey, meatloaf, chicken and noodles, mac and cheese, salmon, grilled chicken, pot roast, and grilled hamburgers. Kitchen staff quick-chill proteins in a freezer or blast chiller and place them in a refrigerator. Additional menu items that require refrigeration space include chef and Caesar salads as well as some of the desserts, such as cheesecake and ice cream. Other desserts, including angel food cake and cookies, remain frozen until a patient orders them. Fresh and canned fruit remain in refrigeration or ambient storage.
Associates use various ovens to prepare meals for patient tray delivery. Photo by Martha Rardin, MS, RD, CDA Danville associate places the cold and ambient food in lightweight transport containers. "These hard foam containers are very light but durable and guarantee a four-hour hold time," Rardin says. The second-shift associate works from 11 a.m. until 6:30 p.m. That person's first task of the day is to pick up the containers in Brownsburg and drive to Danville, where they will gather the items from the list faxed over earlier in the day. The second shifter then returns to Brownsburg. "The round trip is a one-and-a-half-hour task, including loading and unloading incoming supplies," Rardin says.
When the associate arrives back in Brownsburg, they store food in a refrigerator, freezer or dry storage in a 550-square-foot kitchen on the second floor, the same floor as the patient rooms. When patients request meals, one associate rethermalizes cold menu items using a combi oven, quick-speed oven, microwave oven and toaster. This associate also prepares fresh salads on demand.
Staff plate hot menu items on a china plate that sits on a heated base and covers the plate and base with a dome to retain the heat. The associate also places cold menu items and beverages on the tray. "It's very important to keep a good rotation of food and other supplies in order to maintain the integrity of the food," Rardin says.
The room service preparation space includes a pizza prep refrigerator, two undercounter refrigerators, one undercounter freezer, a four-door reach-in refrigerator and a two-door reach-in freezer, and patient serving trays. An undercounter dishwasher cleans china, serviceware and trays.
A breakfast tray features an omelet, potatoes, a muffin, fruit and a beverage.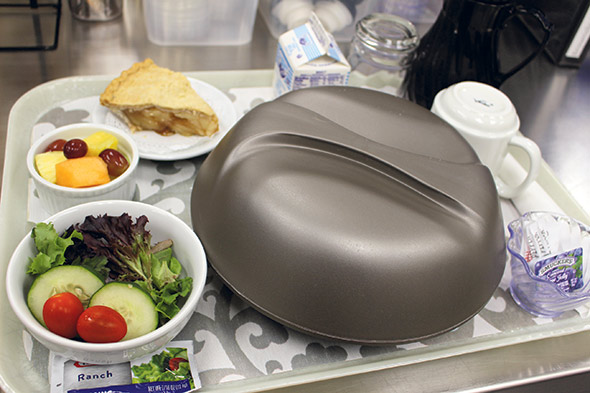 China plates hold cold and hot foods, which a dome covers to retain the heat. Photo by Martha Rardin, MS, RD, CD
Early Feedback
"Each staff person has to be the room service specialist, dishwasher, cook, receiver and person in charge," Rardin says.
Brownsburg doesn't provide outpatient or staff foodservice at this time. However, hospital employees can take advantage of a cashless vending operation.
During the first few months in operation, Rardin reports, "Our patient satisfaction has been high, and we have received many compliments on our attentive meal service." As the micro-hospital concept continues to grow, this expedient, high-quality foodservice model will certainly gain national attention.
Hendricks Regional Health Micro Site Facts
Hendricks Regional Health, Brownsburg Micro Site Opened: Jan. 8, 2018
Brownsburg Hospital: 6 beds with space to grow to 12 beds
Size of Brownsburg Hospital: 30,000 sq. ft.
Size of Brownsburg Kitchen: 550 sq. ft.
Total Operating Cost, Brownsburg: $100,000 per year
Hours of Room Service, Brownsburg: 6:30 a.m. to 6:30 p.m.
Owner: Hendricks Regional Health, Indiana
Executive Director, Professional Services, Hendricks Regional Health: Shane Sommers
Foodservice Director, Hendricks Regional Health: Martha Rardin, MS, RD, CD
Supervisor of Nutrition & Dietetics, Hendricks Regional Health: Beth Summers, CDM
Architect: BSA, Indianapolis
Foodservice Consultant: Reitano Design Group, Indianapolis; Scott Reitano, FCSI, principal
Equipment Dealer: Central Restaurant Supply, Indianapolis