Much like the unique customer base it serves — indeed, because of it — the campus dining segment remains in a constant state of flux. Every new generation of students challenges college and university (C&U) foodservice leaders to find ways to pivot, shift and innovate to satisfy changing tastes and expectations. And, like other foodservice segments, its leaders must do more with less — less money, less labor and shorter time windows between refreshes, remodels and concept updates.
The best and brightest campus dining programs make it look easy, offering a dazzling array of venues and chef-driven menus that are on trend and in step with what students want and need most. Collectively, they've reshaped the segment and wiped out any remnants of old-school, scoop-and-dump cafeteria-style serveries. Campus dining today is all about freshness, customizability and convenience delivered via vibrant restaurant and retail concepts. Its leaders remain committed to enhancing the whole health of their customers — not just filling their stomachs but integrating health, wellness and sustainability into their programs, as well.
Here, C&U foodservice directors from around the country provide an update on what's on the menu at schools known for outstanding dining services programs, and what's on the minds of their leaders. Collectively, they and their teams manage programs that generate more than $209 million in annual revenues. They're award winners, innovators and masters at juggling the unique demands of the C&U dining segment.
Read on for insights from Juergen Friese, assistant director of dining services at the University of Colorado Boulder; Rich Neumann, director of culinary services, and Kent Scott, associate director of auxiliaries operations, both at Ohio University; C. Dennis Pierce, executive director of dining services, University of Connecticut; and Kirk Rodriguez, managing director of hospitality services at Texas Tech University.
FE&S: Let's kick off with what's in. What are the most popular or successful recent additions to your campus dining program?
Pierce: We've been making the shift to more plant-based menu options and ingredients and moving away from red meat. In January, we switched from traditional beef burgers to blended burgers (part chuck, part mushroom) campus-wide. It was a controversial move because we don't offer it as an [additional] option; we did a 100 percent change. A small contingency of students was upset but we stuck with our decision for sustainability and health reasons. While it's difficult for some current students to accept the change, it will just be a fact of life for incoming first-year students in the fall, similar to when we went trayless.
A popular new feature at UConn's Putnam Dining Hall is the fresh juice/smoothie station, which is integrated into the salad bar. Students choose their ingredients, add-ins such as protein powders, and employees create the drinks using high-speed blenders behind the bar. Photo courtesy University of Connecticut Dining Services
We also recently completed a $23 million dining hall renovation that includes a fresh juice bar. When we created the salad bar we added a rounded, refrigerated counter area with bowls underneath. Students can grab a bowl, fill it with their choice of fresh fruits and vegetables from the bar and hand it to the employee behind the counter, where we have five high-speed blenders. They can choose from a variety of apple juice blends, protein powders and other add-ins. The station is open all day and is constantly busy. Another trend here is collaboration between dining services and academic departments. That's come in large part from our participation in the Menus of Change University Research Collaborative. I've been here for 30 years and, prior to the last 2 years, can't remember that I've done any kind of projects that involve working with academic departments. We get a lot from them and they like to use dining services as labs, bringing students in and having them do both culinary and business-oriented projects.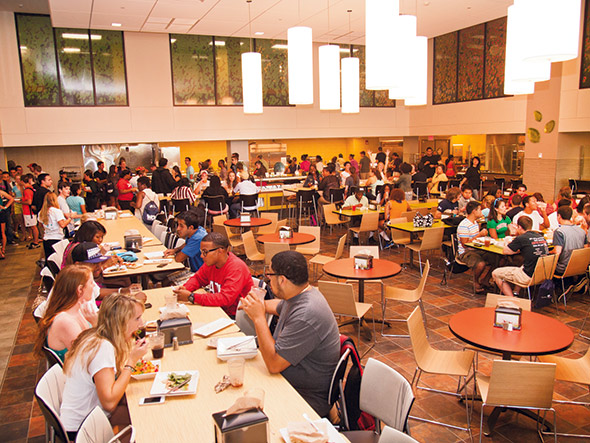 UConn's recently renovated McMahon Dining hall, students can choose from a variety of global cuisines that staff prepare to order in display cooking stations. Photo courtesy University of Connecticut Dining ServicesAt

Friese: Last January we opened our new Village Center Dining and Community Commons, which features unique microrestaurant concepts — we didn't duplicate any concepts from our existing dining facilities. Among the most popular is Curry Road, a build-your-own curry restaurant. Students love our authentic curry recipes and the ability to customize their own dishes, which they can also do at our made-to-order pho and ramen stations.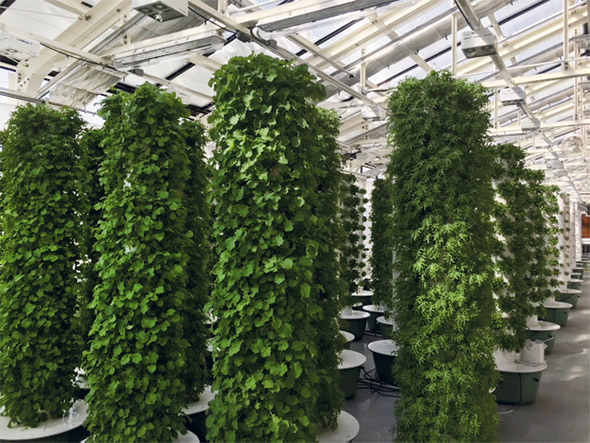 The salad bar area in UC Boulder's Village Center Dining and Community Commons overlooks a new 3,000-square-foot greenhouse, where many of the items served on the bar are grown. Photos courtesy University of Colorado Boulder Dining Services
Another big hit is Colorado Hearth, which offers local, chef-inspired cuisine created with ingredients sourced from within 250 miles of Boulder County. Students love the plated concept (small plates), want to know where their food and ingredients come from, and appreciate the opportunity to put a face to the dish that was created for them. Another concept that's been really popular is the smoothie bar, where customers can choose to blend their own using bicycle-powered blenders. It's a novelty, but tour groups love it.
And a very exciting new addition is our 3,000-square-foot greenhouse. Positioned right off and visible from the Village Center's salad bar, it features approximately 140 aeroponic growing towers and produces a variety of lettuces and greens for the salad bar and other venues. Greens are harvested, washed and put directly into the walk-in cooler. It's the lowest possible carbon footprint and customers love the flavor, the varieties and the sustainability. Next, we're looking to grow our own wheatgrass for our fresh juice bar.
Scott: What's 'in' for us is more restaurant-style operations, customizable food options and more cooking with flair in front of customers. We're reducing some of our kitchen sizes: All three of our residential dining halls have been renovated with more space being given to front of house. We're also using higher end finishes in a lot of our operations and adding a lot more menu variety. We're much more in tune now with students as far as allergens and dietary restrictions go.
As for concepts, our new Latitude 39° has been very well received. A renovation of an existing restaurant in that space, it's a full-service pub in the center of campus. We saw strong demand for a pub-like atmosphere so we included a full bar with craft beverages and upgraded the design and the menus. Our executive chefs standardized recipes and operations, drastically improving overall food quality and speed of service.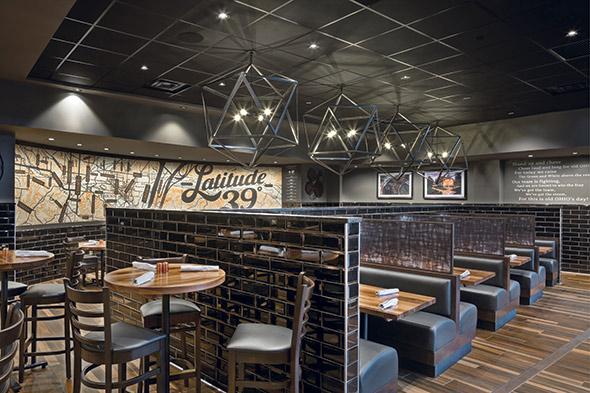 Ohio University recently transformed a dated restaurant in central campus into Latitude 39°. The popular full-service pub features local craft beverages, an upgraded design and a menu of steaks, fresh seafood, burgers, pasta dishes and salads. Photo courtesy Ohio University Culinary Services
Neumann: We opened Jefferson Marketplace. It offers a variety of fresh, local and global products and concepts and has a vibrant, neighborhood market atmosphere. Product offerings there currently include a New York-style deli, Peet's coffee shop, Veggie Butcher, a fresh juice bar, a tea and coffee room, and a full-scale food market with fresh produce, bulk foods, frozen meats, floral and a large local foods selection. It also is home to our Culinary Studio, our version of an educational food experience.
Another big new hit is a food-court-style operation called The District on West Green, featuring a variety of microrestaurants. There's a lot of display cooking happening there, with equipment that includes two gas rotisseries, a churrasco grill, circular grill, stone hearth oven and countertop induction woks.
Part of Ohio University's new Jefferson Marketplace, Brick City Deli is the first campus operation to offer online ordering and payment. Photo courtesy Ohio University Culinary Services
Also becoming more important on campus is centralized food production. We've had our central kitchen since 2011 and over the past three years eight other schools have come to tour it because they're adding their own. Besides producing what we need, we're able to use it as a revenue generator. For example, we process and package produce that is sold back to our produce vendor, who then sells it to public schools, hospitals and other institutional food operations.
Rodriguez: For a number of years we've trended toward a predominately retail model, with food courts, mini markets and express kiosks and a very small concentration of all-you-care-to-eat dining. Where we're headed now is a blend.
A 20,500 square-foot food hall at Texas Tech dubbed The Commons offers a variety of national brand and proprietary restaurant concepts. Summer tweaks to the facility will add a modern, all-you-care-to-eat dining option on the second level. Photo courtesy Texas Tech University Hospitality Services
In the fall, we're launching as part of one of our popular food courts a modern, all-you-care-to-eat (AYCE), anytime dining component. We'll have retail on the first floor, with a combination of national-brand and signature concepts, and the AYCE option on the newly renovated second level. It might seem like adding ACYE is a step backward, but from a communal experience standpoint, a value standpoint and a flexibility standpoint, all of our customer research and benchmarking shows there's demand for this type of option. Over the past 12 or so months I'm seeing more and more of my colleagues who are also moving in this direction. We're just updating it by bringing it all under one roof and creating an AYCE model in a food-court-type setting with a lot of seating so students can relax and socialize around the dinner table.
Customer experience and convenience come together at The Market@Stangle/Murdough, a Texas Tech food court offering a variety of made-to-order concepts, many of which now accept mobile order and pay. Photo courtesy Texas Tech University Hospitality Services
From a broader culinary perspective, trends continue to move in the direction of cuisines and concepts that reflect diversity of our student population. Our executive chef and culinary groups are working more with students to build and sample a wide variety of cuisines, often doing demonstrations and tasting events that allow students to engage and interact with the chefs and provide feedback.
FE&S: And what's out? Are you walking away from any platforms or preparation styles?
Pierce: Rotisserie cooking. In previous renovations we were thinking Boston Market and we put rotisseries in one of our food courts and in one of the larger ACYE dining facilities. We're now ripping out the rotisserie in the dining facility and replacing it with a grill because it just wasn't a good fit for that high-volume venue. And in the food court we're re-evaluating menus and aligning the various stations to Menus of Change principles. We might get creative and repurpose that rotisserie for roasting vegetables.
The other equipment category that's out is garbage disposals. I no longer have a single garbage disposal on campus. Handling food waste has come 360 here. We have tried almost every approach and new technology out there, but each one had limitations and/or issues with practicality or sustainability. Now, we work with a company that picks up our food waste and transports it to a plant that processes it for biodiesel or compost. It's a closed-loop solution and we don't have to deal with any sort of on-site processing or specialized equipment. We extract water through a simple drain and empty the waste into dumpsters on our back docks. The only challenge is to train employees to separate waste into the proper barrel, but we color code them and it's working very well.
Rodriguez: We've begun to back away from grab-and-go kiosks. We went strongly in that direction because of demands for speed and convenience, but also to reduce labor. We incorporated them into some of our high-volume concepts, like sandwich and pizza shops, but what we've found is that students favor the ability to customize over the ability to just grab and go. So it backfired a bit.
Students will make time if they can get what they want exactly how they want it. Our challenge is to find the right mix of speed, convenience and customization — and to figure out how to do that in a very challenging labor market.
Neumann: We continue to move away from traditional, residential all-you-care-to-eat, straight-line cafeteria service where servers dish out specifically portioned foods. Having the same menu at several locations at the same time is also no longer the norm. Current students want choices, variety and are accustomed to eating at great restaurants. They want to see their food being prepared and expect a level of confidence that we're taking all of their health concerns into consideration.
FE&S: Commercial foodservice operators are moving rapidly toward technologies that enable mobile order and pay, as well as delivery. Are parallel moves being made on campus?
Pierce: There are a handful of companies out there that are offering mobile apps, but for us that's not logical. I do everything in my power not to give money away to third parties. A lot of my QSRs are self-branded for that reason. With the mobile app, the companies tell you it's free but it isn't; there's a fee on every transaction. Students want more and more convenience, but there's already an underlying factor of convenience on campus.
We have foodservice options everywhere; everything is designed to be near them, to coordinate with their schedules, and to get people in and out quickly. If you put in a mobile app you have to carefully think through the implications, such as designated pickup stations and possibly extra labor dedicated to handling mobile orders. I do think we'll do it, but over the next year or so I'll be looking at how we can do it ourselves so that we own it.
As for delivery, we currently don't do it, but we're working on it because there's demand and it's an opportunity for new revenue. It won't be part of the meal plan, but students will be able to use their Husky Bucks 'cash' card, same as they can in downtown businesses. In the past, we stayed away from delivery because administration was concerned it would take business away from local independents. Now, it's every man for himself and we're definitely going to do it.
Rodriguez: We were a little bit resistant to mobile order and pay, but they're becoming a fact of business. About 18 months ago, we partnered with an app provider and it's been a huge success. We discovered that while the students liked the app, they were using it in the actual locations to order, which told us they didn't really care for the staff interaction. They'd come in, look at the menu (even though the menu is on the app), place their order and then walk up to the counter to pick it up. For us, that creates an opportunity to reduce labor because we can divert those folks who were manning the cashier lines back to producing the food.
The students are comfortable with it and even begin to expect it because it's increasingly available off-campus, so we're getting more aggressive with it and we're installing self-service kiosks. We absolutely have to utilize technology to help us with some of the labor challenges.
Friese: We are currently looking to implement a mobile ordering platform and integrated payment platforms. We're exploring a number of solutions and could eventually tie into delivery, especially at the Village Center. It would be just a quick two-minute bike ride to many of the buildings in that neighborhood.
Another thing we're considering is adding some micromart, c-store-style concepts that would be cashierless. So we're looking at a number of things, but being a large institution we need to be sure it's a fit with the university's goals and budget.
Scott: Some campuses are using app companies that take a percentage of their sales. We've chosen to work with our POS provider and develop our own app, which works for mobile order-and-pay at our Brick City Deli operation only. Customers can order from the full menu and pay from their mobile device, using a credit card or their meal plan. They can also specify a pickup time window.
We started our e-POS system last February and plan to roll it out to other venues as needed in the future. It's working well, but it takes some marketing and requires space designated for order pickup, which can be a constraint. We need to be strategic about where we offer mobile and why.
Neumann: We also have three kiosks in The District at the Between the Bread concept, which is our New York-style deli. Students can customize their sandwich orders on the kiosks, choosing the type of bread, meat and toppings they want, and select sandwich style, i.e., regular, panini, grilled, etcetera. We'll likely be doing more of that. The students like it and it increases efficiencies.
FE&S: Momentum continues to build for Menus of Change principles, specifically with regard to offering more plant-forward options. Is your program moving in this direction and, if so, are students embracing plant-based on par with the buzz around it?
Friese: We follow the principles of Menus of Change and are a member of the Menus of Change University Research Collaborative. We have a minimum expectation that every venue in every dining facility serves at least one plant-based entree. Seventy-five percent of our menu in every dining center is vegan, and 85 percent of our menu is vegetarian.
We're currently focusing on increasing recipes for legumes and whole, intact grains to ensure we offer complete proteins. When plant-based recipes are vibrant, colorful, authentic, globally inspired, flavor-forward and enticing, they easily rival our non-plant-based recipes. We also put a lot of focus on plant-forward cuisine, meaning that the focus of a dish is on the vegetables and meat is used more as a garnish. Only a small percentage of our customers are truly vegan, but our customers love plant-based cuisine and are requesting it more than ever. In the past, we often had plant-based foods, but we didn't feature them to the fullest. Now, we're very out-front, hosting Menus of Change culinary competitions and tasting events on campus. We celebrate it and our chefs have figured out how to let plant-based foods shine.
Pierce: Plant-based is a big focus here, with examples ranging from our new blended burger to less high-profile things, such as our switch to eggless mayo. One of the advantages of being a large institution is our relationship with manufacturers. We constantly say to them that we're willing and eager to test their new products. One, for instance, recently introduced a lentil-based pasta at retail and wanted to test it for institutional use, as well, and get our feedback. We did so, found it didn't cook quite right in this environment and they went back and changed the ratios. We're now serving lots of it. We also serve chickpea-based pasta as another source of plant-based protein, which is where a lot of our recipe development is focused.
We'll be doing recipe development all summer for fall and we've said to our production chefs that we just want plant-based menus. We're also tweaking our traditional comfort foods and evolving the items toward Menus of Change principles. We have a responsibility to our students to do so because habits they create while here are those that they'll take with them. When you make these significant shifts, like to a chicken strip that looks like a chicken strip but is made from a plant-based substitute, it can take a while for acceptance to kick in. But we're making headway. It's not a flavor-of-the-month sort of thing; it's a long-term evolutionary shift.
Rodriguez: It's a running joke that here in West Texas customers want vegetarian, but they want it with a side of beef. But seriously, our culinary team, working with our dietitian, is moving in this direction, developing more plant-based and healthier options. The feedback we're getting from students shows that there is support for it and it's part of our ongoing Smart Choices Wellness Program.
Neumann: We're incorporating more plant-based items and vegan options, and we offer more grilled vegetables as well as grain-based salads and power bowls. We have more than twice the number of vegetarian and vegan options as a percentage of our menu as we do students who self-identify as vegan or vegetarian. Our Jefferson Marketplace has a Vegetable Butcher station, fresh juice area and sells produce grown on the campus farm. We're consistently graded A by the People for the Ethical Treatment of Animals folks. But plant-based gets a lot of buzz in part because the students who want it tend to be more vocal.
In surveys, students consistently tell us we don't offer enough healthy food selections. It's interesting, though, that 'nugget Monday,' which we feature in one of our residential dining halls, is still incredibly popular with lines out the door every week. And we're still going through 323,000 pounds of french fries a year on this campus. When we built The District, we didn't put any fryers in and there's only one soda machine, but I still get pushback from students asking why they can't get burgers, pizza and fries there. My response is that we made a conscious effort, based in part on student suggestions, to provide healthier dining options. All the buzz aside, traditional, not-so-healthy standbys are still in big demand.
FE&S: You're having drinks and discussing industry issues with peers after a conference. What's likely to be the biggest topic of conversation?
Scott: Recruiting and retaining qualified staff and/or strategies for doing more with less. Funding for state schools is being cut to almost nothing and our contribution back to the university, as an important revenue-generator, continues to grow.
Rodriguez: Labor, labor, labor — both skilled and nonskilled. Some of us are challenged with not finding enough help, some are challenged with the living wage and many with a combination of the two. It's the number one challenge, particularly as expectations for service and quality continue to rise. We have to be much smarter about how we operate and that's why things like tapping order and pay technologies, and using smarter, more efficient equipment are so important to us. We need a lot of help from manufacturers to be able to do more with less and we're looking outside the box to figure out how to be able to meet and exceed expectations.
Friese: I'd probably be talking with or about equipment manufacturers' response to the changing needs of the industry, such as sustainability, versatility, ease of maintenance and manufacturer support after the sale. I enjoy the manufacturer side and discussing what could be the next 'big thing,' or how their products could be improved to better serve our segment. For many years, they'd listen but never act. Over time, however, I think they realized that we have unique experience and perspective and they've started to engage with us.
Pierce: Labor. And each of us would have a different story. Someone at a school in Los Angeles or San Francisco, for instance, might be talking about the fact that their students aren't likely to work so they have to tap outside labor. But that labor force will have an hour commute because they can't afford rents closer to campus. My labor retention is great, but when I do have a vacancy, particularly on the culinary side, it's very difficult to find someone with the skills we need.
We're pretty geographically isolated and casinos nearby compete for hourly labor. Our schedules are better but, they can pay them more. As a result, we work very hard to develop from within. We're doing a lot of training and classwork and testing so that when a vacancy comes up we're better positioned to fill it from within. We also do job fairs and work with culinary schools to try to find skilled labor.
Other hot topics would likely be food waste management strategies and food insecurity on campus, which is a big philosophical discussion these days.
FE&S: What's on your wish list for foodservice equipment manufacturers?
Scott: The big thing on my personal wish list is for scales and POS systems that actually work together. We always have a hard time getting them to cooperate. I'd also wish simply for equipment that doesn't break down right after the initial warranty period.
Neumann: Agreed. There's been a steady decline in the quality of restaurant equipment in my nearly 30 years in college and university foodservice. In some cases, manufacturers have shifted components from stainless steel to hard-grade plastic and they just don't last. Given the amount of money we invest in this equipment, it should last a lot longer than 10 years. And as equipment has gotten more sophisticated and 'smarter,' it has become harder to find technicians who are properly trained in how to repair it.
Rodriguez: Not to sound like a broken record, but we need more solutions to help with the labor issue, more equipment that can be programmed specific to our cooking requirements. We recently sent our chefs to one manufacturer's training center to learn about that type of programing. We can load everything onto a little computer drive, then load it into the equipment and it's just a matter of touching a button to prepare X, Y or Z. I need one person to be able to operate two or three pieces of equipment like that to produce the most variety with the least labor required.
Another thing I'd like to see, and am beginning to see more of, is kiosks that are easier to load information into and that have easier-to-navigate ordering screens. Manufacturers are moving in these directions; I just wish they were moving faster.
Pierce: I don't want to say I need a specific piece of equipment, because that's a point-in-time thing, but generally speaking I'd wish for greater collaboration and recognition of our unique needs. Very few equipment manufacturers ever come onto college campuses and spend time getting to know us, understanding our challenges and then working to design equipment that meets those challenges. Many on the food side do but it's very rare on the equipment side. They might come around when they're touting a new product, but that's old-school selling and it really falls short.
FE&S: Where do you foresee the most significant investments in the next 5 to 10 years for your program?
Rodriguez: We'll continue to develop kiosk ordering and payment platforms. We have 24 physical locations and more than 50 operations, so we can't do it overnight but we're certainly working toward it. Another area we'll be investing in is the creation of video and mobile device-based training for staff. Employees already carry mobile devices with them 24/7 so it makes sense for us to use these capabilities. We have to constantly rethink the medium and how we deliver information.
Friese: Our equipment investments will include combi ovens, high-speed countertop ovens and ventless equipment pieces that give us a lot of flexibility. With smaller venues being added around campus, many of which aren't designed for foodservice, these types of investments are more important than ever. We may have just a countertop from which to create a pop-up concept or do an event. How do we get food, especially high-quality hot food, out of that space? We'll also be investing in dish machines. Some of our dish machines are now 15 years old, so it's time to start looking at replacements.
Pierce: We'll also be investing in dish machines. We've been shifting to a new brand over the past five or six years and we'll be switching over two more of our dining facilities within the next year. We're putting in flight-type machines and accumulators, so the investment is significant.
We're also now in the planning stages for renovation of a smaller dining facility next summer. Within the next four years, we'll be building a central commissary facility. We have a simulation of that now, where we do our salads and sandwiches and those kinds of things that get shipped out to our cafes. But we don't have a formal production commissary where we can do cook-chill, which is what we really need to improve consistency and quality and bring costs down.
Neumann: We're just coming off of major renovations of our three dining halls and over the past eight years have invested just under $60 million into our facilities — all of it self-generated by culinary services. Over the next few years, we'll just do smaller-scale refreshes here and there.
Scott: Also, over the next 10 years at Ohio University there is going to be some shifting around, taking different colleges or departments and moving them to different areas of campus. We'll have to shift with some of those businesses and will be strategically looking for retail opportunities that make sense so we can continue to provide a strong level of service and convenience.
---
College and University Roundtable Participants
Juergen Friese, asssistant director of culinary services, University of Colorado Boulder
No. of Students Served: CDS dining centers serve about 3.3 million meals per year.
No. of Facilities: 17
Dining Services Employees: 320
Annual Revenues: $50 million +
Years in Current Position: 4; 29 years in campus dining services
Education: European trained chef
First Job in Campus Dining: Kitchen manager, Faculty and Staff Club
Favorite On-Campus Dining Spot: The university's expansive salad bars, and the Persian venue at the Center for Community
Best Part About Working in C&U Foodservice: "Our dynamic customer base."
Rich Neumann, director of culinary services, Ohio University
No. of Students Served: 8,357 students on meal plan, 3.7 million meals served annually
No. of Facilities: 3 all-you-care-to-eat dining halls, 3 markets, 5 cafes, 1 retail food court with 7 concepts, 1 casual-dining restaurant, Bird Arena concessions, full-service catering, 4 regional cafes
Dining Services Employees: 180 hourly, 10 full-time administrative assistants, 52 full-time management employees
Annual Revenues: $47.4 million
Years in Current Position: 13
Education: Master of Science — Nutrition/Food Science, University of Wisconsin-Stevens Point
First Job in Campus Dining: Student employee at University of Wisconsin -Stevens Point;
Favorite On-Campus Dining Spot: Destinations at The District
Best Part About Working in C&U Foodservice: "The opportunity to educate students and prepare them for any career. Skills learned in Culinary Services are transferable to any job."
Kent Scott, associate director of auxiliaries operations, Ohio University
Years in Current Position: 4
Education: Hospitality Management, University of Akron
First Job in Campus Dining: Assistant manager
Favorite On-Campus Dining Spot: Latitude 39°
Best Part About Working in C&U Foodservice: "Making our customers happy by providing them with quality products and excellent services."
C. Dennis Pierce, executive director of dining services, University of Connecticut
No. of Students Served: 12,052 on meal plan, 5.4 million meals served annually
No. of Facilities: 8 dining halls, 1 training facility, 5 cafes, 1 food truck, 9 retail outlets
Dining Services Employees: 450 full-time equivalents, 1,200 students
Annual Revenues: $71.5 million
Years in Current Position: 10, with UConn 30 years
Education: MBA from UConn
First Job in Campus Dining: Manager at University of Hartford
Best Part About Working in C&U Foodservice: "Creativity and the ability to respond on a dime, whether it's the president's office asking you to do something, or a student with an idea or an emergency happening on campus. Also, the demographics on campus: Students keep pushing us for
positive change."
Kirk Rodriguez, managing director of hospitality services, Texas Tech University
No. of Students Served: Campus population, 38,000; 8,200 on-campus residents;
4.9 million transactions annually
No. of Facilities: 24 locations with 51 concepts, 2 residential dining facilities
Dining Services
Employees: 900
Annual Revenues: $40 million
Years in Current Position: 3, previously
25 years at Texas Tech
Education: Degree in Hospitality Management from Texas Tech
First Job in Campus Dining: Student cook
Best Part About Working in C&U Foodservice: "The energy, diversity and expectations of the students we serve. It's exciting to be providing them options and it's not just about the food. We're interacting with and helping to shape young adults."