Foodservice Equipment & Supplies named Microsoft's Café 36 the recipient of its 2018 Facility Design Project of the Year Award.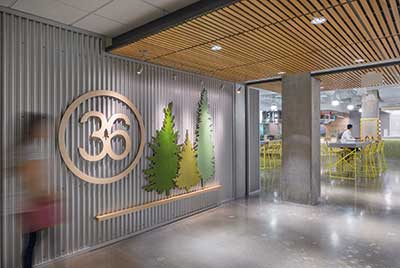 FE&S will recognize the design team for its efforts during the magazine's 2018 Dealer of the Year and Industry Awards Gala, which will take place May 19 at the Four Seasons Hotel Chicago.
In addition, FE&S' judges recognized the efforts of the team from the John J. Hemmingson Center at Gonzaga University with an honorable mention in this year's competition.
Key members of Microsoft's Café 36 project team include:
Ownership: Microsoft, Redmond, Wash.
Senior Manager of Global Dining Services, Microsoft: Mark Freeman
Senior Project Program Director, Compass Group: Richard Nettle
Culinary Director, Dining at Microsoft, Compass Group: Craig Tarrant
Architect and Interior Design: MG2, Seattle; Peter Stocker, PSAMA, associate principal
Consultants: Compass Group and CBRE managing consulting team, both international companies with dedicated teams on the Microsoft campus
Equipment Dealer: TriMark Gill Group, Seattle
Construction: Howard S. Wright Construction, Seattle
"Café 36's built-in flexibility to accommodate further menu evolution, changing consumer preferences and customer-facing technology, make this a best in class example of how thoughtful design can not only position a project to be successful today but in the coming years as well," said Joseph Carbonara, editorial director for FE&S. "This project accomplishes those lofty goals without compromising production or profitability."
The 2018 Facility Design Project of the Year Award was selected by a panel of judges including: Bill Davis of Edward Don & Company, Stewart Davis of Next Step Design, Beth Kuczera of Equipment Dynamics Inc., and Kristin Sedej of S2O Consultants.
FE&S' Dealer of the Year and Industry Awards gala recognizes the foodservice community's brightest stars by presenting them with some of the industry's most time-honored awards. Held each year on the Saturday of the National Restaurant Association's trade show in Chicago, this event brings together the best of the best to celebrate the ongoing success of the foodservice industry.
FE&S is able to present its 2017 Dealer of the Year and Industry Awards Gala thanks to the generous support of its three platinum sponsors: True Refrigeration, Unified Brands and Welbilt.