A fast-casual Mediterranean restaurant and education area support the wellness mission at UNC REX Healthcare's North Carolina Heart & Vascular Hospital.
The new, 8-story, 306,000-square-foot North Carolina Heart & Vascular Hospital combines all of UNC REX Healthcare's cardiac care in one location. The Raleigh, N.C., facility houses eight cardiac catherization labs, two electrophysiology procedure rooms, two hybrid procedure rooms and a cardiac rehab facility. The hospital also features a holistic environment with programs and spaces, including a meditation/sacred area and family pods, that support well-being throughout the $235-million facility.
Designed in keeping with the hospital's mission, two foodservice facilities focus on heart-healthy cooking and cuisine: Kardia Café and a demonstration kitchen.
Sitting on the bottom floor of the Heart & Vascular Hospital, which connects to the main hospital, Kardia Café features a Mediterranean-influenced menu ("kardia" is the Greek word for heart). "The restaurant features food that is so good guests have a hard time believing it's healthy," says James McGrody, director of culinary and nutrition services at UNC REX Healthcare.
"We want to offer heart-healthy, made-from-scratch seasonal food to employees, patients, families and community members," says Branda Gueth, Kardia Café's foodservice manager.
Heart-healthy dishes include grilled salmon. Photo by Branda Gueth
Customers arriving at the 1,255-square-foot restaurant see service stations with digital menu boards overhead listing the day's fare. They approach a cashier or kiosk to place their orders, receive a numbered ticket and wait for their orders in an open area bordering the dining room. From that spot, guests can watch as three staff members cook and assemble food. After orders are filled — the goal is within three minutes — staff call out customers' ticket numbers. The facility uses compostable takeout containers.
The dining area includes lots of natural light, with earth tones throughout. The wood-grained furniture and tables were made from oak trees that were cut down during the new hospital's construction phase.
A small kitchen supports menu production, much of which takes place in view of customers. Food deliveries arrive at the main hospital. Staff then route menu ingredients on mobile carts through a hallway that connects the main hospital to Kardia Café. It's roughly a four-minute walk.
Kardia Café's hot and cold beverage program skips any soda offerings in favor of house-made, naturally sweetened drinks. Photo by Branda Gueth
On-site staff store ingredients in a walk-in cooler and dry storage. They use a slicer to cut vegetables for soups, salads and entrees and make stocks and salad dressings using a food processor. This area also holds a 20-quart mixer, a conveyor toaster and pass-through refrigerator.
The warewashing station in the back of the house features a single-tank, ventless, high-temperature warewasher, a prerinse sink and a three-compartment sink.
On the hot line, staff make soup and stocks in two trunnion kettles, bake chicken and meatballs in a double-stack convection oven and saute menu items such as crab cakes on the six-burner range which has ovens beneath it. Across the aisle from the hot equipment, undercounter refrigerators hold ingredients within easy reach. Fryers are intentionally missing from this hot line and the main kitchen.
Staff prepare other menu items at a deli station, which contains large reach-in refrigerators with separate chilled rails on top to hold ingredients at the point of use. A soup/hot food station holds soups and menu items such as oatmeal for the customizable oatmeal bar. Staff use a griddle to prepare egg scrambles and French toast with wheat bread, which includes a Greek yogurt and blueberry spread drizzled with local honey and fresh berry sauce. The chargrill heats burgers, which feature a mixture of lamb and lean beef and are served with seasonal pickled vegetables, sweet-potato ketchup, roasted red pepper, eggplant spread and romaine lettuce.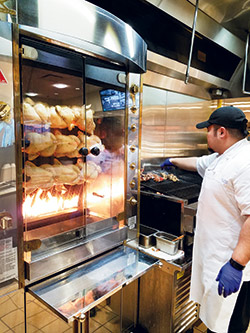 Cook Jeffrey Balaoro arranges chickens in Kardia Café's rotisserie oven. Photo by Branda GuethA large rotisserie cooks chicken for lunch and dinner menus. Chicken is popular in gyros and craft-your-own grain bowls, pita wraps and salads such as Mediterranean chicken salad with Greek yogurt (replacing mayonnaise and sour cream), golden raisins, dried cranberries and capers. Another favorite, the Kardia house salad, contains cucumbers, Kalamata olives, feta cheese, roasted tomatoes, red onions, a lemon wedge and roasted tomato and caper vinaigrette. Guests may also add proteins such as grilled salmon to salads, along with specialty sauces such as shug, which is similar to chimichurri and pesto.
Kardia Café's hot and cold beverage program emphasizes healthful selections. Rather than soda, beverages include fresh, house-made, naturally sweetened drinks such as lavender honey black tea, rosemary-infused blood orange juice and a combination of coconut milk and pineapple juice called Kardia Kolada. Special drinks change daily and seasonally. The beverage menu also features smoothies containing coconut milk, hot coffee, nitro cold brew coffee on tap, bottled juice and tea. Equipment supporting the beverage program includes dispensers, a blender and a carbonator. A keg and tap dispense the nitro coffee. Staff use a machine to prepare fresh-squeezed orange juice.
A refrigerated display case for takeout items sits to the side of the beverage station and offers wraps, salads and desserts. Take-home service comprises about 5 percent of Kardia Café's sales.
Demonstration Kitchen Emphasizes Healthful Cooking
In addition to Kardia Café, the Heart & Vascular Hospital opened a demonstration kitchen in March, located about 50 feet from Kardia Café. Attached to the Center of Innovation and Learning, the 100-seat demonstration kitchen serves as another way to promote healthy eating and support the hospital's cardiac rehab program andwellness centers affiliated with UNC REX Healthcare. Employees, staff and community members can participate in lunchtime or after-work (around 5 p.m.) classes.
Instructors include dietitians affiliated with the wellness center and chefs including Ryan Conklin, CEC, executive chef for UNC REX Healthcare, and James Castellow, Kardia Café's chef manager. "Schedules are communicated by the wellness center staff as well as marketing staff through social media and emails," says Tara Freeman, catering and conference center manager. Nearly 10 one-hour classes have been offered since June, with greater class frequency in the works for 2018.
Food for the demonstrations comes from Kardia Café or the main kitchen. "Staff members place food on carts and walk them to the demonstration kitchen," Freeman says. "We only have four undercounter refrigerated drawers so we bring the food in as needed."
Above right: A digital screen sits above the preparation counter in the demonstration kitchen so participants can see chefs' preparation in detail. Photo by Tara Freeman
Equipment that supports the demonstrations include six induction cooktops with an oven beneath, a food processor, one convection oven and a large exhaust hood. Cameras catch the action. Electronic faucets assist chefs so they can easily and quickly wash their hands while preparing food. An undercounter high-temp warewasher allows crew to clean pots, pans and utensils on-site.
"Soon patients will be able to access a video library so they can watch demonstrations from their hospital rooms," Freeman says.
"Not many hospitals have this kind of facility, so it is very exciting," McGrody says. "We plan to grow it more and more. We'll also be creating a visiting chefs series featuring chefs around Raleigh to help promote some of the healthier dishes they serve in their restaurants."
McGrody believes interest in the healthful cuisine has grown since the opening of the demonstration kitchen and Kardia Café. "Co-workers stop me in the hallways and ask about the schedules, so interest is building," Freeman says. These two operations exemplify how a hospital team's determination to place more emphasis on healthful food and education rather than sickness may indeed save lives.
Key Players
Owner: UNC REX Healthcare
Director of Culinary and Nutrition Services, UNC REX Healthcare: James McGrody
Executive Chef, UNC REX Healthcare: Ryan Conklin, CEC
Kardia Café Chef Manager: James Castellow
Foodservice Manager at Kardia: Branda Gueth
Catering and Conference Center Manager: Tara Freeman
Director, Facilities, Construction and Biomedical Engineering, UNC EX Healthcare: Jeffrey J. Carter, PE, CHC
Architect and Interior Design: WHR Architects, Dallas, Houston and Raleigh (now EYP)
Facts of Note
Kardia Café and Demonstration Kitchen Opened: March 2017
Scope of Project: A restaurant with a kitchen and open prep area in the front of the house and a separate demonstration kitchen
Size: Kardia Café, 1,255 sq. ft. (food prep and serving) and 917 sq. ft. (dining area); demonstration kitchen, 1,000 sq. ft. (kitchen area)
Seats in Kardia Café: 70
Seats in Demonstration Kitchen: 50 if only one side is open; up to 90 auditorium-style seats when both sides are open
Kardia Café's Average Check: $6.49
Kardia Café's Total Annual Sales: $800,000 first year projected
Kardia Café's Daily Transactions/Covers: 400 transactions on average
Demonstration Kitchen's Participants/Session: Ranges from 25 to 150 possible; currently averaging 15 to 40
Kardia Café Hours: 7 a.m. to 7 p.m. Monday to Friday
Demonstration Kitchen Sessions' Scheduled Hours: Lunchtime and 5 p.m.
Menu Specialties: Egg scrambles, rotisserie chicken, Kardia house salad with proteins and other heart-healthy entrees and sides
Kardia Café's Staff: 14
Demonstration Kitchen Staff: Up to three
Total Building Housing Kardia Café and Demonstration Kitchen: $240 million
Website: www.rexhealth.com/rh/patients-visitors/amenities/dining/kardia-cafe/