Designing and equipping smaller spaces gets creative.
Downsizing. Rightsizing. Tightening up. Whatever you call it, the trend toward moving operations into smaller spaces intensifies the need for creative design and savvy equipment selection.
A variety of factors drive the smaller-space trend. The obvious one is escalating rents. Together with slower traffic, paying landlords can eat into a foodservice operation's profit. Lack of talent is another big one. The shrinking labor pool remains an ongoing issue. Plus, the cost of construction continues to rise as same-store sales continue to decline. While these negative influences support the reason to go smaller, operators do have some positive reasons to shrink their footprints, too.
It's easier to generate revenue to cover lower rent. Operators that plan well can function successfully with fewer staff. Build-out costs are less. Operators who remain on target with the guest experience have fewer empty seats than in a large operation. These factors combine to equal greater profitability.
Designing and equipping a smaller space to provide guests with the optimal dining experience remains a challenge, though. Each stage of planning, from concept to opening day, has its own set of conditions to which attention must be paid.
What the Process Involves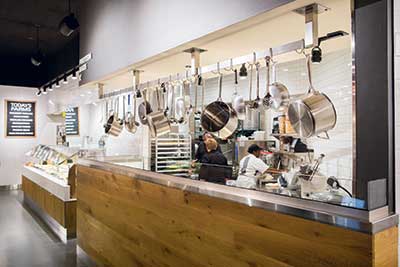 Reasons to open restaurants in smaller spaces run the gamut. It may be an operator's first restaurant or they may have an existing operation they want to downsize. Whatever the circumstance, following a set process ensures the maximum use of minimum square footage.
Designing and equipping a smaller space should follow a logical progression. Michael Salvatore, a consultant with foodservice consultancy Ruck-Shockey Associates, puts it this way: First is the concept. Menu follows concept. Equipment follows menu. Design follows equipment.
Operators that can't explain the concept in one sentence are not ready to proceed, Salvatore says. "If it takes a paragraph to explain what he's trying to accomplish, I say go back to the drawing board." With a clear vision for the concept, every decision follows easily. Especially in a smaller space, decisions should be made rationally, not emotionally, he says.
The menu is always the first step for Beth Kuczera, president of Equipment Dynamics, a Chicago-based kitchen design firm. "The menu drives everything," she says. "You start by saying, 'This is what I want to be on the menu and what I want the experience to be,' and you go from there."
John Egnor, owner of the Texas-based JME Hospitality design firm, advises working through the entire process, from the point when customers walk in the door to when they place their order, get their beverages or food, and consume them. In other words, every strategic aspect of the operation, from concept to menu to guest experience, will impact the design and the equipment for the space.
Expect Challenges
"The biggest challenge is convincing the client that the smaller space cannot accommodate their menu and cooking techniques or that they must allocate additional space if they insist on keeping that menu," says James Richards, president of PES Design Group, which has offices in Florida and Texas.
A main goal in the design of A la Mode Pies cafe in Seattle was to use one piece of equipment to bake pies in numerous ways, such as both sweet and savory options. Photo courtesy of Dynamik Space.The design needs to balance receiving, prep, production and service, Kuczera adds. There still needs to be circulation and flow. If the space is confined, that's how the staff will feel, she says.
The ratio of space between front of the house and back of the house is another issue. "There is always that push and pull," explains Melanie Corey-Ferrini of Seattle-based Dynamik Space. "You have to create an allocation that is going to work."
In other words, the front of the house makes the money, but if the back of the house isn't efficient enough to support the guest experience, the concept won't be successful.
"You have to be part psychologist, part psychiatrist," Egnor says. "Through the process, you develop an understanding with the client. Hopefully, you are doing the right thing and helping them massage their expectations."
Menu Drives Everything
Once an operator has the one-sentence concept, the menu becomes the most important tool. Each of the design consultants agree that the menu dictates everything that happens in the kitchen. The foodservice operator must test and approve each menu item to evaluate the staff's ability to execute the culinary vision on equipment that will fit within the space.
For instance, Richards says his firm just completed a small deli located in a c-store. To conserve space, he recommended the client stick to a handful of core ingredients, focusing on top-selling items. He also suggested looking at alternate ways to prepare some of the items. This reduced the footprint of the equipment required. In addition, the kitchen and serving areas were designed to be flexible enough so the client could adjust the menu later if needed.
Figure out how many covers you will do in a day and run the hours on a spreadsheet, Egnor advises. "Your kitchen needs to be able to handle your highest volume at peak time."
Front-of-the-House Issues
Traditional allocation of space for kitchen versus dining area doesn't automatically translate to a smaller space. In a larger restaurant, the space allocation might be 60:40, dining area to kitchen. In a smaller space, it may be more like 70:30 or even 75:25.
"Unless you have a chef's table, you can't sell the kitchen," says Salvatore. "The front of the house is where you make your money, so you need to start there to understand what you have left over for the back. You have to match the kitchen to the demands of the front."
To maximize front-of-the-house seating, Sprout's back of the house was intentionally designed as a compact space. Photo courtesy of Dynamik Space.The nature of the concept drives design. With takeout concepts, for example, the space ratio will tip in favor of the kitchen. If guests will eat on premise, though, every inch of space must be designed wisely.
Questions to ask: Will customers pick up their food or receive it tableside? Will they get their own beverages? Will the kitchen open to the dining area? Will guests see their food being prepared?
If the operation includes seating, the designers recommend mixing up the variety, not just from an experience standpoint but from a visual standpoint as well. They often put in a community table. Banquettes are also a space-saving solution since they can have a row of flexible two-tops in front.
Nowadays, people aren't afraid of sitting next to each other. "People like the activity. They like seeing people. It's that kind of vibe we are designing around," Corey-Ferrini says.
It is also important to plan for single diners. A counter space with stools along the front window is ideal. This accommodates individuals rather than having them take up a two-top.
Service stations are a thing of the past in most small spaces. There is an exception, though, says Kuczera. If a fast-casual restaurant caters to a certain demographic that carries refillable water bottles with them, it may want a water station so guests can refill their own bottles. This requires plumbing in the front of the house.
Equipment Decisions Support the Menu
Today's foodservice operations can survive and thrive in smaller spaces thanks in part to innovation in equipment design. Smaller kitchens still use the same types of equipment as their larger counterparts: refrigeration, prep, cooking, ventilation, warewashing and storage. Fitting all of these items into a tight space represents the key challenge. Here are considerations designers recommend for each category.
Refrigeration. Kuczera looks at refrigeration first. She investigates the possibility of going high. "Having space for a nine-foot-high walk-in cooler is big," Kuczera says. She also looks for the ability to add a shelf in a cooler. "If it's designed for four but we can get five in, we've got 25 percent more capacity," she points out.
Kuczera also highly recommends including a blast chiller to extend the life of food products. "It's a food safety component but also a food quality component to our way of thinking," she says.
Corey-Ferrini says it may be best to have a walk-in at the back of the kitchen, along with a couple of reach-ins. She also notes that it's possible to incorporate cooler space in the front of the house. "If you have a display cooler to store fruits and vegetables, guests can see they are getting fresh products."
Prep. In addition to going high in a small kitchen, Kuczera recommends going deep — at least with prep tables. "We can make a prep table more efficient by going deeper rather than adding another one." Going to a 36-inch-deep table from 24 or 30 inches will add efficiency. She also suggests looking for two-sided aisles, allowing prep to happen on both sides. Egnor agrees, saying work tables have become double, triple, even quadruple in functionality.
Cooking. One of the first limitations operators may have to deal with in a smaller space is lack of access to gas. Chefs love gas, but they may have to shift to using electricity. Fortunately, there has been great progress with cooking appliances such as induction ranges. The only downside is these units may require specific stainless-steel or copper cooking utensils, which can cost more than aluminum.
Items that can perform multiple tasks remain in vogue in smaller spaces. Take, for example, a combi oven. A good combi oven can replace a multitude of processes, saving space and eliminating the need for additional equipment.
And thanks to the flexibility of these types of equipment, commercial kitchen designs can become even more creative. For example, a pair of 36-inch ranges with 6 burners might become a 48-inch range with 8 burners, Egnor points out.
A full-size combi could become a half-size combi. "It all revolves around the menu and the menu assembly," he says.
Ventilation. Ventilation in a small space can be a hidden cost that operators need to consider, Salvatore says. Many smaller operations in larger buildings may not have the vent shafts necessary for the usual Class 1 hood. Some of the newer cooking equipment can use a Class 2 hood, which vents out the side of the building. Class 2 hoods cost less and take up less space.
Warewashing. The design for warewashing depends on the concept. In the case of a takeout concept, or if the operation uses compostable items instead of china and flatware, a dishwasher may not be required. Often, staff can wash and sanitize pots and pans by hand.
Space-saving under-the-counter options work in many kitchens. Again, this equipment depends on what comes back to the kitchen from the dining area.
A lot of dishes and flatware may require an upright machine. As in a larger kitchen, there needs to be a landing space for the server to drop off dishes and the usual progression that produces clean dishes and glasses at the other end.
Storage. Space for storage often lands last on the list but remains critical. Reduction in storage space will require more frequent deliveries from distributors.
One solution is to go vertical. Look for high ceilings, says Kuczera. "If you can go ten feet high with storage, you can shrink the footprint."
Kuczera just finished a project where the storage ended up being outside of the kitchen. Looking for additional space to use within the property, her team found dead space under the parking ramp. "We took a look and said, 'We can get headroom in here. One side is going to be short, but one side is good.' "
Design Requires Creativity
"It's kind of an endurance test," Kuczera says. "Just when you think you've got a pretty good plan, you go back to your issues-pending list." She presents the client with a complete checklist up front and refers to it during the design process. As she says, the geometry often has to change.
Egnor recommends designing the kitchen from the service pickup to the back. In a larger kitchen, he says, it would be the opposite. But in a smaller space, the critical part is in the front. "It's where the action happens," he says. "When you do that, you find out your limitations. Dry and refrigerated storage are going to be a limiting factor. You need them, but they are non-operationally functional square footage."
Richards suggests stacking equipment when possible. For example, he says, stack an oven on top of a proofer, a combi on top of a convection oven, or place countertop cooking equipment on a refrigerated base, and design to avoid cross-contamination.
Corey-Ferrini advocates plug-and-play kitchen design. "The ability to roll equipment items in and out to maximize operational flow is the best design," she advises. If the menu changes, the operation should be able to adapt quickly. "We design all the what-ifs," she says. "It's projecting out two or three years. Where do all the outlets go for easy connects and disconnects? Do we need a hood? Where would we put a hood?"
The questions can seem endless and the process can prove painful, especially when limitations require compromises. But in the end, the rewards are great, with the ultimate potential of lower costs and greater profits.
---
Tight Space at Beatrix Market
Beth Kuczera, president of Equipment Dynamics, explains some of the design features created at Beatrix Market, a grab-and-go restaurant and coffee shop in Chicago's Loop owned by Lettuce Entertain You Enterprises (LEYE).
"Beatrix Market showcases fresh choice with fast service. It is a high-energy tight space by design, with tall ceilings and partial walls, so guests and staff feel comfortable," Kuczera says. LEYE took over an existing space with limited on-site production, making design a challenge. Open since September 2017, the operation resides on the ground floor of a high-rise office.
The project started by removing part of the marble wall near the entry to the building so guests were greeted by an open feeling . A low wall separates the dining room from the food display area, continuing the open feeling. Kuczera says, "There is also an opening to the kitchen so guests can see the action and prep".
The coffee area serves both market guests and "coffee only" guests through a window. Inside, there is clear signage for each focus area, such as "Lunch at your desk" or "Hummus bar". Use of different textures also offers clear directions to the guests, so they can immediately identify their food or coffee destination.
Photos by Jeff Marini