Dining receives a transformation at HCA Palms of Pasadena Hospital.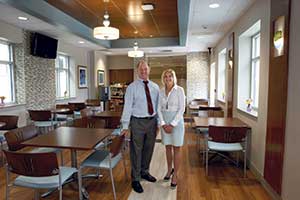 David Hendriks, director of food and nutrition, and Sharon Hayes, CEO, inspect the seating area before the cafe opens.A new cafe awaits visitors, staff and patients when they want a refreshing break at HCA Palms of Pasadena Hospital in St. Petersburg, Fla. They enter to see art deco sconces, glass tiles and floor tiles intermingled with colors that match the furniture.
The Palms Cafe replaces a 25-year-old dining establishment. The foodservice renovation included replacing the kitchen from the ground up. The larger hospital renovation included adding an acute care unit for the elderly, redoing patient rooms and floors, and adding glass doors and adjustable lights, along with soft colors, to create a boutique hospital ambience.
David A. Hendriks, CEC, CDM, joined the team as the new director of food and nutrition two months before the project started. The Palms Cafe sits on the first floor of the three-floor hospital. The dining establishment sits in the same area as the old cafe, but is more compact.
Renovating the cafe and the kitchen, which also supports room service, meant gutting the entire space. "We had to get building permits and rent a mobile kitchen to tide us over during construction," Hendriks says. "It took about three weeks for the mobile kitchen to be arranged with cold and ambient storage areas. A covered ramp was built from the mobile kitchen to the hospital."
Temporary Kitchen Setup
The mobile kitchen, a makeshift cafeteria and a seating area were set up on a different side of the hospital. The culinary team left just enough equipment and supplies in the original kitchen to serve one final meal the night before closing down. Preparation for patients, staff and visitors then shifted to the mobile kitchen.
"We set up one single pod for all of patient meal service," Hendriks says. "For staff and visitor service, we set up a buffet line and held barbecues and special meals as a way to say thank you to customers for putting up with the construction."
HCA offered to donate the old kitchen and servery equipment to other hospitals, but none took advantage of this. A restaurant owner did take a few pieces of equipment, though, while the rest was sold to a local dealer who sells used restaurant equipment.
The makeshift operation continued for nine months until the new facility was complete. During this time, Southern Florida dealt with tropical storms Matthew, Colin and Hermine. Fortunately, the hospital did not have to evacuate patients.
New, Compact Kitchen
The hot cookline contains convection and combi ovens, as well as a flattop griddle, range, fryer, 40-gallon tilt skillet and 15-gallon steam-jacketed kettle.In the new kitchen, Hendriks says, "We were able to do everything we wanted. All of the equipment and prep tables were positioned close enough for us to see each other. And the flow works well. The kitchen was built in a very compact design, which is the newest trend to reduce the distance between food storage and service areas. It also facilitates ease of cleaning and maintaining sanitation." Using his chef training, Hendriks restructured and revised menus so food became a highlight.
Food arrives at a new dock on the main floor of the hospital. Staff take deliveries to a walk-in cooler designated for meat, another designated for dairy and vegetables, a walk-in freezer and dry storage.
The cold prep area contains a slicer, 40-quart floor mixer, food processor and refrigerated rail. Staff cut meat, fish and vegetables here and prepare salads as well.
Staff use a 40-gallon tilt skillet for large food production, including making soups, mixing hamburger meat and cooking portobello stroganoff. A 15-gallon steam-jacketed kettle cooks mashed potatoes, soups, sauces and pasta.
The hot food cook area contains a combi oven for steaming vegetables and roasting and reheating meats. Staff bake fresh rolls and cakes in double-stacked convection ovens. Staff mark chicken, fish and shrimp on the chargrill, finish off burgers, prepare omelets on the flattop and saute delicate fish, pastas and last-minute sauces on the six-burner range. Equipment supports production of the cook-to-order room service menu items. Undercounter refrigerated drawers hold perishables. An ice machine sits at the end of the line.
Gluten-free menu items are kept in designated refrigerated drawers and pans, and staff use designated utensils when touching them.
Calizzcia Johnson prepares trays at the room service pod, which contains all ingredients and condiments she needs to plate patient trays quickly before placing them in a transport cart.For patient meal service, the kitchen features a dual pod system that allows staff to provide room service from 7 a.m. until 6:30 p.m. Staff receive patient tray orders from a centralized call center that services 16 HCA hospitals. The call center transmits orders to thermal printers that print tickets to all production areas. Wall-mounted alert monitors tell staff in real time if orders change.
Staff prepare trays by placing salads and cold menu items from nearby air-curtain refrigerators and hot items from food wells or from the grill onto the trays. They place trays in carts and deliver the trays to patients within 30 minutes after placing their orders. "We avoid batch cooking, especially for vegetables, and no item is held more than 15 minutes," Hendriks says. An induction heating system for the plate bases keeps food at or above 140 degrees F for at least 60 minutes without a preheated plate.
Staff collect dirty trays from patients' rooms, place them on a cart and take them to the kitchen's cart-wash area.
Front-of-the-House Cafe and Sustainable Practices
A six-foot-long buffet in the servery holds five steams wells that display meats, chicken, fish, lasagna and other pasta dishes, vegetables and side dishes. Customers can choose from two house-made soups each day. A setup along the perpendicular buffet attachment features warm, house-made desserts such as fruit cobblers and cherry cream cake.
An 8-foot-long salad bar contains 28 menu items including lettuce mixes, vegetables, turkey, ham, tuna and other prepared salads and fresh fruit. To encourage customers to eat healthfully, staff set out colored tongs: green indicates "eat all you want," yellow means "eat with caution," and red warns customers to be careful how much they take.
At the grill area, customers order quesadillas, hamburgers, hot dogs, chicken breast sandwiches and grilled cheese sandwiches, plus add-on extras such as cheese, mushrooms and onions.
"We've set prices to encourage customers to order an entree, two side dishes and a fountain drink for $5," Hendriks says. "Customers can also order a la carte. The salad bar is sold by the ounce."
A beverage station offers coffee drinks, tea and fountain drinks. Adjacent to this station, a refrigerated case holds salads, sandwiches, parfaits, fruit, cheese and other to-go menu items.
Staff bring clean and dirty dishes in and out of the kitchen area through two separate doors. The dishwashing area contains a flight-type dishmachine and a separate cart-wash area. "We also have an incredible scraping area where staff members don't have to pick up a rinse sprayer," Hendriks says. "Rather, recirculated water sprays out of nozzles to remove food particles so we can do twice as much in the same amount of time and use less water than when using manual scraping."
Because the hospital sits so close to the ocean and is susceptible to flooding, the kitchen and cafeteria contain large drains. Sump pumps and grates sit at all doors.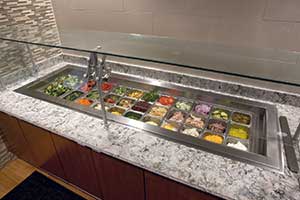 The buffet line features entrees, sides, soup and desserts. The mahogany color adds a touch of elegance to the servery.Sustainable practices include using Energy Star equipment when appropriate, as well as motion-detector lights in walk-ins, the store room and offices to reduce energy consumption and automatic doors on all exits to enable faster food delivery. To-go boxes are currently made of foam, but the operation will switch to paper in early 2018.
Since its opening, The Palms Cafe continues to bring accolades from customers who appreciate the high-quality food and comfortable ambiance.
Facts of Note
Ownership: Hospital Corporation of America, West Florida Division, Palms of Pasadena Hospital, St. Petersburg, Fla.
HCA Palms of Pasadena Hospital: 307 beds; 350 physicians; 700 employees; 200 volunteers; 20-bed emergency department; 20-bed acute care rehabilitation unit; other specialized centers of care
The Palms Cafe Opened: March 10, 2017
Scope of Project: Ground-up replacement of 25-year-old cafe with indoor and outdoor seating and a kitchen
Size: Cafe, 1,156 sq. ft.; kitchen, 3,612 sq. ft.
Seats: 50, including seating for 24 outside
Average Check: $4.26
Projected Total Annual Sales: $346,000
Daily Transactions: 325 (majority at lunch)
Hours: Room service, 7 a.m. to 6:30 p.m.; The Palms Cafe, breakfast from 7 a.m. to 9:30 a.m., lunch from 11 a.m. to 2 p.m.; dinner from 4:30 p.m. to 6 p.m.
Menu Specialties: Grilled and sauteed fish; glazed fresh salmon with dill, smoked chicken, Greek lemon chicken, veal Parmesan, nachos with cheese sauce, Cuban sandwich, mushroom ravioli with pesto, a salad bar, soups, a grill featuring quesadillas, hamburgers, hot dogs, chicken breasts, grilled cheese and desserts
Staff: 17 full-time equivalents, which include the cafe (a manager, a chef, and 3 full-time employees; a runner, salad bar attendant and cashier)
Total Project Cost: approximately $3.6 million
Equipment Investment: $1.239 million
Website: www.palmspasadena.com
Key Players
CEO: Sharon Hayes
COO: Roger Haney
Director of Food and Nutrition: David A. Hendriks, CEC, CDM
Executive Chef: Ryan Engels
Architect and Interior Designer: HCA and Gould Turner Group, Nashville, Tenn.
Equipment Dealer: Baring Industries; Ft. Lauderdale, Fla.; Mike Mackey