We eat with our eyes first, or so the old cliché goes. While that still holds true, today's consumers eat with their eyes long before they get to the foodservice operation thanks to the proliferation of social media. They do so by checking on their friends' posts through a variety of platforms, like Instagram, that thrive on showcasing the latest and greatest culinary creations.
As a result, muted colors and basic plating just doesn't cut it anymore amidst a continuing obsession with snapping photos of food for social media platforms. Chefs, pastry chefs and even cocktail artists respond by making their dishes and drinks even more memorable than ever before.
Creating Instagram-Worthy Cocktails
Ivy Mix, mixologist at Leyenda in New York, and co-founder of Speed Rack, a traveling bartending competition to raise awareness and funds for breast cancer research, discusses how social media impacts today's adult beverage industry.
FE&S: Great drinks and recipes are the basis of a bartender's repertoire, but how important is it for cocktails to really pop and look great for Instagram and social media?
IM: In this day and age, it's extremely important. There is a lot of back and forth on this now in regard to waste and garnishes. I personally love ornate garnishes, and we use them a lot at Leyenda, but a lot of the time a fantastic glass helps make the drink even more Instagram-worthy. Either way, we taste with our eyes first and make assumptions before we've ever tasted anything, so looking good is essential.
FE&S: What are some different types of glasses you've used to create fun cocktails?
IM: We've created some fun drinks with ceramic glasses. We have a frozen pumpkin drink on our menu that we've put into a skull mug and lit on fire. When it goes across the room everyone wants one! For our sparkling wine at Leyenda, we use a beautiful, thin coupe, which looks extremely elegant. Truth is, oftentimes, the more interesting the glass, the more interesting the drink, and that's what makes it more Instagrammable.
FE&S: How do you think about color and texture when creating Instagram-worthy cocktails?
IM: Color is important, but often this is just a byproduct of the ingredients in a glass. If the drink is not as colorful, I tend to put it in a ceramic vessel. If it's bright and pink, for example, it goes in a clear vessel that really showcases the color. That's also where garnishes come in to add another visual element. If the drink itself isn't too colorful, a nice garnish can make the drink come alive.
FE&S: What are some cool examples of garnishes you've used lately?
IM: Right now we are using cut pineapple fronds that we fan out, and that's really beautiful. We also are doing pear slices spread into a fan and connected with cloves. Lastly, one of my bartenders at Leyenda, Leanne Favre, is fantastic at making stencils and we spray bitters through a stencil and the design sticks on egg-white drinks. Those are really Instagram-worthy.
---
Picture-Perfect Dishes
Here's a look at some food presentations likely to earn a spot on social media.
Cedar-roasted kurodai (a whole sea bream) with shiso dressing at Momtaro, Chicago. Photo by Huge Galdones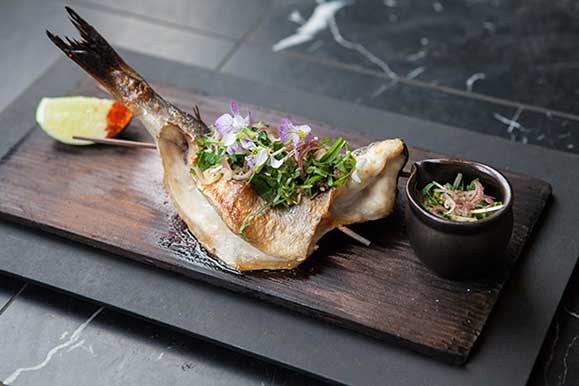 Clothesline bacon at Primehouse in Chicago. Photo courtesy of Primehouse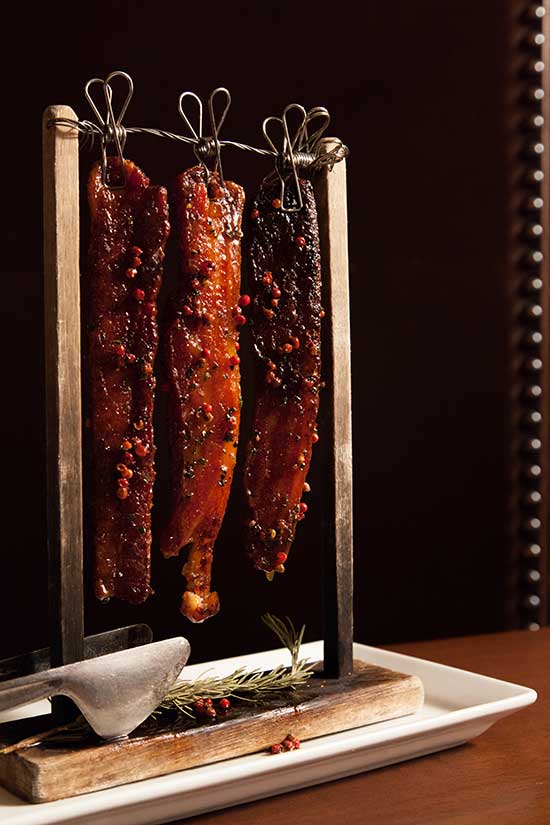 Dry-aged lamb tartare and whole-roasted gourd at Emmerson in Boulder, Colo. Photo courtesy of Emmerson