Changing consumer expectations and the need to remain relevant are big drivers for many prototype changes, and so are unit economics. Such is the case for Tempe, Ariz.-based Tilted Kilt Pub & Eatery. With legacy units measuring 8,000 to 10,000 square feet and many occupying freestanding, second-generation sites, the costs and constraints associated with the existing prototype were limiting growth.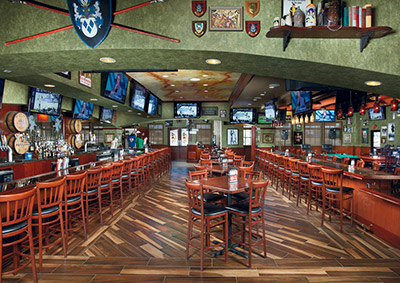 Tilted Kilt's new, smaller prototype was designed with unit economics, market flexibility and customer service in mind. It features a linear bar, an enhanced audio visual package and lighter, more natural materials. Photos courtesy of Tilted Kilt Pub & EateryTilted Kilt Pub & Eatery set out slightly more than a year ago to begin updating its appearance while also digging into cost and efficiency factors that a new prototype could conquer. It has since begun rolling out a refreshed design package — lighter and more contemporary, incorporating brickwork, white stone, natural finishes and enhanced audio-visual packages — and is now getting ready to introduce a new, smaller prototype that Chief Operating Officer Logan Reves says will take the brand into the future.
"A big consideration is unit economics," Reves says. "That starts at the rent structure, the cost to build, the monthly facility expenses, etcetera. Many of our existing facilities are very large and were built taking into consideration the busiest day that we could have versus day-to-day usage. As we looked at changing our prototype, we looked carefully at what those unit economics would be. We also worked to identify trade areas where we may not be able to operate because of
our size."
The new prototype, set to launch in the second quarter of 2018, will bring Tilted Kilt's footprint down to either 6,500 or 4,800 square feet, enabling the brand to target a wider variety of sites and markets. Another big change: The chain has moved toward ground-up construction for new units, which affords greater control over unit economics.
Under that umbrella, Reves notes, is cost of labor. "We wanted to create a design that would allow us to give robust guest service but also create labor efficiency. Part of our process was to carefully think through critical adjacencies: 'How many steps does it take to walk from the ice machine to replenish the ice? How many steps are required to remove a burger from the grill, put it on the bun and stage it? Where is the register relative to guest seating?' We really worked to improve efficiencies in those types of areas."
Additional efficiencies the new prototype will bring:
Some legacy units have 120-foot beer lines running from cooler to tap while new units have lines measuring 20 feet or less, reducing line refrigeration equipment needs and energy costs.
Decorative pillars, part of the dining room finish package, are now functional. "We created panels that open up so that we can use the interior of the pillars for storage," Reves says.
Kitchens, now 40 percent of total space versus 60 percent in the old prototype, have been right-sized and equipped for greater efficiency. "We do a lot of saute work on our ranges, but we never used the ovens underneath. Instead, we've used a freestanding convection," Reves says. "We now have a piece of equipment that is a range on top and convection oven underneath. We also spent a lot of time analyzing what's under our hoods and found that we often had things that didn't need to be there. As we redesigned, we made sure that only those pieces of equipment that need venting and fire suppression are there."
The front of the house incorporates spaces that can close off for private functions, as well as a variety of seating styles. Patios sit adjacent to the bar and a glass wall opens up for an indoor-outdoor experience.
Tipless Takout Launch
In preparation for the launch of a program called Tipless Takeout in early 2018, Tilted Kilt incorporated the infrastructure necessary to accommodate warming and refrigeration units near the front door for express pickup. "We're a full-service brand, but we recognize that demand for takeout is growing fast, so a lot of design thought went into how we can create an efficient to-go program," Reves says.
Another big change is the bar. Traditionally a large rectangle with a center service island, the new design features a 40-seat linear bar that divides the lounge and entertainment areas from the main dining room. "With the new design, we need fewer bartenders on per shift. They can see and service everyone easily. We also brought our service wells and high-volume taps to the front so bartenders can engage with guests while they work. Operationally, it's a win, but we also expect it to enhance the quality of service."