Reconfiguring the use of a cook-chill food preparation system, a centralized tray system and a retherm cart delivery system results in greater diversity and higher-quality food.
Eating well during and after hospital stays contributes greatly to patients' recovery. So the Food and Nutrition team at CHI Health developed a strategy to facilitate faster recoveries and lessen the likelihood of medical relapse.
"There is a lot of scientific evidence that liberalizing diets is much better for patients. Instead of restricting patients' food choices and intake, we want to encourage them to increase their consumption of good food and nutrients," says Terri Hill, CDM, CFPP, CHI Health, division director for Food and Nutrition. Hill's office is at the headquarters facility, Creighton University Medical Center – Bergan Mercy (CUMC–BM), in Omaha, Neb. She has been working at CHI Health for over 11 years.
"We decided to revolutionize our menus and recipes to five core diets," Hill says. The five remaining diets include three National Dysphagia Diets (NDD); a liquid diet; and a house diet, which includes everything but the liquid diet and the NDD diets.
Hill's team believes this new approach will improve patient outcomes even after they leave the hospital because they will learn how to eat healthfully and can access recipes from the hospital. The team also anticipates a significant decrease in food waste because patients will be able to select menu items they like.
Tom Miller and Terri Hill discuss new menu items.The new menu rolled out in August at CUMC–BM before rolling out at the other 13 CHI hospitals in the following weeks. "We worked on reconfiguring and enhancing recipes and menus for 18 months," Hill says.
Because CHI Health uses one menu for the entire system, which stretches from Kearney, Neb., to Council Bluffs, Iowa, Hill and her team visited every member of the physicians' medical staff executive committees at each facility to ensure they agreed with liberalizing diets for the anticipated outcome. "The physicians agreed with this process," Hill says. "Then we had to find a way to change our five types of electronic medical records to handle the new menu information."
The new restaurant menu contains 7 breakfast choices and 13 lunch and dinner choices daily, along with a variety of other popular menu items.
In addition to empowering the patients, what makes this menu revolution so intriguing is the Food and Nutrition team's ability to use the equipment it had been using ever since a centralized foodservice operation was built in 1998. This was possible, in part, because staff kept the equipment in good working condition. In addition, new retherm carts were added when two new hospitals came into the system in 2012.
The central kitchen serves as the heart of patient food production at CUMC–BM, and also produces menu items for retail operations. It contains two floor mixers, two convection ovens, a deck oven, a tilt skillet, a tilt kettle, an eight-burner range, a grill, steamers and a fryer.
Here, staff prepare sauces, soups, gravies, side dishes such as mashed potatoes and entrees such as roast turkey and roast beef using a 100-gallon kettle and a cook tank. Staff place freshly cooked food in bags, vacuum-pack the food and place it into a tumbler chiller.
Production also includes a bake shop, overseen by two executive bakers, which produces all baked goods for patients and retail operations.
Order Placing and Tray Delivery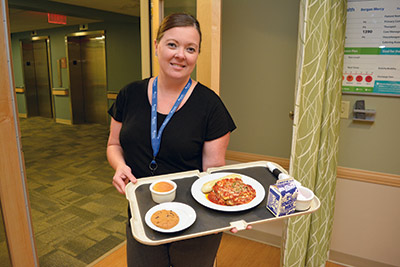 Jackie Tolliver, Food and Nutrition Services supervisor, delivers a patient food tray.Patients, nurses and family members place orders from phones in patients' rooms, or they can wait for a Food and Nutrition team member to call to take their order. Throughout the day a central diet staff member directly contacts patients who have dietary changes. Orders must be placed between noon and 2 p.m. for the next day's breakfast and the same day's dinner; the lunch order time slot runs from 7 a.m. to 9 a.m. Menu orders are transmitted by phone to a centralized diet office at CUMC–BM that handles orders for all CHI hospitals. Central diet office staff transmit meal tickets to each hospital for tray customization.
At the trayline assembly areas in the central kitchen, staff collect cold items from air-curtain refrigerators and cold wells. Once assembled, staff place trays into 3 transportation carts that hold 24 trays each. Drivers take the carts to hospitals.
Once trays arrive at the hospitals, catering associates remove them, customize them to match patients' orders and then transfer the trays into a rethermalization cart. These carts are placed into docks. The convection dock system brings food up to its proper temperatures within 45 minutes. Raw cookies, muffins and dinner rolls are also placed onto trays to be cooked in the dock units. "These aromas from freshly baked goods greet patients and nurses and permeate the areas on the floor," Hill says.
Catering assistants deliver carts up to the floors, check with nursing to verify patients are ready for meals, walk trays into patient rooms and open milk and juice cartons. "They present the food as if patients are being served in a restaurant," Hill says. "They ask patients, 'Does everything look right? Is there anything you need?' Catering assistants work 12-hour shifts so they see patients for all three meals and develop relationships."
Catering assistants deliver five trays and then return to those five patients' rooms to make sure everything is acceptable. They then move along to the next five rooms, delivering trays and coming back to check with those patients. After the 24 patients finish eating, catering assistants return to patients' rooms, pick up trays and ask how patients enjoyed their meals. They place used trays in a different transportation cart, which a staff member transports back to the central kitchen for cleaning in the cart wash area.
"This efficient, restaurant-style system is as close to room service as we can get without actually having a room service program," Hill says. "There are advantages to our system as well. Each unit serves breakfast, lunch and dinner at a set time, so nurses know when they must get patients ready for eating their meals. The partnering works very well."
Gene Zurek, a cook, places cook-chill food into bags. Perhaps the most challenging task for Food and Nutrition was figuring out how to develop menus that would cover all diets. The team also had to figure out how to serve up to 12 restaurant-style menu items at the same temperature in the retherm carts.
"The dietitians and chefs had to marry their talents to make all this happen, which took about a year and a half to get right," Hill says. "The culinary team had to develop the menus and make sure they would individually retherm and retherm together. Putting 24 lasagnas in the cart at one time is easy, but fish doesn't need to cook as long to be flakey and moist. Also, we had to figure out how much steam is needed for each menu item. So, we had to figure out which items could retherm together and hold the quality of the food."
Food and Nutrition also supports hospitals offering room service and two business and industry facilities within CHI Health. In these situations, bulk food is transported to the facilities. Catering assistants assemble trays using hot food and cold food and deliver trays on carts to patients at any time from 7 a.m. until 7 p.m.
During the first weeks since the new restaurant menu introduction, patients, nurses and staff have offered positive feedback. Staff will continue to tweak menus so they receive high satisfaction scores.
Key Players
CHI Health, President, CUMC–BM: Kevin Nokels, FACHE
CHI Health, Division Director, Food and Nutrition: Terri Hill, CDM, CFPP
CHI Health Director, Food and Nutrition, CUMC–BM: Tom Miller
CHI Health Executive Chef, Division Manager, Central Kitchen: Kurtis Kenkel
CHI Health, Clinical Division Manager: Beth Naylor, RD
CHI Health, Operations Division Manager: Mike Matulka
Facts of Note
Owner: CHI Health, headquartered in Omaha, Neb.
CHI Health System: 14 acute care hospitals in Nebraska and Southwest Iowa with 2,121 licensed beds; 12,000 employees system wide. The academic medical center is headquartered at the flagship facility, Creighton University Medical Center – Bergan Mercy (CUMC–BM), in Omaha, Neb.
Scope of Project: A new menu introduced August 8 at CUMC–BM. The menu debuted at other facilities through August and September. The system uses cook-chill food production, a centralized tray system, distribution on refrigerated trucks and rethermalization carts at hospitals.
Patients at CUMC–BM: 302 (licensed for 400)
Patient Meal Trays/Day CHI Health: 3,000 retherm meals for 7 acute care hospitals, as well as other healthcare facilities. Approximately 1,200 room service trays are assembled for distribution at 5 facilities from bulk food sent from CUMC–BM's central kitchen.
Patient Meals/Day at CUMC–BM: 906
Size of Kitchen: 12,000 square feet
Per Tray Cost: $1.71
Seats in Cafeteria: 200
Retail Transactions/Year/CUMC-BM: 878,000
Average Retail Check: $3.78
Total Annual Foodservice Revenue for CHI Health: $10 million
Patient Services Hours: 7 a.m. to 7 p.m.
Retail Hours: 7 a.m. to 2:30 p.m., Monday through Friday; coffee shop, 7 a.m. to 2:30 p.m., 7 days/week; Subway, 10 a.m. to 3 a.m., 7 days/week
Foodservice Staff, CHI Health: 21 executive chefs and approximately 250 Food and Nutrition employees
Foodservice Staff/CUMC–BM: 34 full-time employees
Total Project Cost: N/A
Equipment Investment: $750,000 since 2012
Website: www.chihealth.com