Plant-Forward Fast-Casual Concept Creates a Buzz
Customers can choose from signature stir-fries or customize their own, using freshly made egg white or whole wheat noodles, rice noodles, brown rice or Boston lettuce cups as a base. Photo by Jason VarneyDespite the big buzz around plant-based diets and rising numbers of consumers seeking meatless meals, compelling and convenient restaurants that put plants center stage are still few and far between in many markets. For Justin Rosenberg, that reality presented an opportunity. A newly converted proponent of a plant-based diet, the former real estate finance guy decided to scratch an entrepreneurial itch. He left the cubicle world behind, trained in a fine-dining kitchen and developed honeygrow, a next-gen fast-casual concept where organic salads, stir-fries, smoothies and a signature "honeybar" star in an environment that blends high-touch hospitality with high-tech advancements.
The first honeygrow unit opened in the Center City neighborhood of Philadelphia in 2012. Since then, development has been aggressive thanks in large part to Miller Investment Management. The West Conshohocken, Pa.-based private equity firm has twice infused the budding chain with capital ($25 million in 2015 and $20 million in late 2016) to grow its footprint, refine its systems and develop proprietary technologies, including self-serve order-entry kiosks, a mobile ordering app, and virtual-reality crew training tools.
Today, honeygrow boasts 18 units. Many locations are in and around Philadelphia, but the company has also expanded to nearby markets including Baltimore (two units), Washington, D.C. (one), Delaware (two), New Jersey (three), New York (one) and Arlington, Va. (one). This summer, the chain made its debut in Boston and Chicago.
Jen Denis, honeygrow's chief brand officer, says that in the near term, the company will focus on increasing its density in existing urban markets and on growing quickly — but not too quickly. "We're trying to be very conscientious about our growth," she says. "We feel that this concept has a lot of room for expansion, but we don't want to ever grow so fast that we risk cheapening the brand or trading quality for quantity."
Concept Details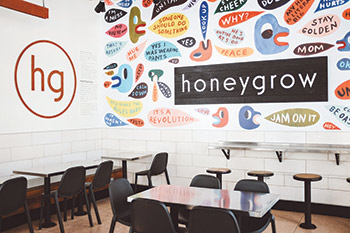 A modern, fast-casual salad and stir-fry brand, honeygrow serves up high-level culinary in a high-tech, high-touch environment. Photo courtesy of honeygrowhoneygrow customers can create their own stir-fries, choosing from freshly made egg white or whole wheat noodles, rice noodles, brown rice or Boston lettuce cups and adding up to three vegetables, one sauce and two garnishes. Add-on protein choices include roasted organic spicy tofu, cage-free eggs, roasted pork, chicken, beef, roasted shrimp and togarashi-spiced turkey.
The menu also includes signature stir-fries. Examples include best sellers such as Spicy Garlic, featuring egg white noodles with roasted chicken, bell peppers, broccoli, red onions, pineapple and parsley, and Red Coconut Curry, a vegan selection with rice noodles, organic roasted spicy tofu, pineapple, jalapeños, bean sprouts, scallions and cilantro. Recent regional noodle bowl selections include Philly Roast Pork, Chesapeake Crab and NY Pastrami.
Custom salad options start with customers choosing either lettuce, noodles or wheat berries as a base, then selecting from a wide variety of organic and seasonal produce toppings and house-made dressings. Chef-developed salads include options such as Walnut St. Noodle, made with whole wheat noodles, organic arugula, mushrooms, raw cauliflower, roasted walnuts and parmesan crisps with walnut-lemon dressing and Vegan Kale with organic roasted spicy tofu, apples, carrots, roasted beets, red onions and radishes with mustard-soy vinaigrette.
Like the rest of the menu, all sauces and dressings are prepared from scratch utilizing all-natural, often locally sourced ingredients. Many are produced in a centralized commissary to ensure consistency and freshness across all units.
For dessert or as a stand-alone snack throughout the day, honeygrow offers its signature honeybar. Customers can choose up to three fresh fruits, one variety of honey (buckwheat, clover or wildflower) or vegan-friendly maple syrup, and two toppings (including coconut shavings, granola and dark chocolate chips). Local plain yogurt and whipped cream, made fresh in-house daily, are offered for a slight upcharge. Smoothies and recently added cold-pressed juices complete the menu highlights and help bring checks up to an average of $13.
The chain doesn't yet offer delivery, mainly because, as Denis puts it, "we're paranoid about food quality." But, she adds, "We are looking into several options. We realize that demand for delivery is a reality so we're working toward that."
Takeout business, however, is robust. honeygrow's new mobile app allows customers to order ahead and select a pickup time and location. The app offers functionality that's comparable to self-serve kiosks in its restaurants. "It's the same level of customization, the same number of options," Denis says. "It also includes a video game that allows you to collect loyalty points that can be redeemed later for a monetary value toward your meal. And you can save your previous orders, which is helpful given the very high level of customization that we offer. It helps you to recall a go-to stir-fry combination or a modified salad order, which helps to speed up the ordering process."
In the stores, customers place orders via touchscreen kiosks. Ambassadors are always available to help. "If you're not sure about the technology or if you have a specific question or dietary restriction that you want us to accommodate, they're there to help," Denis says. "And our format is such that you could be placing your order right in front of the person making it. There's sometimes a misperception that ordering on a kiosk is impersonal, but the fact that you have so much access to our team throughout the process brings it back to a personalized level."
Proprietary technology platforms are key components of the honeygrow fast-casual experience. All guests input their orders via touchscreen kiosks, with staff ambassadors at the ready to assist if needed. Photo courtesy of honeygrowThe concept's average store footprint totals around 2,000 square feet. The prototype is highly adaptable, but key elements always include easily accessible order kiosks at the service counter and an open kitchen. Most prep and cooking happens in direct view of customers. "People can see their salads and honeybar items being created and the wok stoves are in full view. They add a lot of energy and a bit of theater to the entire experience," Denis says.
The honeygrow team remains confident that the unique experience the brand offers will continue to fuel its growth, which, at least for the foreseeable future, will be entirely organic. "This is a concept with a lot of room to grow. It's all about immediacy — everyone wants everything on demand — but it's also about quality. Consumers' palates are more discerning and their expectations for food quality are higher than ever," Denis says. "We really pride ourselves on the ultra-high quality of our ingredients but also the culinary expertise that goes into our recipe development and training programs to ensure that our food is handled properly and prepared and presented perfectly. We're also really proud of our focus on providing genuine hospitality and our obsession with meeting guests' needs, whether it's allergy- or diet-related or just a request for extra sauce on the side. The whole package takes us outside of the traditional fast-casual world and more toward fine dining in terms of service level and food quality."
honeygrow Snapshot
HQ: Philadelphia
Concept: Healthful, plant-forward fast-casual stir-fries, salads, smoothies, honeybar
Founded: 2012
No. of Units: 18
Ownership: Founder/CEO Justin Rosenberg, private investors
Expansion Markets: Pennsylvania, New Jersey, Maryland, Northern Virginia/Washington, D.C., Boston, Chicago
Franchising: No
Services: Lunch, dinner, takeout
Average Unit Size: 2,000 square feet
Average Check: $13
Mission-Critical Equipment: Wok stoves, salad prep equipment, refrigerated tables, pasta cookers, order kiosks