In addition to sustainability practices, the Cancer Center's Food and Nutrition Services department initiatives include adapting sous vide cooking techniques and a new cooks' training program.
Michelle Richards (left), chef and Farmers Market specialist and Timothy Gee, CEC, executive chef. The Farmers Market set up inside Memorial Sloan Kettering Cancer Center enables employees to purchase fresh produce biweekly.New York City's 450-bed Memorial Sloan Kettering (MSK) Cancer Center's Food and Nutrition Services (FNS) department believes hospitals can and should deliver important preventative health messages and solutions to patients, staff and the communities they serve. FNS' initiatives include implementing and upholding sustainability practices, adapting sous vide cooking techniques for menu preparation and supporting a new cooks' training program. These initiatives blossom through the collaborative partnerships with MSK's nutritionists, buyers, chefs, sustainability team, department management and hospital administration.
FNS follows the Healthy Hospital Food Initiative (HHFI) created by the New York City Department of Health and Mental Hygiene. HHFI focuses on improving the healthfulness of food served in hospitals. In 2014 FNS was the first of New York City's hospitals to be awarded a gold star for meeting HHFI challenges, including having an engaged leadership, healthier food, "leaner energy," less waste, safer chemicals and smarter purchasing.
In 2016, FNS again partnered with the NYC Department of Health on its Good Choice program. As part of this initiative, the NYC Department of Health conducted a pantry analysis to determine how vendors can help MSK source items that are consistent with FNS' nutrition and sustainability goals.
Also last year, FNS expanded its clean meats goal, launching a no hormones, no antibiotics initiative. "This involved partnering with our group purchasing organization to increase the purchasing of poultry and beef that are never treated with antibiotics or hormones," says Veronica McLymont, PhD, RD, CDN, director of FNS. "The chickens are raised on an all-vegetarian diet and the cows raised on a grass-fed diet."
FNS also works closely with vendors to procure locally grown fresh produce where feasible during the growing season. "We use these items on our seasonal patient specials menu, salad bar in retail operations and special menu items in retail," says Timothy Gee, CEC, executive chef for the Food and Nutrition department. "We're revising menus to include all seasonal recipes for patients and retail operations," he says. FNS uses approximately 2,000 pounds of fresh, locally sourced produce weekly.
The new patient menu, debuting in 2017, will feature 10 to 15 seasonal menu options. Seasonal breakfast menu selections will include banana pancakes with fresh Jersey blueberries; lunch selections will include gazpachos, strawberry soup, chimichurri flank steak with summer corn salsa and seared salmon with mango salsa, balsamic glaze and sauteed spinach with shaved fennel.
Food Enhancements
The salad bar features many locally sourced products. Photo by Timothy Gee, CEC, executive chef, Memorial Sloan Kettering Cancer Center, Food & Nutrition DepartmentRecipe flavor profiles will change through the addition of fresh herbs. The department recently received a grant from The Society of Memorial Sloan Kettering, a volunteer-led organization dedicated to patient care, cancer research and education, to purchase an herb growing cabinet that sits in the retail dining room. "Composed of two reach-in coolers, the cabinet contains a digitally controlled automated filtered water pump/aerator irrigation system that regulates watering and light cycles, nutrients and air circulation for optimal growth," Gee says. Plumbing and drain connections hook up to the municipal system with separate growing zones with individual settings.
The coolers' glass doors allow observers to see herbs and microgreens maturing in 8 growing zones capable of holding 16 10-inch by 20-inch trays. The temperature varies to match the need of each unique zone. Each day, staff pick, wash and chop the herbs. "We're doing this to enhance food quality and freshness," Gee says. "We're in New York City and don't have space for a garden. We also want to control the environment for immune-compromised patients. With this system, we can control growing and harvesting from the beginning." As a gardener himself, Gee is well-versed in herb growing.
FNS also hosts a biweekly farmers market in the main cafeteria. Staff members sell a total of approximately 18 30-pound cases of produce. "We price the produce to encourage people to buy and use it," Gee says. "Nicolle Hallissey, our wellness nutritionist on staff at MSK's employee wellness program, works on-site at the market. She hands out recipes featuring the fresh produce and offers advice about how to prepare fresh produce as well as the benefits of eating a diet rich in these ingredients."
Also in partnership with MSK's Employee Wellness Program, FNS features a FoodWise program in the cafeteria that offers discounts on purchases of healthy "wise choice" entrees, vegetables and whole grains. FoodWise follows the Healthy Hospital Food Initiative standards.
FNS' strategy to increase plant-based options on its menus also includes a Meatless Monday program. The goal is to encourage employees and guests to practice healthy eating habits by choosing to eat a plant-based diet at least one day per week. "This is based on the premise that eating plant-based meals at least once a week may help improve health and reduce the risk for certain diseases by cutting saturated fat intake coming from animal products," McLymont says. "In addition, the program helps to improve the health of the planet by lowering the environmental burden of industrial production of food and animal products with a lower carbon footprint, less water usage and less dependence on fossil fuels."
Tracking and measuring purchases and usage is a critical component of MSK's sustainable practices. MSK works with a software company that collects purchasing data and pulls out key measures such as weekly and monthly local purchases, as well as information regarding proteins that contain no hormones and no antibiotics. "By tracking, we can monitor and then improve our local and sustainable food spend," McLymont says.
"Our FNS team meets quarterly to come up with action plans to increase or decrease our food spend in certain food categories," says Gee. "Our goal is to try to become as sustainable and local as possible." The local designation includes products within a 250-mile radius and sustainable efforts follow the Healthy Hospital Food Initiative guidelines.
These efforts contributed to FNS winning the Practice Greenhealth award for being in the Top 10 in environmental excellence.
Information from data tracking resulted in FNS using New York City tap water in place of bottled water for catered events. "According to the data tracking in our sustainability software, 68.6 percent of our total annual beverage spend was on healthy beverages in 2015," McLymont says.
"We purchased water carafes, which we use, wash, sanitize and reuse for every function," Gee says. Fresh-cut fruits and vegetables such as lemons, oranges, strawberries, watermelon, cucumber or mint leaves are added to the water and served in compostable cups.
FNS kitchen staff also collect organic food scraps and send them out for composting. "A company picks up the waste each night and brings it out to local farms, so it isn't going into the waste stream," Gee says.
FNS also sends used fryer oil to a vendor that reprocesses it into biodiesel fuel. In addition, at the main campus, all beverage vending machines contain a motion detector system to reduce lighting and energy consumption when the immediate area is vacant. FNS also replaced plastic plates and bowls with 100 percent compostable materials, replaced plastic coffee stirrers with wooden stirrers and began buying napkins made from 100 percent recycled content. "We wish we could have digesters, but we don't have the space," Gee says. "Maybe when we can purchase smaller units, we'll be able to use that technology."
Combi Ovens, Sous Vide and Culinary Training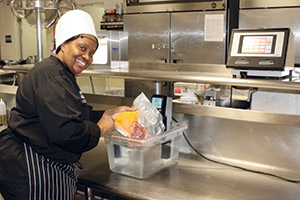 Marjorie Young, sous chef, uses sous vide preparation for menu items. Photo by Timothy Gee, CEC, executive chef, Memorial Sloan Kettering Cancer Center, Food & Nutrition DepartmentFood production receives continuous review. This year, FNS added another combi oven to bring the total to five. "We use this equipment to produce better products and yields as well as reducing waste. We use combis instead of fryers for retail food and are exploring eliminating fried foods from patient menus," Gee says.
Gee believes the introduction of a sous vide program in August will result in better yields, product control and waste reduction. The department purchased a vacuum chamber and three immersion circulators. "This cooking process will allow us to cook food with minimal fats and we can introduce flavorful products that will penetrate through meats and fish," he says. "We can monitor the cooking process so we are cooking at precise temperatures. In addition, we'll have guaranteed results with high-quality items with higher yields." Sous vide menu items include saffron-infused sea bass, thyme and truffle filet mignon, citrus salmon and burgundy short ribs.
"The playground of menu items is at our disposal," Gee says. "We can produce up to 200 portions or more per meal period or event with this equipment. What's also great is the equipment is Hazard Analysis Critical Control Points (HACCP) compliant, so it will track items from start to finish and we'll have our data logged so we know we are producing these menu items safely." He estimates using sous vide for up to 50 percent of the menu items.
Insistence on enhancing menu quality also led to the rollout of the MSK Gold Star Chefs program this past May. The program simulates the skills training at The Culinary Institute of America, where Gee went to school, and is also inspired by the Black Hat Chefs of Rex Healthcare. "We're training cooks in foundational cooking techniques and how to use our high-tech equipment to achieve the best results, as well as training them about sustainable food and foodservice practices, using seasonal ingredients and cooking sous vide," Gee says.
Each month, Gee trains two to four employees. Cooks detour from their regular jobs to immerse themselves in intensive training for three days and then continue that training with weekly tutorials that review cooking techniques, recipes and equipment use. In the next several months, 50 culinarians will participate.
Facts of Note
Ownership: Memorial Sloan Kettering Cancer Center
Scope of Project: Enriching sustainable practices and adding sous vide
Number of Beds: 450
Occupancy in Retail Cafeteria: 480
Patient Meals/Day: Approximately 1,000
Retail Transactions/Day: Approximately 1,000
Patient Room Service Hours: 7 a.m. to 8 p.m.
Cafeteria Hours: 6:30 a.m. to 11 p.m.
Menu Specialties: Menu items with seasonal produce
Staff: 214
Website: www.mskcc.org
Key Players
Foodservice Director, Food & Nutrition Department: Veronica McLymont, PhD, RDN, CDN
Food and Beverage Manager, Food & Nutrition Department: Kolja Djurovic
Executive Chef, Food & Nutrition Department: Timothy Gee, CEC
Finance Operations Manager, Food & Nutrition Department: Nancy Thomas