This Japanese fine-dining concept specializes in dishes that let the main ingredient shine without extra sauces and seasoning. It has an interior design and kitchen to match.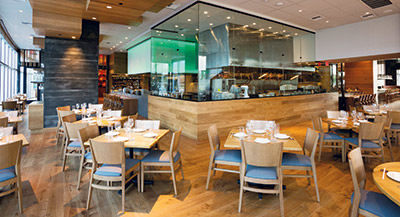 Adding extra ketchup or mustard to bad food is a tried and true practice. Those ingredients can make low quality perfectly edible. The corollary, then, is that high-quality food doesn't need a lot of extras. It should be left alone so that diners can truly appreciate what they've been given.
That's the approach taken by Roka Akor, a Japanese steak, seafood and sushi fine-dining establishment that opened a restaurant this past summer in Houston, its fifth overall location.
Owned by JNK Concepts out of Phoenix, Roka Akor was founded by Dr. Johh N. Kapoor, a pharmaceutical entrepreneur with a net worth of $2.1 billion, according to Forbes.com.
According to JNK's Vice President of Development Sunny Mehra, Kapoor entered the restaurant business because of his love for dining — both the food and the experience. "Dr. Kapoor is very fond of food, of going out, of eating. He's well-traveled and has experienced many other cuisines and other countries. He wanted to do something where it's not just eating a dinner. [He wanted to] simplify everything."
A few months after the company's founding in 2007, JNK opened the first Roka Akor in Scottsdale, Ariz. One restaurant in San Francisco and two in Chicago followed over the next several years. From that first store through today, the restaurant's commitment to simplicity and quality continues to shine — in its food, its kitchen and in its design.
Food and Those Who Source it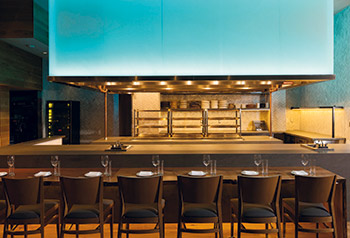 Like the sushi bar, guests can sit at the custom-made robata grill and watch chefs work. A panel with color-changing LEDs at the front of this station helps the restaurant set the atmosphere.Roka Akor's commitment to simplicity and quality, says Mehra, starts with the menu and how the culinary staff produce dishes.
In too many restaurants other ingredients mask the flavor of a dish's main component — fish, steak, chicken, etc. "If it's a salmon maki, you don't necessarily taste the fish because there are five other sauces on top of it. It looks beautiful, but I can't taste what I'm supposed to be tasting," Mehra says.
So when developing and preparing dishes for guests, Roka Akor's chefs commit to only using ingredients that enhance the taste of the dish's main component. Extra sauces that add sweet or savory to the detriment of that ingredient just aren't added, Mehra says.
Letting a meal, and by extension an entire customer experience, succeed or fail on the quality of a dish's star ingredients means those ingredients must be high quality. Since Roka Akor has only a handful of restaurants spread out over thousands of miles, most of the chain's food comes from local sources. Roka Akor relies on its chefs to build relationships with area food vendors to pick out different ingredients.
"Sourcing starts with the executive chefs and the kitchen team. We have never hired an executive chef or even a sous chef from outside," Mehra says. "People who have worked for us for six months to a year or two years are ready to become executive chefs. They're the ones who are ready to open the next one. All these people know how important the quality of these ingredients are to the success of the restaurant, so when they move up, they're very careful. They know exactly what to source."
Simplicity in Food, Simplicity in Design
The bar/lounge includes marble tables and a live edge bar. The chain's whiskey and Saki offerings sit on shelving hanging from the ceiling.Roka Akor's commitment to quality and simplicity plays out in the restaurant's interior design as well as in its menu. The restaurant makes heavy use of natural materials while spurning artificial and excess elements.
Though Roka Akor has fine-dining quality food at a fine-dining price point, the restaurant has a relaxed ambiance. The space is well lit and there's not a white tablecloth to be found. Even more striking: There's also no art on the walls. "We don't believe in [using art]. We use no pictures, no artwork, nothing. Just the materials, different materials, different textures to highlight those materials," says Mehra. These different materials and textures include real wood and stone elements.
The restaurant uses hardwood flooring throughout the front of the house, including the bar/lounge. While upholstered booths line the walls, in the center of the space sit two large high-top community tables, both made of granite. The bar features a granite front with a solid wood top that has a live edge, which presents the raw edge and rustic wood grain.
To the left of the lounge, floor to ceiling windows help fill the restaurant's dining room with light. Structural pillars have a mud wall facade, while wooden boxes hang from the ceiling in areas to break up the space and provide some intimacy.
Though the lounge has limited booth seating, the dining area primarily uses floating four-top, hardwood tables matched with wooden, upholstered chairs.
Attached to the lounge, the restaurant's private dining area features hardwood floors, hardwood wall paneling and two video monitors for AV presentations. It also has the restaurant's only wall decor, a display of "floating" decorative glass jars sitting on individual shelves.
Situated in a long, narrow space, the private dining room has 2 long, narrow tables, 1 with seating for 20, another for 24. Depending on the size of the party, the private dining area can flex into either a larger or smaller footprint: a folding wall (made of wood) can divide it into two separate rooms, while an attached outdoor patio can expand the private space to accommodate as many as 80 people.
Kitchen on Display
The simplicity of the dining area design doesn't mean the space lacks intrigue. The quality and richness of the space's raw materials themselves add character and depth to the restaurant.
Most of the energy and life in Roka Akor, though, comes from its fully open kitchen.
The kitchen divides into four main sections: Sushi, hot, dessert and the robata grill — the heart of the restaurant, Mehra says. This kitchen does as much as anything to create Roka Akor's guest experience. The activity helps energize the restaurant, while the sounds and smells, particularly from the robata grill, help create "a complete experience."
This layout of Roka Akor's kitchen has evolved with each new store opening. The first restaurant, in Phoenix, has only the robata grill in front. The chain's San Francisco and Chicago operations display additional cooking areas where possible. The Houston location represents the first location to showcase the full kitchen.
"Coming to Houston, we had a blank canvas, allowing us to do what we always wanted to do — a perfect L-shaped kitchen," Mehra says. "You can see the entire display of the entire kitchen right in the heart of the restaurant."
This display starts with the sushi area, the first kitchen section guests encounter when entering the dining room. The design of the wooden top on the standard-height seating area includes a live, or natural, tree edge. Guests can enjoy their meal there while watching chefs at work. One thing they won't see, though, is a display of fresh raw fish. Instead of showcasing seafood on ice, Roka Akor keeps its sushi in custom-made undercounter refrigerators below the work surface. Having the fish on display, with higher temperatures and changing air currents, can impact its quality, according to Group Executive Chef Ce Bian. "We try to touch the fish as lightly as we can."
Similarly, undercounter refrigerators along the back wall store most sushi garnishes, while shelving on the wall holds jars and tins of spices and seasonings.
The chain's hot kitchen, which follows the sushi kitchen, produces items like dumplings, soups and Japanese hot pots. The hot kitchen's hot line sits against the back wall and starts with the fry station. This station includes one deep fryer for items like fried calamari. Next to the deep fryer sits the tempura fryer — just a few steps from the sushi chefs who make use of tempura-fried ingredients.
Along with the fryers themselves, the fry station includes a small refrigerated worktable that holds batters for fried items on top, along with shrimp, squid and other to-be-fried items below.
After the fry station comes a flattop grill, which the chain uses to cook dumplings and like items (stored below in refrigerated drawers), and for making soups and stocks during prep time. Next follows an eight-burner range, also used for soups and stocks, sushi rice, as well as for hot pots and various sauteed dishes. Below the range sits a conventional oven that culinary staff use to bake items like sweet potatoes and an occasional fish dish.
Roka Akor uses a combi oven, the final piece on the line, for baking desserts and steaming items.
While the hot line sits along the back wall, kitchen staff can turn around 180 degrees (facing customers) to find the plating and garnishing stations. While most operations use basic refrigerated tables with cold wells for this task, Roka Akor has solid marble worktops with no wells. As with the sushi station, undercounter drawers hold the garnishes to maintain their freshness. The marble worktops, meanwhile, look better than stainless steel and are easier to clean, an important feature for a display kitchen, Bian says.
"Cleaning is the first priority," Bian says. "We literally spend a whole week training people how to clean their section during their work, before their work, after work. It's all about procedures."
The hot area flows directly into the third kitchen section, the dessert kitchen, which sits at the corner of the "L." This station features two countertop mixers (one large, one small), a freezer and an ice cream machine.
Following the dessert station is the robata grill on which staff cook steak and seafood dishes. This custom-made unit has three sections, each with three levels, allowing chefs to adjust cooking temperature by moving items up or down a level.
Roka Akor's robata uses charcoal and wood for fuel, creating a dramatic cooking display with flame and hot coals. A small amount of wood is held underneath the island countertop where the robata sits, with a larger supply stored in the back of the house. Worktops with undercounter refrigerators, which hold seafood, steaks and garnishes, surround the island.
With such an impressive front-of the-house display, Roka Akor has minimal equipment in the back of the house. The primary station consists of a sink and work surface for prepping fresh fish. This station also has a "super refrigerator" that reaches -90 degrees in order to freeze fish used in sushi, as required by health regulations.
Beyond that, most of the prep work occurs up front in the production kitchen. Morning prep starts at roughly 8 a.m. with a dozen kitchen staff. The restaurant closes after lunch, giving team members the chance to prepare for the dinner shift.
Organic Growth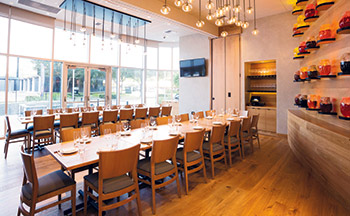 The private dining area can divide into two spaces or expand onto the patio. It contains the restaurant's only decoration: a wall of floating glass jars.Though Roka Akor has only opened five restaurants in nine years, the sixth will come soon: In November, the chain will open a new location in suburban Chicago — that area's third Roka Akor.
Following that, the company continues to eye a few select cities for growth, including Boston, Dallas, New York and Washington, D.C., says Mehra. Like its current markets, all are large, international cities with plenty of well-off, well-traveled individuals who can appreciate Roka Akor's approach to dining.
Exactly when this seventh store will open, though, is anyone's guess. Much like the concept skips anything artificial in its design and its menu, it also doesn't set any growth targets for itself, says Mehra.
"Many companies we see have failed because they put out a growth number and they just kept on expanding without knowing the markets. And it's not just the market not being ready, they weren't ready for the expansion. They just wanted to hit that growth number, then they had to roll back their growth. We might open two or three more next year, or we might not open any next year. It all depends on how ready we are, how comfortable we are and how comfortable the overall team is."
No matter when or where this seventh location opens, it will be sure to follow the Roka Akor model: quality and simplicity in food and design, along with a compelling experience created by a kitchen where the chefs' work and skills are fully on display.
Roka Akor At a Glance
Key Players: CEO & President Dr. John Kapoor; Corporate Executive Chef Ce Bian; Corporate Executive Sushi Chef Mike Lim; Financial Advisor Sunny Mehra
Chain Headquarters: Scottsdale, Ariz.
Year Founded: 2008
Signature Menu Items: Escolar Tataki with white asparagus and yuzu; Wagyu Filet Tartare with almond black truffle aioli, truffle caviar and quail egg; Robata Grilled Scallops with yuzu and wasabi; Wagyu Flat Iron (6 oz.) with maitake mushroom and egg yolk; Modern Style Nigiri; Yuzu Miso Marinated Black Cod wrapped in a Japanese magnolia leaf; Sweet Corn with butter and soy; Tiger Shrimp Tempura with wasabi pea dust and sweet chili aioli; Hamachi Serrano Chili Roll
Number of Units: Five (Chicago; Skokie, Ill.; Scottsdale, Ariz.; San Francisco; and Houston)