Despite the name, this casual dining operation doesn't define itself by drink alone, but by good food and engaging employees.
Big WhiskeysA specific type of cuisine — or perhaps a vibe the owners want to create — generally serve as the inspiration for most restaurants. Not Big Whiskey's American Restaurant & Bar. The emerging restaurant chain draws its inspiration from an elderly gentleman enjoying a drink and telling stories.
"My grandfather had a small little restaurant in Lockwood, Mo. It was a farm town," says Paul Sundy, Big Whiskey's co-founder and senior vice president of operations. "He had one customer that would come in and always say, 'I'm only going to have one, so make it a big one.' ... He always seemed to have the right thing to say, a joke or a story or maybe a toast. We built our entire concept around this guy's mentality."
Headquartered in Springfield, Mo. — about an hour drive from Lockwood — Big Whiskey's displays this mentality in both service and decor. This approach helped the casual-dining chain grow into an eight-unit concept with plans for national (and even international) growth in the works.
People First
High-top seating helps distinguish the Big Whiskey's bar area from the dining room.Building a restaurant around a mentality means first finding people that can bring that mentality to life. Friendly, open, engaging: Big Whiskey's looks for those qualities when it hires. "We try to take that next step of engagement, whether it be a joke or a story or a toast. We try to teach our bartenders that it's more than just order-taking," says Sundy.
Of course, wanting friendly, engaging employees isn't revolutionary. All types of operations, from white tablecloth restaurants to hot dog stands and everything in between, want employees that guests like to be around. Big Whiskey's stands out by designing its hiring practices to make attaining these employees easier.
First, each Big Whiskey's restaurant maintains staffing levels that exceed what's typically necessary to run the restaurant, says Matt Caetano, vice president of training and operations. This enables the chain to hire out of want, not need. If a waiter or bartender leaves unexpectedly, having a few extra employees gives the manager time to fill the open spot with the right type of person — not just someone who can take orders and make drinks.
Second, the company emphasizes attitude over experience in its hiring process. While many chains require wait and bar staff applicants to have a year or two of experience in these jobs, Big Whiskey's doesn't.
"We made a conscious decision five years ago that we're hiring attitudes. You don't have to have the experience," Caetano adds. "We'll train you if you have the right attitude. That's worked for us ... We've empowered our managers to make those calls rather than eliminate [candidates with limited experience] from the beginning."
Finding the right people represents just the first step in the Big Whiskey's approach. In addition to being fun and friendly, Big Whiskey's occupies a space in the upper-middle area of casual dining where both drink and sports play an important — but not defining — role, Sundy says.
"If you call yourself a sports bar, the only time people think of you is when sports are on. That's why we stand behind our ambiance pieces and our food quality and service. We're a restaurant that celebrates sports — not a sports bar. ... We're not a bar — we're a restaurant that celebrates our bar."
As the chain's name suggests, this celebrated bar offers a whiskey-heavy drink menu. Given whiskey's current popularity, Sundy acknowledges the company got lucky with this aspect of the concept. "If I had told you 11 years ago I knew whiskey was going to be the fastest trending spirit, I'd be lying."
Still, the chain makes the most of the moment. It offers more than 100 whiskeys, including bourbons, scotches, ryes and other varieties, as well as its own Big Whiskey's-branded spirit, made to the company's specifications by a local distiller.
Patrons can order any of these whiskeys straight up, of course, but the chain also offers mixed whiskey drinks designed to appeal to women, who make up a minority of whiskey drinkers. These include the Whiskey Blackberry Sour (blackberry whiskey with sweet and sour) and the Vegas Bomb (whiskey with amaretto, peach schnapps and an energy drink).
"Our goal is for a female demographic to say, 'I would like a whiskey drink because Big Whiskey's can make me one that I can enjoy.' We feel like we can grow the most in those categories. We're trying to bring a new flavor palette to whiskey so everyone can enjoy it," Sundy says.
Bar Celebration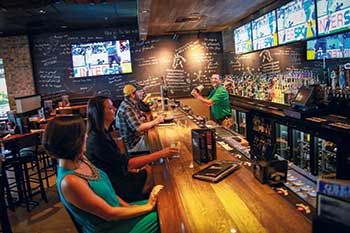 Naturally, as a restaurant with a "celebrated bar product," Big Whiskey's put a lot of thought into its bar design. Many of the key elements of the concept take shape here.
In the spirit of the concept's inspiration, for example, the bar features a custom wallpaper designed to look like a chalkboard covered with jokes, toasts and sketches. Each restaurant also has an impressive display of whiskey bottles behind the bar. In addition, the chain serves three whiskeys — including the house brand — on tap using a proprietary draw system. These whiskey taps are either built into an impressive tap tower or into a whiskey barrel display.
As part of a restaurant that "celebrates sports," the bar area also has several televisions that allow people to enjoy a game with their meal, or a meal with their game. Other features that define the bar area include high-top seating, bar stools, two- and four-top tables and even high-top booths. The height of this seating, says Sundy, helps distinguish the bar from the dining room, which uses standard-height seating.
In addition, Big Whiskey's separates the bar and dining area with a half-height brick wall topped with silver metallic poles that hold black-and-white photographs. The chain uses these pictures to tell stories about whiskey, as well as pictures of the restaurant's own past and present.
These images hang from the walls of the dining area, which comprises about 60 percent of the front of the house. Like the entire operation, this area makes use of natural materials and finishes such as brick walls and wood tabletops, along with splashes of maroon.
The dining room also features several televisions, as well as multiple seating options including booths for two, four or six guests; floating tables that staff can move to accommodate parties of different sizes and a round, eight-person community table. Each store also has a private meeting room that can become dining space when necessary. While these different seating options help break up the space, Big Whiskey's creates even more visual variety with multiple floor levels.
In addition to the bar and dining area, the chain added a third space, an outdoor patio. In the chain's prototype store, an overhang from the building covers about half the patio seating, while red umbrellas provide shade for the other half. The space also features outdoor televisions, which allow guests to enjoy a game and good weather at the same time.
Kitchen and Prep
At the grill station, the flattop is used primarily to melt cheese on burgers and make hot sandwiches. Burgers and steaks are cooked on the chargrill.Supporting all of this is Big Whiskey's back-of-the-house kitchen.
The chain's production area starts with a fry station, which sits along the back wall of the kitchen. While Big Whiskey's used to have only two fryers, it now has four due to a menu that has expanded over the years. Staff use one unit to cook fries and chips; two for chicken items, including wings and chicken strips, and one for seafood, such as fish for fish and chips.
A nearby upright freezer stores frozen items such as french fries. A refrigerated table offering both undercounter refrigeration and cold wells, holds cold but not frozen items such as pretzel bites, wings and avocado egg rolls. This table sits 180 degrees from the fry station.
Adjacent to the fryers is the saute station, a six-burner range where team members make items like ahi tuna steaks and pasta dishes with all sauces made to order. Beneath the range is an oven, which the chain uses mainly for prep work, such as cooking off ribs, baking potatoes and making bacon during prep periods.
Next comes the grill station, which has a chargrill and a flattop, each with refrigerated drawers beneath for holding proteins, and a salamander attached to the wall above the flattop. Though Big Whiskey's has invested in two pieces of cooking equipment for this station, the chargrill gets the most use, cooking steaks, burgers, chicken breasts and more. Meanwhile, staff primarily use the flattop to melt cheese on burgers and produce hot sandwiches, as well as to cook quesadillas when orders stack up at a quesadilla press on the cold line.
This approach, says Caetano, makes for better presentation of menu items, something that's very important to Big Whiskey's. "Having a nice steak with the grill marks is a nice presentation. We have built look sheets so our cook knows exactly what an order is supposed to look like. The expediter, when he gets it, knows the exact way it should go out every single time."
Staffers at the grill station can turn around to find the salad table. The 74-inch mega top holds salad ingredients as well as fixings for items like tacos and quesadillas. Adjacent to this is the cold table that pairs with the fryers.
While the hot line has only one more piece of equipment — a convection oven used for making bacon, potatoes and other items during prep — the cold line finishes with a four-vat steam table, which sits just below the expediting window. One of these vats holds cold items for burgers, such as lettuce, tomatoes and cheese. The other three store bulk hot offerings. These include house-made mashed potatoes and hot dips, such as queso, white queso with spinach and buffalo chicken dip.
In addition to the production line, Big Whiskey's also has a dedicated prep area. Measuring about 250 square feet, this space includes worktables, a vegetable sink and tabletop equipment such as food processors and slicers.
While many operations have a set few hours for prep each morning and afternoon, prep at Big Whiskey's starts at 9 a.m. with one employee and runs throughout the day. This approach gives the chain some staffing flexibility when necessary, while allowing staff to improve their pay, Sundy says. "If [the production kitchen staff] need help during the lunch rush, we have a prep person that can and will run the salad station or the expo station. That's a way we can increase the wages of our back-of-the-house staff. The more stations they know, the more money they can make."
Deliberate Growth
Back-of-the-house employee pay isn't the only area where Big Whiskey's forgoes the quick buck.
After spending more than two years developing a franchise system, Big Whiskey's opened its first franchised locations earlier this year. While the chain could try to open as many restaurants as possible as quickly as possible, it instead will limit its new stores for the next couple of years, with just 6 budgeted for 2018 and 10 for 2019. Only after it has the experience of launching 15-plus franchised stores will Big Whiskey's take its foot off the brakes, says Caetano.
While corporate store expansion focuses on the Midwest, with Springfield at the center of its territory, says Sundy, there's no geographic target for franchised openings. The company has national distribution deals with its suppliers and is licensed to sell franchises in 38 states.
That's not to say the chain will open anywhere. Though Big Whiskey's will look at a number of metrics when evaluating a franchise location, all proposed restaurants will have to pass a simple test: Would the company open one of its own stores there? If so, the franchise will probably gain approval.
All new stores and franchisees, though, must really buy into the Big Whiskey's brand and experience. In a competitive casual-dining environment, providing an open, welcoming experience with original drinks, jokes and toasts enables the chain to stand out, Sundy says.
"We believe the days of putting a bunch of trinkets and trash on the wall and calling it a concept have gone by the wayside. People are looking for an original experience. That's why we created Big Whiskey's." FE&S
Key Players
President: Austin Herschend
Founder, Senior Vice President of Operations: Paul Sundy
Founder, Senior Vice President of Finance: Mike Heslin
Founder, Senior Vice President of Marketing: Randy Gildehaus
Senior Vice President of Sales: Jameson Clark
Senior Vice President of Training and Operations: Matt Caetano
Vice President of Accounting and Legal: Jeremy Heslin
Interior Designer: Performed in-house by Paul Sundy, Mike Heslin and Randy Gildehaus
Kitchen Design: Performed in-house by Matt Caetano
Preferred Equipment Dealer: Requip
Facts of Note
Chain Headquarters: Springfield, Mo.
Year Founded: 2006
Signature Menu Items: Hand-cut steaks, salads, appetizers, craft burgers, sandwiches/wraps, pastas, street tacos/quesadillas, soups, kid's meals, desserts.
Number of Units: Eight (six company-owned, two franchised)
Unit Size: 3,200 to 6,200 square feet
Seats per Unit: 190 (excluding patio)
Total System Sales: $10,140,000
Unit Growth Projections: 6 openings in 2018, 10 in 2019
Check Average: $15.90 for carry out; $20.56 for dine-in