Association for college and university foodservice nationally recognizes its members of high achievement in campus dining.
The National Association of College and University Food Services presented the grand prize winners of its Loyal E. Horton Dining Awards to six member institutions representing the same number of operator categories.

The winners of the Loyal E. Horton Awards include:
Residential Dining Concepts: Azusa Pacific University
Catering-Special Event: College of the Holy Cross
Retail Sales-Multiple Concepts/Marketplace: Duke Dining
Catering-Online Menu Grand Prize: University of Oregon
Residential Dining-Special Event: University of Rhode Island
Retail Sales-Single Concept: University of San Diego
More than 75 colleges and universities across North America submitted entries. A team of six judges selected top candidates in each category.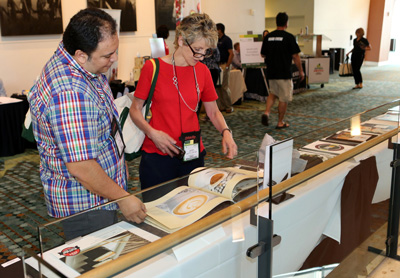 Attendees at the 2017 NACUFS conference got the opportunity to learn from some of the college and university foodservice industry's best and brightest performers by reviewing the entries submitted for the association's Loyal E. Horton Awards recognizing operational excellence over six categories. Photo ©2017 NACUFS, photo by Robb Cohen Photography & Video