Many factors contribute to the essential coming-of-age experience on college campuses, and over the past decade or two, dining has become an increasingly impactful part of that mix.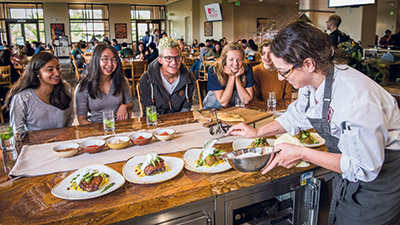 AFDC-Chefs-TableSure, meal plans and cafeterias have always ensured that students don't go hungry, but today's progressive campus dining programs offer so much more than simple sustenance. They're finely tuned to meet the needs of a generation of students who enter campus with strong social values, culinary curiosity and sky-high expectations for quality, variety and customization. Today's successful dining programs focus on engagement, education and enrichment almost as much as on food.
And they're nowhere near done. With wind in their sails and studies showing that dining program enhancements positively impact revenues, satisfaction, recruiting and retention, leaders in the segment remain passionate about its ongoing evolution. Many assert that there's never been a better or more exciting time to be involved in campus dining.
Eric Montell, executive director of Stanford University's Residential & Dining Enterprises (R&DE), frames the
big-picture thinking about what's taking place in campus dining from a culinary, education and engagement standpoint with a compelling number that drives many of his program's initiatives.
"We did a study on the number of meals that our current meal plan students would consume over their lifetime and came up with 200 million. It's a huge number. What an opportunity that is if you can influence those meals over a student's lifetime. These young adults are going to go on and be parents, so that's now an exponential number of meals. And they're being trained to be leaders and start companies that may have a strong food culture. Google is a great example, serving something like 120,000 meals a day for their staff. So for us, that's where the real power in what we're doing is. It's not just about that a student is hungry — and there's a practical value, of course, in what we need to provide — but there's an educational component that is associated with food. And there is a community aspect of food, as well, because our dining program is structured to build community and social engagement."
At Stanford, whose program encompasses 24 locations across a nearly 8,000-acre campus, education and engagement serve as cornerstones of what has become an industry-leading program.
Stanford's Harvest of the Month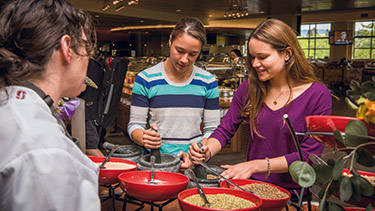 Chef's tables in Stanford's dining commons allow chefs to exercise their culinary talents while students discover new ingredients and cuisines. Photo by Keith Uyeda, Stanford UniversityChef's Tables featuring three-course menus and Tasting Tables in each dining hall create new opportunities for community building and gathering feedback from students. At these venues and others throughout campus, as well as on special event menus, seasonal items are showcased through a program called Harvest of the Month (HOTM), which launched in January.
In April the program showcased herbs, chiles and spices. At the Chef's Table in Arrillaga Family Dining Commons, Executive Chef Erica Holland-Toll offered a menu of cauliflower kuku, a Persian soufflé-like starter made with cauliflower, eggs, turmeric and caramelized onions; crispy-skin chicken marinated in advieh, a Persian spice blend with rose petals and cardamom; and Saigon cinnamon panna cotta.
In addition to introducing students to new ingredients presented in creative ways, Stanford chefs also work to engage them. In March, during a lull in seasonal produce, beans and pulses were the HOTM stars. Lunchtime visitors to the Tasting Table at Arrillaga Family Dining Commons were invited to participate in grinding dry chickpeas into flour that was used to make socca, a naturally gluten-free, vegan pancake that hails from southern France.
The idea behind HOTM, says Montell, is to introduce students to ingredients they may have never tasted or seen before and to educate them on flavors, nutrition and sustainability benefits. It's also exciting for the chefs.
"It's almost like a weekly Iron Chef challenge for them to come up with creative ways to use the ingredients and engage the students," Montell says. "It's a different, very ingredient-driven menu strategy. There's an education piece to it for our chefs, as well, which happens a month before with our supplier partners. They come in and do presentations to help the chefs really learn about and understand these categories."
Another newer highlight of Stanford's program — and one that takes its engagement and education mission around food even further — is The Teaching Kitchen@Stanford. Partnering with the Jamie Oliver Food Foundation, R&DE Stanford Dining created the program with the mission of inspiring change through food education.
Launched in late 2015 and based on a customized version of celebrity chef Jamie Oliver's Cook Smart Program curriculum, The Teaching Kitchen@Stanford consists of a nine-week course that gives even the most inexperienced student cooks the skills and confidence to make a meal from scratch. Along the way, students gain ingredient and nutrition knowledge. Led by a Stanford executive chef, each class meets once a week. The first class focuses on basic kitchen and knife skills, with subsequent classes targeting specific menu categories and integrating nutritional messages.
Students pay $125 to participate in the class, which they sign up for like any other at the university but for which they receive no credit. "We sometimes get asked if we will offer it for credit, but students have been pretty vocal about asking us not to go that route," Montell says. "This is one of the very few places on campus that they can come to learn and not have to worry about getting a grade."
R&DE Stanford Dining leverages its Teaching Kitchen in other ways as well. Faculty and staff can take cooking classes there, and the department recently collaborated with the chemistry department to create a for-credit class on the science behind haute cuisine. "The academic part of the class is taught in the study room of our dining hall," Montell says. "But we move into the Teaching Kitchen for the practical part. It's one of the most popular courses on campus and a great example of how dining is increasingly integrating into other areas of campus life."
Pop-up Dinners Add Excitement at the University of Michigan
Pop-up dinners have proved popular at the University of Michigan, where students enjoy the upscale eating experience.Finding creative, fun ways to engage students and educate them about food and issues surrounding food is also a priority at the University of Michigan in Ann Arbor. The dining program holds Iron Chef-style events in which students compete, generating excitement about food and cooking. Steve Mangan, director of Michigan Dining, says a new series of pop-up dinners that started this past school year have also proven popular.
"We show up at one of the dining halls or in nontraditional locations and put on upscale restaurant-style events," Mangan says. "They're offered on a first-come, first-served basis. They're not only a change of routine for the students, but are also designed to be educational. Each pop-up dinner has a theme. For example, one was around sustainable seafood, and we featured a lot of products that many of the students had never seen or tried before. The events are exciting for the chefs too. They jump in and work together to create the menus and engage the students."
Michigan Dining has also recently launched basic food and cooking classes for students moving off campus, and created a series of dinners and lectures for graduate students interested in food systems. Those dinners, Mangan says, offer the opportunity for open conversations about food and sustainability issues. "We had one that focused just on how dining programs are put together, another around logistics and purchasing and another around the local food system."
Culinary Focus Shifts Staffing and Menus
As for the food itself on college and university campuses today? It's everything it wasn't even a decade ago.
Big trends, from fresh, made-to-order foods prepared at stations in front of students, to allergen-free, local, vegan/vegetarian/plant-forward, gluten-free, kosher, halal and global cuisines of every stripe, are fast becoming expected elements of the campus experience for students and standard marching orders for campus dining teams. Schools not yet on board with these trends are increasingly at a competitive disadvantage, says Adam Dean, senior associate, Management Advisory Services, at consultancy Cini-Little in Washington, D.C.
Dean predicts the culinary trends shaping campus dining today will only continue to become more important, particularly as schools endeavor to provide dining options that can compete with the off-campus options that food-savvy students know and love. Just as in the commercial side of the industry, he notes a pressing need to remain relevant.
"Thanks to the Food Network, the internet, social media and simply how menu trends have evolved on the commercial side of the industry, students come to campus with much more detailed understanding and broader depth of knowledge when it comes to culinary, to different styles of cooking and authentic cuisines," Dean says. "They want to be able to experience those types of things when they come to campus. Schools are adapting, mainly with a very strong focus on culinary talent and training, to be able to provide them at a whole new level of quality and authenticity."
Dean stresses that, as on the commercial side of the industry, authenticity serves as a huge menu driver. Schools that might have in the past offered a generic Italian station now might offer a Tuscan station with more specialty, regional ingredients, dishes and preparation styles; what might have in the past been a Chinese station, today might specifically feature authentically prepared Sichuan or Cantonese dishes.
Authenticity as a Prerequisite
Dean points to parallel moves being made in the corporate dining segment when it comes to authenticity. Microsoft, for example, sent teams of chefs to India to learn about authentic spices and preparation techniques before launching Himalaya, a new micro-restaurant concept featuring Indian street food. On campus, he says, operators and contractors likewise seek chefs who specialize in specific styles of cuisines.
The mandate for authenticity on campus extends from food production to sourcing, adds Barry Skown, senior associate, Management Advisory Services, in Cini-Little's Portland, Ore., office. "That's an increasingly important element that students clamor for," he says. "They want to know where it's coming from, how it has been produced, if it's locally and sustainably sourced. It's not enough to just put out food options that may be authentically prepared. Dining programs' commitment to authenticity need to go much further than that and be more systemic. There also has to be much more communication and transparency between dining departments and the students they serve."
The authenticity of menu items serves as a key driver for the University of Wisconsin- Madison's student dining program.At the University of Wisconsin-Madison, efforts to ensure authenticity link up through the supply chain and down into the student body. Dining Director Peter Testory, who came to the school in January after serving as senior executive chef and then assistant director of support and culinary operations at Colorado State University in Fort Collins, Colo., says the strategy has shifted from what dining directors or chefs may want to serve to what students want to eat.
"For students, food is in part experimental, but it's also about memories, traditions and stories. If meatloaf takes them back to their grandma's kitchen, then we need to prepare the meatloaf the way it was traditionally prepared in this part of the country and not put our own spin on it," Testory says. "If we're doing a particular global cuisine, we need to be as true to the authentic preparation as we can. To help us meet that challenge, we lean heavily on students and student organizations for input."
Testory also emphasizes that while some broad trends drive on-campus menus and concepts — bold flavors, global cuisines, smaller portions, sustainable local sourcing, fresh and healthful foods among them — homogeneous, plug-and-play strategies don't work.
"You can't assume that a particular trend or concept that's popular in one market will fly in another," Testory says. "College students aren't a monolithic group. You really have to learn your specific customer base to see what's exciting and relevant to them and adjust accordingly."
Michigan's Mangan concurs, noting that mainstream, scratch-the-surface approaches to menu development no longer work. "Not only can we no longer get away with calling chop suey Chinese, we can't get away with saying we serve our vegan students by putting out some sticky pasta with tomato sauce or beans and rice, or isolating our gluten-intolerant students," he says. "We have to delve into all of the work that we're doing authentically and have a true culinary mindset in all aspects of our program."
Passion for University Dining
That enhanced and integrated culinary mindset feeds not only the new college dining experience but also transforms it into one of the foodservice industry's most innovative segments. Administrators and students alike value Stanford's chef-centric, cutting-edge program and see it as a crown jewel in the elite university's diverse package of amenities.
The Performance Bar at Stanford's Arrillaga Family Dining Commons showcases a wide variety of fresh, healthful, performance-enhancing foods."We now find that a lot more chefs from all different kinds of backgrounds — hotels, fine dining, catering, etcetera, — gravitate to working in college and university dining because there's so much passion within the space for continuous improvement and innovation," Montell says. "At Stanford, we now have 14 executive chefs on staff, and I'm a CIA-trained chef as well. Ten or 20 years ago, that simply did not exist — executive chefs did not work in university dining."
And across the board, innovation transcends exciting culinary trends to simultaneously embrace sustainability. Initiatives such as local sourcing, on-campus farmer's markets, student-run organic farms, even hydroponic farms that supply campus dining programs, continue to evolve and grow thanks to student and chef engagement as well as economic realities.
While sourcing programs become more strategic and targeted, so too does management of both food and nonfood waste. Many campuses now work not just to reduce, reuse and recycle, they create next-gen sustainability programs with zero waste as the ultimate goal.
"Minimizing food waste is more important than ever, but so is minimizing recyclable waste," notes Skown. "Gen Z really doesn't even regard recyclable materials to be very eco-friendly anymore. They want to get as close to a zero waste footprint as possible and avoid having to expend the resources needed to recycle and even to compost."
Economic factors support advancements in this regard too, and gains made in one area can support initiatives in another.
"If we can reduce waste, we can have more dollars to spend in the local economy on some of these more expensive local products," Mangan says. "We've made some significant progress. It starts with how we buy and how we use technology to help ensure that we don't bring in more than we need. It's also about training and culinary sophistication — bringing in more talent and doing a better job of teaching our employees how to properly prepare foods, reduce, trim and cut waste in the kitchen before it even gets to the customer."
Fields Cafe at the University of Michigan emphasizes a farm-to-table menu with handcrafted food prepared with locally sourced ingredients. Photography courtesy of University of MichiganMichigan Dining's sustainability efforts now encompass the use of compostable materials campus-wide, trayless dining and nutrition education around the benefits of smaller portions.
"We're doing almost tapas-style dining," Mangan notes. "You can always just ask for more if you want it, but we're no longer in the environment where we have the customer loading up a tray with two pounds of food on it, much of which ends up getting thrown away. And we're building plates for nutrition, so each has some sort of plant-based product on it or it might be entirely plant-based. We're trying to mix fruits, vegetables, legumes, and we have a relationship with the Michigan Bean Commission. Most of our beans are grown and processed in Michigan. So all of these types of things morph together to build a pretty powerful story that speaks to what our customers today want."
Indeed, sustainability around food increasingly ties to nutrition messaging as well. Menus of Change, a groundbreaking initiative from the Culinary Institute of America and Harvard's T.H. Chan School of Public Health, has emerged as a key driver of both nutrition and sustainability strategies and education on campus. Stressing the power of changing menus to drive improvement in human health and the environment, it espouses plant-forward menus and ingredient choices that lead to benefits such as reducing the water footprint of food and antibiotic use in livestock production.
Montell contends that sustainability efforts in dining programs are increasingly woven into — and often lead the way for — broader sustainability initiatives on campus. He points to a recent example at Stanford in which his department's water footprint effectively shrank by 50 million gallons a year.
"For all the right reasons, we had been buying local beef. But with the drought in California we decided to outsource our purchasing to Australia, which had no drought at the time," Montell says. "We could purchase beef from Australia that checked all the right boxes of being grass-fed, halal, antibiotic-free, etcetera. Given the amount of beef that we use and the quantity of water required to produce it, it was more sustainable to have Australian beef shipped here than it was to buy local. There's no other initiative that could save 50 million gallons a year on behalf of the campus."
Facilities, Services Target Flexibility and Choice
The intense focus on engagement and culinary sophistication in college and university dining provides a challenging and dynamic backdrop against which facility design and configuration continue to evolve. Big, single-line residential hall cafeterias with large kitchens in back and operations designed primarily to get students in and out during limited traditional meal periods are being phased out, one remodel and one new build at a time.
In their place, contemporary, marche-style serveries continue to flip the ratio of back-of-the-house to front-of-the-house space utilization upside down. Station-based, made-to-order display cooking adds excitement, freshness and the opportunity for both customization and direct engagement with culinary staff.
Continuous service and/or late-night options — in some instances even 24/7 — keep becoming more popular. Apps and kiosks for mobile ordering are boosting efficiency, speed of service and customization. Such technologies also put menu, ingredient, allergen and nutrition information in students' hands, accessible anywhere, anytime. And collections of smartly branded micro-restaurants offered in modern facilities modeled after food halls integrate dining with social, educational and entertainment activities.
The ongoing evolution in college and university dining speaks to a growing recognition that strategic infrastructure and design changes are as important as culinary and sustainability advancements, says David Porter, FCSI, CEO at Porter Khouw Consulting.
"There's always been this push and pull between retail and residential dining on campus. Both are needed and it's a balance, but the biggest trend I see and what our research supports is toward what we call the 'social architecture' of dining on campus," he says. "In focus groups with high school seniors, we consistently hear two responses when we ask what they're looking forward to most as they head off to college. One is the freedom to do what they want; the other is the anticipation of new social experiences. That social-experience element, on a day-to-day basis, really revolves around dining; there's nothing more social than dining or engaging over food together. When we use dining as a catalyst to enrich the day-to-day levels of social engagement with students, and if we get the formula right, it's almost like moths to a flame. Meal plan participation increases, and we see a positive impact on student performance retention. Schools that have moved in this direction have really transformed the social landscape of the campus."
Getting that formula right, Porter says, starts at the dining hall level with dynamic, fresh-focused marche-style serveries. It includes designing spaces with plenty of natural light, with modern materials, with full and easy access to Wi-Fi, and a variety of seating styles to suit solo and group dining, studying and socializing occasions all in one footprint.
But there's more to it than that, Porter adds. Extending hours to offer late-night — even 24/7 — options and minimizing meal plan restrictions that effectively send kids off-campus or to non-plan retail venues to be able to eat what and when they want are also important.
Participation Drivers
At the University of Mary, a Catholic university near Bismarck, N.D., Porter and his team recently guided dining program redevelopment efforts that included repurposing the main residential dining hall and opening a new state-of-the-art venue, along with a coffee shop and c-store. Meal plans were loosened to allow students to use their dining dollars when and where they want, and extended hours of operation were added in all campus dining venues. Today, the newly remodeled student union dining center at University Hall operates 24/7 during the school year. Porter says participation and student satisfaction have increased significantly, and development of a second 24/7 operation is now underway.
Montell notes that his program has also added more extended-hour options for students. Stanford dining halls
are now open for continuous service, and 15 percent to 17 percent of all R&DE transactions fall outside of traditional meal times. Because class schedules now extend into the evening, Stanford serves dinner until 9 p.m., and convenient foodservice options are available — and heavily utilized — until 2:30 a.m. daily.
"We're continuing to expand the options for students," Montell says. "I don't think there's an end goal in mind, but we have decided against going to 24-hour service. We know that the average Stanford student sleeps only about four and a half hours a night. They're overachievers, and we don't want to contribute to having them feel they can or should stay up all night."
As for actual facility design trends, Montell says Stanford venues increasingly integrate "choice architecture" and behavioral economics to guide students toward healthful, Menus of Change-driven options.
"A lot of things have changed, but one constant is that college students don't like to be told what to do. Nonetheless, we can design our facilities in ways to help guide them. Research shows that something like 75 percent of a choice in an all-you-care-to-eat environment is the first thing people see. And two-thirds of a plate is usually made up of the first three things that they see. If we can build dining halls and showcase front and center features such as our Performance Bar, stocked with a wide variety of fresh and healthful foods, we can positively influence students to make better choices."
With such a large percent of cooking done in front of customers today, equipment helps drive such choices as well. For example, a number of rotisseries originally used to cook poultry and meats at Stanford's Arrillaga Dining Commons have been repurposed to roast vegetables, part of the school's commitment to Menus of Change principles. "The equipment helps to create the visual stimuli, the enticement that helps to drive desired behaviors and guide students' choices for healthier outcomes," Montell says.
Such applications require outside-the-box thinking but also a higher level of flexibility across the board. Serveries are no longer just serveries. In a nod to their importance as social architecture spaces, as well as to economic pressures mandating efficient utilization of every inch of space on campus, they're increasingly designed to be multifunctional spaces. Many now incorporate study lounges, wellness rooms, teaching kitchens, high-tech meeting rooms and/or student performance spaces.
Versatility, says Testory, is the name of the game in terms of how dining spaces can be used as well as how they're designed to adapt to changing trends. "Our dining spaces need to be built so that we can change out concepts, the cooking techniques and menu items quickly and easily," he says. "Equipment has to be flexible and multifunctional as well. Trends change too quickly for us to be locked into something by virtue of a design or piece of equipment that has limited application. Designers and manufacturers need to understand that our No. 1 need is flexibility. We all know that two years from now we won't be doing what we're doing today."