This wing concept is out to attract everyone from Millennials to professionals to families with its new design.
In an evolving market, businesses often need to strike a difficult balance: bringing in new customers without alienating existing ones.
With the rise of fast casual and now the restaurant-in-grocery-store phenomenon, many casual dining operations are grappling with that challenge. Among them is East Coast Wings + Grill, a 36-unit chain headquartered in Winston-Salem, N.C.
"One of the reasons casual dining has lost its relevance is they haven't updated their design, they haven't been thoughtful about what today's consumers are looking for," says Brett Larrabee, the chain's vice president of brand development. "A lot of casual dining companies have a very large base of older customers. That's because they've held on to the past and those customers are comfortable in those environments. But in order for us to succeed in the future, we have to be fresh and viable and considerate of what younger customers are looking for."
With this in mind, last year the chain rolled out a new prototype design with an industrial look combined with warm, comforting touches and a variety of seating options. This look, says Larrabee, appeals to a number of demographics, from craft beer-loving Millennials to families out for a nice meal to professionals enjoying a happy hour drink and bite to eat. In doing so, the new design keeps East Coast Wings + Grill relevant for years to come, Larrabee says.
Not a Sports Bar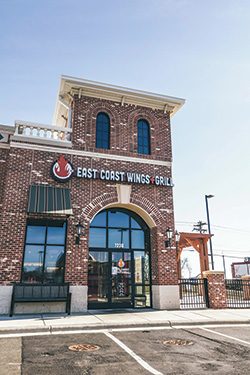 East Coast Wings + Grill aims to reach 200 stores within the next five yearsWhile the new East Coast Wings + Grill wants to appeal to many demographics, one group it isn't specifically targeting is the sports bar crowd, a customer base other wing operations have built their concepts around. While the chain welcomes business from people out to watch a game, the new design doesn't have any sports memorabilia on the walls and only has a few — not a few dozen — televisions.
East Coast Wings + Grill chose this route in order to be more welcoming to families, couples out on a date and other groups, says Larrabee. It also wanted to avoid what it sees as a weakness in the sports bar model. "We don't want to be an event-driven business. We want to be a casual dining restaurant that people can use for their everyday meal or for beers out."
Entering the store, customers are greeted with a color palette of warm grays and blues, as well as livelier reds and oranges. The first major design element they find is a custom metal piece that sits against a wall. It is a large compass with a metal 'E' in the middle, part of the company's new branding approach.
From there, guests can choose to sit either in the dining area or the bar.
According to Larrabee, Millennials, couples on date night, or friends enjoying an evening out are all drawn to the bar's modern yet warm feel. In addition to bar stools, seating in this section can include booths, four-chair hightops and a large community table that serves as a buffer between the dining room and the bar itself.
The bar is backlit with LEDs, while the bar itself features an impressive display of 24 taps serving mostly craft beers, a draw for the beer-savvy Millennial market. These offerings are driven home even further with wall decor with phrases that stress the company's commitment to craft beer.
East Coast Wings + Grill has placed similar messages in the dining area. Here these phrases emphasize the quality of the chain's food, such as the meatiness of its wings and the intensity of its wing flavors.
Seating in the dining room includes upholstered booths with room for six, as well as two- and four-top tables. Some tables are partnered with a long orange banquette and can be pushed together to accommodate larger parties.
In addition to the dining and bar areas, the new design also has an outdoor patio. This is a major addition, with the patio offering 50 seats compared to the 90-100 inside.
East Coast Wings + Grill's new hot line was designed to increase throughput. It includes a six-foot griddle (two feet longer than the previous specification) and high-efficiency fryers with quick recovery times. Photos by Joel LassiterSince most of East Coast Wings + Grill's restaurants are located in a corridor from North Carolina to Florida, the patio can be used almost year-round without any trouble. If allowed by local code, added Larrabee, this space will be heated/air conditioned and covered with a vinyl enclosure for those times when the weather doesn't cooperate, making the space useful regardless of the weather.
According to Larrabee, the chain doesn't see the patio as a third seating zone. Instead, it is an extension of the dining room — one that doesn't take up rentable space inside the building. To make the space as appealing as possible, the chain invested in high-quality outdoor furnishings, including soft seating and tables and chairs that are similar in style to the interior.
"Although people like to sit on the patio, the patio seating typically isn't all that comfortable. So I think we made an extra effort so people find that the patio seating is just as comfortable as what they found inside," says Larrabee.
Full Menu, Small Kitchen
With its focus on efficient use of space, it's no surprise that East Coast Wings + Grill's back of the house is admirably small, comprising only about 30 percent of the typical store's interior real estate.
This small footprint is reflected in the chain's kitchen, which puts out a full menu of wings, sandwiches, salads, burgers, quesadillas and more in a tight space.
"We don't want our lines to be these huge long alleyways," Larrabee states. "We want them compact and efficient so that two, three, maybe four cooks can work the whole process."
This small space, then, requires that the kitchen's equipment be high-powered and high-efficiency. The kitchen starts with a six-foot flattop grill, which is used for items like burgers and quesadillas. Below the grill, the chain relies on refrigerated drawers to hold raw proteins, such as beef patties. A salamander has been installed above the grill for melting cheese on burgers and finishing other items.
The specs for this piece changed from the old design, which had only a four-foot unit, Larrabee noted. The extra two feet of grill space allows the unit to cook more items at a single time. The piece also has an extra-thick grill plate. According to Larrabee this grill plate has a shorter recovery time and distributes heat along the surface more evenly, leading to higher throughput and more consistent products.
Once an item finishes on the grill, the line cook turns around to a refrigerated make table. Here, toppings such as lettuce, tomatoes, cheese and condiments are added to sandwiches and burgers, as well as garnishes to items like quesadillas. In addition to finishing grill items, this table is used for assembling salads. Below the work surface and wells the restaurant keeps backup produce, cheese, etc.
With East Coast Wings + Grill's focus on efficiency, the design of this section of the kitchen keeps labor costs low. While the grill and make table may need dedicated staffers during peak hours, a single line cook can handle both during the restaurant's slower periods.
The chain's fry station follows the grill. East Coast Wings + Grill has upgraded its equipment here, too, by specifying high-efficiency fryers with quick recovery times.
"We, especially in our busy times, are cooking literally thousands of wings. Given that fact, we needed a much more powerful platform to get those chicken wings out the door," Larrabee says.
The chain has a total of five fryers. During slow hours, as few as two are used, one for wings and one for french fries.
The wings are brought from the walk-in refrigerator to the fry station in large foodservice-grade plastic buckets, then placed in the fryer with tongs. When finished, wings move to what is essentially a wing dump under a heating lamp on the cold line.
From here, the wings are sauced in smaller foodservice-grade buckets. Saucing in the kitchen isn't just a matter of ladling and tossing. East Coast Wings + Grill's menu is too broad for that. The chain has nearly 60 distinct wing flavors. These fall into broad categories, such as The Islands (ex., Jamaican Jerk, Coco Mango), Tex-Mex (Cheddar Jalapeno, Chipotle), and Classic American (Traditional Buffalo, Raging Ranch). What's more, each of these flavors are ordered with a "Heat Index," the nine of which range from Virgin to Insanity.
Obviously, the chain doesn't have more than 500 distinct sauces in its kitchen. To offer this variety, says Larrabee,
East Coast Wings + Grill has a set of core sauces that are mixed with various add-on sauces. When an order of wings hit the kitchen, a line cook will take them from the fry dump and place them in a small bucket, add the appropriate combination of sauces (held in wells or bottles, depending on the restaurant's footprint) and then toss.
With the exception of a reach-in freezer that holds french fries at the end of the hot line, this marks the end of the chain's production kitchen — for now at least.
Larrabee is currently exploring the addition of high-speed ovens to the chain's kitchen. These units, he says, would produce items like flatbreads and toasted sandwiches. "We feel that's one of the things we need not only to increase consistency, but to have a wider range of options on our menu."
Like its production kitchen, East Coast Wings + Grill's prep area is simple. The chain's sauces are made in a company-owned facility and distributed to stores through its broadline distributor. Prep work, then, consists mainly of chopping carrots and celery, slicing tomatoes and onions and the like. The BOH includes a three-compartment sink, two to three prep tables and dry storage. The chain has a walk-in cooler for holding its never-frozen wings and other items. Depending on the available space, french fries can be stored in either a walk-in or reach-in freezer.
Small Markets, Big Plans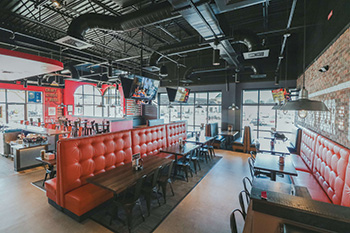 The new East Coast Wings + Grill has multiple seating zones that offer guests different types of experiences.Now that East Coast Wings + Grill has several months of operational experience with this new store, it has made some small adjustments to improve the design and operations. The chain has tweaked its seating, placing two-tops next to four-tops so that the seating can easily adjust to accommodate different sized parties. Operationally, it also found that its previous cleaning supplies didn't work as well on the new finishes, so it reevaluated those purchases.
Overall, though, the company is happy with its new design. In fact, Larrabee says, the first store built with the new look is on track to be the top store in the system. By the end of the year, an additional 10-15 stores should be built with this new design.
That's quite a jump for a chain with around 35 units. The company's goals are far more grand, though. Within five years, says Larrabee, East Coast Wings + Grill wants to have 200 locations. Though the chain is open to expanding anywhere east of the Mississippi, it will focus this growth on its current markets of the Carolinas down to Florida, he says. Suburbs and smaller communities are the best fit for the brand, and those places with populations around 65,000 seem to be the chain's sweet spot.
Though it's targeting these smaller markets, East Coast Wings + Grill has no illusions about how stiff competition is today. If guests don't like what they find, there's probably a competitor a few minutes away ready to take their business. With this new design, the chain believes it has found the look that will bring in all sorts of customers and have them return again and again.
"Consumers today have a vast amount of choices," says Larrabee. "Unless you're on point, you lose. And there's no reason to fight a losing battle. You first and foremost have to have a restaurant that consumers want to be in and want to come back to."