Hyper-local food ranked No. 1 on the National Restaurant Association's What's Hot chef survey for 2017. It comes in many forms: from the smallest herb and microgreen gardens set up under grow lights in kitchens to space-saving and mobile vertical hydroponic systems to more expansive rooftop and outdoor gardens. Chefs will often use the produce they grow and harvest to supplement what they source from local, sustainable farms.
Jumping Off: Five Restaurant Rooftop Gardens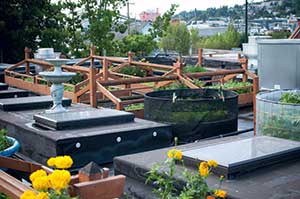 Uncommon Ground, Chicago — the 4,000-square-foot garden atop Helen and Michael Cameron's second location is a certified organic farm, complete with a full-time farm director.
Bell, Book & Candle, New York City — Chef John Mooney harvests tomatoes, herbs, lettuces, strawberries and more on his Greenwich Village eatery's aeroponic rooftop tower garden.
Roberta's, Brooklyn, N.Y. — Chef Carlo Mirarchi uses repurposed cargo containers on the restaurant's roof to grow many heirloom varieties of crops for his wood-fired pizzas and other menu items.
Bastille Café & Bar, Seattle — The 2,400-square-foot garden consists of roughly 20, 12-foot-long-by-4-foot-wide raised planter beds, as well as climbing walls and trellises. The garden grows mainly heirloom fruits and vegetables such as tomatoes, runner beans, radishes, greens, squash and more.
flour + water, and Central Kitchen, San Francisco — Thomas McNaughton's two restaurants both have rooftop gardens producing peppers, zucchini, tomatoes, berries, figs, citrus and herbs in a 2,000-square-foot space, along with beehives.
---
Hydroponic Gardens
TemporisAt tasting-menu restaurant Temporis in Chicago, Co-Chefs/Owners Sam Plotnick and Evan Fullerton built an on-site hydroponic garden in their kitchen with three vertically stacked levels that provide about 36 square feet of growing space under lights. Temporis has an additional 12 square feet of propagation space and about 20 square feet of a deep water culture (DWC) growing system.
The propagation space marks the first step in the growth process. The seeds receive a little moisture and no sunlight as they rest in nutrient-soaked burlap. This simulates the effect of being buried underground, causing the seeds to sprout, develop root structure and grow stems as they attempt to reach sunlight. The main growing space has a timed light system as well as a timed water pump that wets the plants with nutrient-rich and pH-balanced water. The DWC system has space for larger plants such as lettuce, tomatoes, berry plants, hops and even corn.
Temporis grows Scarlet Frill mustard greens, beet greens, micro celery, micro scallions, sunflower sprouts, lemon balm, dark opal basil, lettuces, Red Rambo Radish greens, and micro chervil. The primary space is designated for microgreens, which generally don't grow more than two to three inches tall. Plotnick and Fullerton also plan to grow corn sprouts, purple kohlrabi, mizen, shies and fennel micros, among other greens this season. Some of the sprouting microgreens are visible through floorboards in the main dining room.
---
On-Site Gardens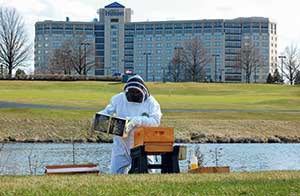 Bee keeping at B. At B., a 167-seat, hyper-local restaurant, Chef Sean Patrick Curry sources produce and even honey from beehives on site for his menu showcasing artfully plated "modern farm cuisine."
B. operates on 150 sprawling acres in upscale Oak Brook, Ill., as part of the Hilton Chicago/Oak Brook Hills Resort & Conference Center.
To serve the freshest produce possible Curry sources ingredients from an on-site 2,000 square-foot chef's garden, in addition to buying Midwestern produce from local farmers. A full-time horticultural staff tends to the growing space, which also includes a cocktail garden for herb infusions, and a food-scaping garden for ornamental/functional edibles. Diners can enjoy scenic views of the gardens, rolling hills and ponds from B.'s floor-to-ceiling windows.
Concerned about the declining honeybee population, which pollinate one-third of the world's food supply, Curry became a certified beekeeper several years ago. He tends to 10 large beehives on the property. Up to a half million honeybees pollinate his chef's gardens and produce honey that he harvests to flavor his hive-to-plate dishes. Pastry Chef Erica Tomei also uses the honey for her honey cinnamon scones and more at B. Patisserie, the bakery offshoot of the restaurant.
---
Greenhouses
EdenA biologist by background, Chef/Partner Devon Quinn of Eden in Chicago built an 1,800-square-foot, year-round greenhouse to grow more than 30 varieties of vegetables and herbs for Eden and his catering business, Paramount Events. Quinn uses 18 4-foot-by-4-foot, 2½-foot tall planter boxes set on mobile, industrial pallets. Interesting varieties like scarlet turnips, pusa jamuni radish, Chinese green luobo radish, nasturtium, lemon balm, anise hyssop, cinnamon basil, wood sorrel, purple basil, mustard greens, and much more find their way into the restaurant's daily changing menu.
---
Living Walls
The Gilmore Collection's B.O.B. (Big Old Building) is a 70,000-square-foot, multi-venue space with a 608-square-foot doubGrand Rapids, Mich.-based The Gilmore Collection's B.O.B. (Big Old Building) is a 70,000-square-foot, multi-venue space with a 608-square-foot double-sided green wall. The exterior green wall faces out to the street and consists of 3 exterior sections measuring 48 inches in height. These sections frame the Sky Patio bar on three sides with flowering annuals and perennials. The plants grow in removable, interchangeable plastic planter inserts attached to the wall's rails.
The interior green wall consists of 5 sections measuring 45.5 inches in height and include 3 on the inside of the perimeter fence, plus 2 on the back wall of the building. In addition to flowers, the interior sections include vegetables and herbs used in the kitchen.