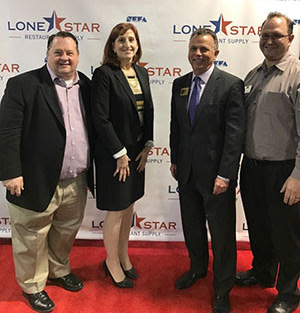 Celebrating Lone Star's new design center and showroom grand opening are (from left): Darren Anderson, president and COO of ABC Hotel and Restaurant Supply Inc.; Kelly Cain, CFO of Supply & Equipment Foodservice Alliance; Todd Meier, Mayor of Addison, Texas; and Ryan Abrey, Metrocrest Chamber Programs and Marketing Manager.

Lone Star Restaurant Supply Inc. opened a new flagship design center and showroom in Addison, Texas.
The facility offers a spot for chefs and restaurant operators to design-build concepts from the ground up, order individual pieces or simply pick up smallwares and tabletop items on-site.
Based in Austin, Texas, Lone Star is a subsidiary of ABC Hotel and Restaurant Supply Inc.