Nearly 300 foodservice professionals participated in the Jan. 20 Solutions 5 annual conference, hosted by Microsoft in Redmond, Wash. The one-day event explored the next generation of food, specifically looking at the future of food.
The Solutions 5 conference explored the next generation of food in relation to trends, technology, wellness, food waste and feeding the world.Solutions 5 functions as a collaborative event among several foodservice associations: the Association of Correctional Food Service Affiliates (ACFSA); the Association for Healthcare Foodservice (AHF), Foodservice Consultants Society International (FCSI); the National Association of College Auxiliary Services (NACAS); and the Society for Hospitality and Foodservice Management (SHFM).
"The ultimate goal is to address problems that crossover to all industries," said Mark Freeman, senior manager of global dining services at Microsoft and recipient of FE&S' 2017 Hall of Fame Award.
Plant-based meat alternatives were one area Jack Li, Datassential, pointed to as representing a shift in food in the future. Products in the meat-replacement segment have come a long way, he pointed out, with new items available that sizzle and even appear to bleed. Li said the health benefits of different types of plants continue to push the meat-alternative trend forward.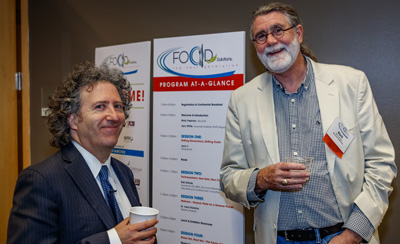 James Erlich (left), ReGen Villages, and Mark Freeman, Microsoft.James Erlich of ReGen Villages expanded attendees' views on the topic of sustainability with his vision of a self-reliant community. He told the group he foresees completely sustainable, off-the-grid neighborhoods. His vision includes a community where residential homes each include a greenhouse, with an additional community greenhouse that would feed into the larger community. His view of regeneration includes a similar approach for electricity and food waste. The first pilot community is planned for Almere, Netherlands.
"Solutions 5 took topics, like wellness, to the next level," said Babara Kane, vice president of industry relations for EcoLab. She noted the connection Dr. Irana Hawkins' session had on her personally. "There is a tie of sustainability everywhere. You don't realize how much better a plant-based meal is for the environment." Hawkins, a Walden University professor, spoke about how a greener plate supports a greener planet and how dietary choices can work as tools to reduce greenhouse gas emissions.
Lunch menu items matched up with specific health benefits, such as the roasted butternut squash and shitake mushrooms, pictured here, which include nutrients that help protect eyes.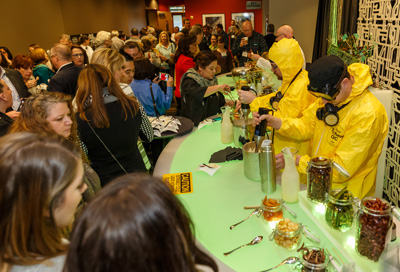 A morning break at the Solutions 5 conference included hazmat-themed servers adding liquid nitrogen to food to reflect how science and technology play into today's food trends. A few of the items in the freeze-dried and nitrogen-prepared lineup included nitro espresso bean hazelnuts and freeze-dried chocolate cake.