Just in time for Valentine's Day, we explore the growth in single-origin, small-batch and handmade chocolates cultivated by artisan shops and chefs nationwide.
The Bean-To-Bar Wall: Small-Batch Chocolate at Cocoa + Co.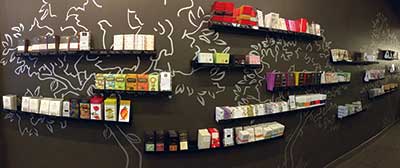 The chocolate industry has seen an incredible amount of change over the last decade in the way it sources cacao. Like a fine whiskey or scotch and coffee — single-origin, small-batch chocolates have become the ultimate artisan treat.
At Cocoa + Co. in Chicago, owner Kim Hack searches far and wide for exclusive chocolates made from rare beans for her bean-to-bar wall, named for the small-batch and microbatch chocolatiers who do everything from grow to roast and then make chocolate from the beans. Just like with artisan coffee, cacao bean roasting takes special skills and finesse to coax out different flavors.
"In the past, many chocolatiers simply bought premade chocolate couverture, often from Valrhona, and then melted that down and added things to it," says Hack.
The bars — like a small-batch whiskey bottle — even feature the batch number and harvest date on the labels.
The chocolate world consists of three main bean families, Hack explains. "Ninety percent of chocolatiers use the forastero bean, a wild cacao that's very prolific but not as flavorful," she says. Only about two percent of the world's producers grow the criollo bean, which can be finicky and challenging to grow but more flavorful. Even more rare is the trinitario, a very flavorful forastero-criollo cross grown in Trinidad. Hack does carry some chocolates made from the forestero bean but only those from special growing pockets in Ecuador, the Maranon Valley of Peru (where the wild bean was found to be 100 percent genetically pure) and São Tomé Island off the coast of Africa.
Hack also notes how the meaning of the Fair Trade label has changed.
Today, a growing number of small chocolatiers compete for the highest quality beans, often trading directly with cacao farmers to secure supply. The Direct Trade model has resulted in prices far greater than the Fair Trade, but they benefit farmer communities more. There is no widely recognized certification process for Direct Trade like the one for Fair Trade so buyers should be aware that the term can be abused.
Yeast Prompts New Era of Chocolate
A new era of chocolate may be dawning after a team of Belgian researchers found that the yeasts used to ferment cocoa during chocolate production can modify the aroma of the resulting chocolate. "This makes it possible to create a whole range of boutique chocolates to match everyone's favorite flavor, similar to beer, wines, tea, and coffee," says Jan Steensels, a postdoctoral researcher at the University of Leuven and the Flanders Institute for Biotechnology, Belgium. "This means that for the first time, chocolate makers have a broad portfolio of different yeast strains that are all producing different flavors."
In-House Chocolate Making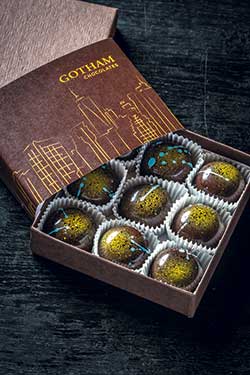 Gotham Bar and GrillAt New York's Gotham Bar and Grill, chef Ron Paprocki developed the restaurant's first line of chocolates, hand-painting each bonbon in a three-day process with his kitchen team. Paprocki, who trained in Germany and under master chocolatier Jean-François Castagne at The French Pastry School in New York, relies on classic techniques and tempering/molding supplies to work with the custom-blended dark chocolate he sources from a small Swiss chocolate maker. In addition to his signature collection, which includes some chocolates made using aromatic Bolivian beans indigenous to the area and harvested wild by locals in canoes, Paprocki makes seasonal flavors like cherry-balsamic, lemon olive oil and artisanal mezcal.
A Chocolatier's World: Q&A with Julie Waterman, owner and chocolatier, Indulgence Chocolatiers, Milwaukee.
FE&S: When did you open your first shop?
JW: We opened in 2007 but moved our current kitchen to our shop in the Walker's Point neighborhood just over three years ago.
FE&S: What type of chocolates do you make?
Indulgence Chocolatiers, MilwaukeeJW: We create artisan chocolates, but what we mean by that is everything is made by hand and we create all of our own recipes here. We also use a lot of local and seasonal ingredients and pair chocolate with wine, beer and cheeses in our shop for a more interactive tasting experience at the small bar up front for about 25 people.
FE&S: Where do you make the chocolates?
JW: We make all of the chocolate for our 3 locations in the 1,200-square-foot kitchen attached to the Walker's Point shop, and you can see the chocolate being made through the window.
FE&S: What type of equipment and supplies do you need to make the chocolates?
JW: Artisan chocolate making like the kind we do requires shockingly little equipment. We really only have about six tempering bowls that melt the chocolate for us so we can work in larger volumes. We also have a couple of induction burners for ganache-making and use molds to make different shapes. We also make a series of about 18 different bars, many using single origin beans.
FE&S: Why are we hearing more about single-origin chocolate right now?
JW: Single origin is exciting because just like with fine wine, depending on where the grapes are grown, the wine will take on totally different characteristics of the region. These chocolates also pick up different flavors of the terroir.
FE&S: What are your best sellers?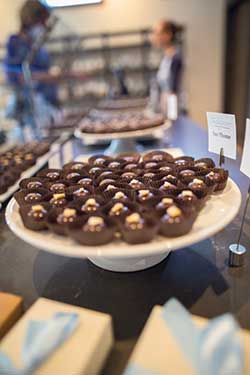 JW: People love the sweet and salty combination of our dark chocolate sea salt bar, and many customers find our truffle bar to be the most exciting. Each one of our locations has a bar with about 24 to 30 different flavors at one time. At another location we also create toppings like dark chocolate sea salt and whiskey caramel sauce with cocao nibs and candied bacon crumble for the Milwaukee-made, Purple Door ice cream we sell.