Culver Franchising System will promote Joseph Koss to president and CEO and Jeff Bonner to COO effective Jan. 1.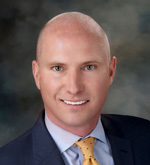 Joseph Koss
Koss, who has served as the company's chief financial officer since 2000, will replace the Phil Keiser, who passed away in October. Koss joined CFSI in 1997 as controller.
A 35-plus year veteran of the restaurant industry, Bonner joined Culver's in 1999 as a franchise business consultant. He was promoted to director of operations in 2002 before being named vice president of operations in 2006. He most recently served as senior vice president, overseeing operations, training and design services.