The Wyndridge Farm trifecta: a craft brewery and winery, restaurant and catering/event business all wrapped into one.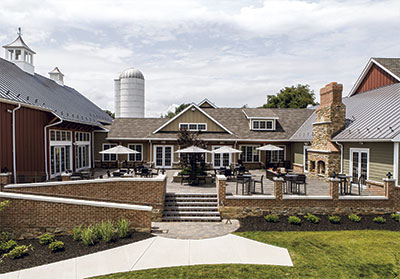 No one knows better how to reinvent a professional career when life takes an unexpected turn than Steve and Julie Groff, owners of Wyndridge Farm in Dallastown, Pa.
After a bicycle accident forced Steve to leave his medical career two years ago, the couple took a second look at their farmland and wound up morphing a working farm into a full-service hospitality enterprise. Today Steve, Julie and their son Taylor oversee a three-pronged agri-hospitality business with 100 employees.
The on-premise brewery and winery represent the first component. Operating as an east-coast brewer of craft beer and hard apple cider, the Groffs distribute products from New Hampshire to Alabama. The Groffs also buy grapes from a local vineyard and press them into wine that is sold at the farm store and also becomes part of the beverage menu at their restaurant.
That leads to the second component, which opened in September 2014: a 75-seat restaurant with an exhibition kitchen, an 18-seat bar and a seating area that overlooks the farm. Guests can also choose to relax and eat on the 100-seat patio, which is accessible through the restaurant.
An event venue, also opened in September 2014, completes the Wyndridge Farm business trifecta. Operating out of a refurbished and expanded 120-year-old barn, the Groffs host weddings and other catered events for up to 280 people.
Expansion Kicks Off
The barn's climate-controlled, vaulted, wooden-beam barn provides a rustic chic ambiance for weddings, corporate events and other celebrations. Photograph by Beth Witsik, Wyndridge FarmThe barn renovation kicked off the project in the fall of 2013. "We started the construction in January 2014 during a terrible winter for construction," says Ray Fertig, the construction contractor. "Our subcontractors worked through the bad weather so we were able to get the renovation done from start to finish in nine months." Local tradespeople were used whenever possible.
The renovation maintained the barn's original structure and roof. "We salvaged and cleaned the old timbers, removed the support structures to open up the floor area and tore up the old floorboards and replaced them with a new commercial vinyl floor that resembles wood. Its durable surface supports dancing and moving chairs," Fertig says. The barn renovation uses a structural insulated panel system for the walls and roof to achieve the desired insulation needed and retain the integrity of the old barn on the inside. The barn also features local, old fieldstone.
"Exposed timber frame brings in the feeling of the old barn into thenew construction," Fertig says. "Inside the new building we used an open timber frame, recycled old fence board from the original farm and, on the bar counter, granite from a local distributor."
Connecting to the barn, an 11,275-square-foot expansion features an exhibition kitchen, dining room, bar, brewery and cidery.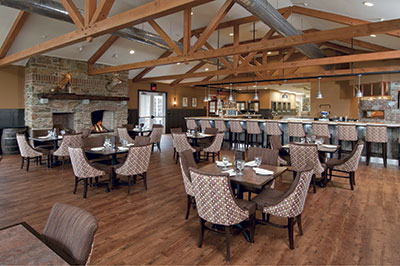 The restaurant's finish materials and furniture create a sense of rustic elegance reminiscent of farm life. The color choices evoke a feeling of warmth and comfort and create intimacy in large-scale spaces. Photograph by Seth NenstielProviding site and interior design services, LSC Design facilitated the selection of finish materials and furniture that achieve a sense of rustic elegance reminiscent of farm life but at the same time offer a contemporary dining and event experience. "The color choices are meant to evoke a feeling of comfort and create intimacy in large-scale spaces," says Jonathan Wehri, AIA, design director at LSC Design, York, Pa. "We selected materials and furniture that can stand up to heavy use and still maintain their beauty over time."
The entire facility features tactile and textured materials, including grass cloth wall coverings, slate tile, embossed leathers and hammered iron. "Everything has a patina, as if it were weathered," Wehri says. "The materials and finishes are mixed and not overcoordinated — as though collected over time. The new finishes and furniture resonate with what people love about barns. They are a little worn around the edges. This is what makes the spaces warm and approachable."
When guests enter the main building they see a farm store, brewery and large bar with a rustic chic design. Large windows in the bar offer views of the farm.
Deliveries, Preparation and Service
Cooking suites allow clear sight lines, which enhance productivity. Photograph by Beth Witsik, Wyndridge FarmThe restaurant features Wyndridge Farms' craft beverages and three signature wines. A pizza prep area and stone-hearth oven provide signature pizzas and flatbread. Guests can also order small plates and listen to live music on Thursday evenings.
The exhibition kitchen, designed by Advanced Foodservice Solutions (AFS) in Mountville, Pa., doubles as live theater in addition to its food-prep function. Justin-Joseph Silverthorn, principal at AFS, who also holds FCSI, MSC, CEC, and CMC credentials, led design efforts. "The concept building began with the idea to give guests an experience," he says.
Fit, form, flow and function served as a guiding force in design, says Silverthorn. "All aisle space is 42 inches, for example, which provides a good ergonomic space."
With a focus on freshness, food staff place menu items in the walk-in cooler/freezer or dry storage immediately after delivery. "We touch every product to be sure it is fresh," says the operation's executive chef Matthew Siegmund. Deliveries arrive daily, even on weekends, due to limited storage space.
At the back of the prep area, a 40-quart mixer remains at the ready for making dough, pastries, and large-batch mashed potatoes. Staff also use the mixer to grind beef for burgers and to grate and shred cheeses. The bulk hot-prep area contains a 40-gallon tilt braising pan for making soups and sauces. "I'm a big fan of the tilt braising pan because we get so much use from it," Siegmund says. "It's simple — we turn it on and just make sure nothing burns."
Copper detailing and stainless steel contribute to the open kitchen's European aesthetics. Photograph by Beth Witsik, Wyndridge FarmCulinary staff use a pair of combi ovens to make braised apple cider short ribs and prime rib, which roasts for 18 hours overnight to make it tender and juicy.
"This is my first experience working with combis," Siegmund says. "They took a little getting used to, but after the training course, I began to understand how to make the most of the technology."
Staff also use the combis to steam whole lobsters, roast chickens and bake vegetable strudel and desserts. The lineup of sweets includes a traditional creme brulee, praline cheesecake, flourless chocolate cake, sheet cakes and fruit cobbler.
The front kitchen looks like an old-school European operation with copper appliqué, stainless steel, and natural stone. Two multipurpose suites allow staff to move easily between stations. "Suites give the chef good sightlines so they can watch the entire operation," Silverthorn says.
A saute station sits to the left side of the suite, where staff heat vegetables, shrimp and grits, steelhead trout and buttermilk creamed cauliflower. Burgers, chicken sandwiches, steaks and seafood are made on a grill; a flattop crisps sandwich rolls and holds sauces. Beneath, a four-drawer refrigerator holds proteins.
On the other side, staff use the saute station for making baked mac and cheese in a cast-iron skillet and steaming jumbo Cape Cod mussels and jumbo Gulf shrimp prepared with Wyndridge craft beer. Dual fryers prepare in-house cut fries and shrimp po'boy sandwiches, served oven-warm.
Staff prepare desserts and salads in the center area. The streamlined design forms a Y shape so the culinary staff has everything it needs for meal production. "I like the open kitchen because guests feel they are part of the system and the kitchen staff can see the patrons walking in and feel they are taking care of these people," Siegmund says. "Also, with the design of the suites, I can keep an eye on the kitchen team."
Wyndridge brewery produces nearly 10,000 barrels of beer and cider annually. The iconic mark is a scarf-wearing fox. The fox is known as an elegant, sly and crafty animal that visits Wyndridge Farm frequently for a little fun. The owners say this essence captures the spirit of Wyndridge Farm. Photograph by Beth Witsik, Wyndridge FarmThe oversight proves essential as Siegmund continues to bring creative magic to menu design. "There's very little I won't try to bring to the menu if it's possible. We're using as much locally produced products as possible and keeping the menus seasonal and fresh," he says.
Since staff must produce the restaurant's a la carte items as well as catering menus with the equipment, Siegmund admits that "timing is crucial in order to prevent complete congestion. We try to arrange for plating of catered meals so it doesn't take place at the same time as the a la carte dinner rush, for example."
For catered events, staff use two heated carts to hold plates with proteins. Staff can wheel a portable six-bay steam table from the kitchen to the barn so plating can take place as close to service as possible. "Food only remains in a heated box for 15 minutes before it hits the table, so it doesn't dry out," Siegmund says. "This process was rough and bumpy when we first opened, but we seem to have it down to a science now. The staff know what to expect and how to execute."
Siegmund has tweaked a few things in the kitchen, since he arrived after it was designed. One adjustment added a heated pass-through window in front of the main counter, which he says helps with the flow from production to service.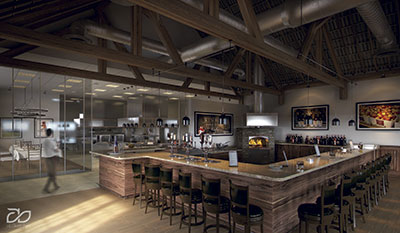 The bar allows guests to taste the Wyndridge beer and cider as well as sample pizza and small plates. The adjacent exhibition kitchen can be seen by guests. Renderings from ABSketches, Anthony BilletIn the restaurant and bar area, staff prepare pizzas and flatbread with a dough press and a stone-hearth pizza oven. Varieties include margherita, chicken pesto, aux champignon, Italian sensation and mixed seafood.
Siegmund insists on kitchen cleanliness. "On Mondays when we're closed, I bring in a crew of six people to clean from ceiling to baseboard."
The entire project team emphasizes sustainability, with Energy Star–rated equipment used when appropriate. The exhaust system features demand-controlled ventilation. In addition, Siegmund purchases as much locally grown food as possible.
Future Phases
The Groffs plan to expand the Wyndridge flagship craft beverage line, seasonal beer and cider offerings, and farm sodas. In the kitchen, more combis and prep tables will help staff keep up with the growing demand.
The Groffs are also considering packaging favorites such as barbecue sauce and house-brined pickles for guests to take home. Another dream plan includes building lodging on the property.
Wherever the next business adventure leads, the Groffs will undoubtedly stay close to their farm roots, giving tribute to the bounty of the land and operating what they call "farm to farm," supporting and buying from local farmers and educating the community of the importance in overall health.
Most important, they call attention to the message on their marketing materials: "Celebrate Life." Steve, Julie and Taylor agree the message surpasses tagline status, serving as a daily reminder for this family that life is precious and fragile and every moment needs to be savored.
Facts of Note
Restaurant, Brewery and Event Venue Opened: September 2014
Scope of Project: Total refurbishing of 120-year-old barn and construction of 12,000-sq.-ft. space for an open kitchen, restaurant dining and bar near the brewery and cider distillery
Size: Old barn and new additions: 19,439 sq. ft., including 8,164 sq. ft. for barn; 2,175 sq. ft. in lobby and entrance; 4,290 sq. ft. for kitchen and tasting room; 4,810 sq. ft. for brewery; new building with storage, 7,000 sq. ft.
Seats: 75 in the restaurant; 18 in the bar; 280 in the barn; 100 on patio
Average Check: $35
Total Annual Sales: N/A
Transactions/Covers: 300 to 450 a la carte covers on busiest nights, not including special events; 200 at lunch on busiest days
Hours: 11:30 a.m. until last seating at 9 p.m., Tuesday through Saturday; 11 a.m. until last seating at 7 p.m., Sunday
Menu Specialties: Brick-fired pizzas and flatbread, craft sandwiches, fresh seafood, baked mac and triple cheese, aged cheddar stone-ground grits, burgers, pan-roasted lamb, steaks, duck breast, harvest salad, fire-roasted tomato bisque
Staff: 100 employees in all three business divisions, including 35 full-time
Total Project Cost: $8 million
Equipment Investment: $3 million
Website: www.wyndridge.com
Key Players
Owners: Steve Groff, founder and CEO; Julie Groff, founder and president; Taylor Groff, vice president and sales manager, Dallastown, Pa.
Executive Chef: Matthew Siegmund
General Manager: Mike McCoy
Cider Master: Scott Topel
Head Brewer: Pete Koelsch
Director of Marketing: Beth Witsik
Designer: Dave Lutter, York, Pa.
Interior Design: LSC Design, York, Pa.; Amy Kleinfelter, NCIDQ, interior designer at time of project; Jonathan Wehri, AIA, design director
Foodservice and Design Consultants: Advanced Foodservice Solutions, Mountville, Pa.; Justin-Joseph Silverthorn, FCSI, MSC, CEC, CMC, principal; Maki Silverthorn, marketing and technical services director; Ken Strainic, assistant project manager; and Jan Silverthorn, assistant project manager
Equipment Dealer: Singer Equipment, Elverson, Pa., branch; Keith Roberts, project manager
Construction: Ray Fertig Construction LLC and Wyndridge Farm
Meet the Players
Steve and Julie Groff, Owners, Wyndridge Farm. While he grew up on a dairy farm in Lancaster, Pa., Steve didn't want to be a farmer and instead became an orthopedic spine surgeon. He became the president of KDV Orthopedics in York, Pa. He was also the founding chairman of the Ambulatory Surgical Center at OSS (Orthopedic and Spine Specialists) and developed a first-of-its kind outpatient spinal surgery program. He also oversaw the transition of the independent medical group into an alliance with the hospital, known as OSS Health System. After suffering injuries in a bicycle accident, he began to consider business ventures for the family's 77-acre farm. Julie, a registered nurse, supervises finance and beverage compliance for the Wyndridge organization.

Matthew Siegmund, Executive Chef. With 20 years of culinary experience, Siegmund has created a kitchen at Wyndridge Farm known for serving local, hand-cut meats, produce and spices, as well as fine international cheeses. He pairs recipes with Wyndridge-made ciders, beers and wines. He was nominated for Best Chefs America in 2013 and 2014.

Justin J. Silverthorn, Principal, Advanced Foodservice Solutions, FCSI, MSC, CEC, CMC. Bringing more than 28 years of experience in foodservice facility planning and design to his firm, Silverthorn also has a strong technical knowledge of foodservice equipment. Trained in the Le Cordon Bleu in Paris and Australia and Ritz-Escoffier in Paris, he adds a hands-on approach to the design process. He also brings sustainability experience, including guiding the first elementary school in Pennsylvania to receive Platinum LEED certification.
Equipment Key
1. High-temp dishmachine
2. S/s clean table
2a. S/s soil table
2b. S/s L-shaped prep work table
2c. Pizza prep table
3. Prerinse assembly
4. Waste receptacle
4a. Convenience receptacle
5. S/s wall shelf
5a. Dry storage shelving unit
5b. Storage shelving units
5c. Mixer accessories shelf
5d. S/s double wall shelf
w/LED lights
6. Hand sink w/janitor's closet
7. S/s corner guards
8. 40-qt. mixer
9. Bulk ingredient bin
10. Water filtration system w/s/s cabinet
10a. Water filtration system
11. S/s two-compartment sink w/faucet
11a. ADA hand sink w/soap, towel dispenser
11b. S/s three-compartment sink w/faucet
11c. ADA hand sink w/faucet, soap dish
11d. Hand wink w/faucet
12. Ice cream batch freezer
12a. Walk-in cooler
12b. Walk-in freezer
12c. Evaporator coil
12d. Reach-in cooler
12e. Reach-in freezer
13. S/s mobile trolley
14. S/s wall sheathing
15. Ice machine
15a. Drop-in ice
15b. Ice bins
16. Exhaust ventilator system
17. Floor trough for braising pan
18. Braising pan w/faucet
19. Combi ovens
19a. Stone-hearth pizza oven
20. Holding cabinet/proofer
21. Fire suppression system
22. Cold bains-marie
23. Decorative heat lamps
24. Six-burner range at cooking island suite
25. Charbroiler at cooking island suite
26. Griddle at cooking island suite
27. Fryers at cooking island suite
28. Millwork service (pass) counter
29. Glass partition
30. Espresso machine
31. Coffee brewer
32. POS system
33. Bar die w/LED lights
34. Pizza press for dough
35. Beer tap dispenser
36. Storage cabinet
37. Speed rails
38. Bar chairs