As part of the festivities surrounding the 2016 James Beard Foundation Awards in Chicago, multiple James Beard awards-winning Chef Rick Bayless and James Beard award-winning journalist Steve Dolinsky moderated a panel discussion of nominated chefs at Kendall College. The chefs shared their career paths and their road to the Beard Awards with an audience of high school and college-level students.
Kendall College interim president Kim Shambrook speaks with culinary students at the James Beard Brunch. Photos courtesy of Kendall College.
Chef Rick Bayless moderates the Kendall College James Beard Brunch panel.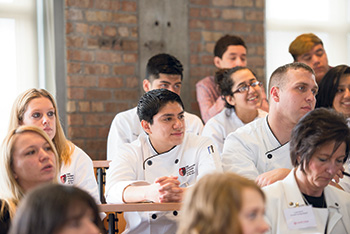 Culinary students soak up best practices offered by nominees during the James Beard Brunch panel at Kendall College.
Chefs Michael Cimarusti, Daniela Soto-Innes, Edward Lee, Meg Galus and Lee Wolen (left to right) participate in the Kendall College James Beard Brunch panel moderated by Steve Dolinsky (far left).