With its contemporary ambiance and food-centered concepts, this dining hall renovation brings prestige and a sense of community to campus.

The U-shaped salad station, Tossed, is a centerpiece of the servery and features tossed-to-order salads, a salad bar and soups. Azusa Pacific University's 1960s servery in the Turner Campus Center building had become old and tired; traffic counts in the only all-you-care-to-eat dining hall on campus were declining. (The other 10 campus dining operations are retail.)
"We wanted to create an exciting dining destination where students, staff and faculty could congregate for meals and socializing and feel a sense of community," says Samuel Samaan, M.Ed., CFSP I, CASP, executive director of University Services. "We wanted to enhance our guests' experience with a variety of food and services. We also wanted to enhance the perception the campus had of campus dining so they felt it was in tune with the most contemporary trends in colleges and university dining."
In the old facility, team members served a standard five-week cycle menu from traylines. Using input from student focus groups, staff surveys and campus dining employees, the ambitious renovation of 1899 Dining Hall turned the 1,800-square-foot space into a contemporary facility with four new concepts to include a total of seven themed food concept stations. Three stations feature exhibition-style cooking. "The new platform allows us to cook in front of customers in contrast to everything coming out of the back kitchen," says Jim Cacciatore, director of Dining Services.
The addition of 50 seats brings the total seating capacity to 300. "The new design is much more efficient in terms of customer through-put," Samaan says.
Gathering all of that input is clearly paying off for the newly remodeled 1899, named years ago in tribute to the university's heritage. "With the design changes, including new finishes, colors and textures, clean sight lines, a more efficient flow and new service concepts, our traffic count is up 25 percent," says Cacciatore. "This project totally transformed the way our customers view the 1899 Dining Hall."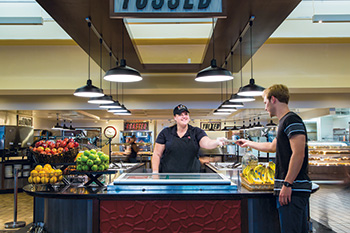 Fresh fruit displays add color to Tossed, the salad station."We were on a tight timeline for this project because the summer conference season was beginning a little earlier in the year," says Jim Schwandt, director of business development, for Partners by Design, which served as the interior designer, foodservice consultant, millwork manufacturer and equipment dealer. "We delivered the millwork and equipment in our scope of work June 1, 2015, and had less than two weeks for installation before opening for conference season at the end of June."
Food Delivery and Production
Food deliveries arrive at the loading dock for the main kitchen, which supports five campus dining operations. A receiver checks in deliveries. Team members place food into two designated walk-in refrigerators, a walk-in freezer and three reach-in refrigerators. "Each dining operation has specific designated sections for storage and prep," Cacciatore says.
Mise en place prep equipment in the back kitchen includes three combi ovens for preparing slow-roasted meats, steamed vegetables and blanched noodles; two double-stacked convection ovens for preparing turkey, fish and tofu menu items; a 12-gallon steam kettle and 6-gallon steam kettle for making soups, broths and sauces; a steamer for vegetables and potatoes; a flat-bottom fryer for chicken and fish; and a tilt skillet to make sautéed vegetables and curries for the wok station, scrambled eggs for the breakfast station, and mac and cheese for the entrée station. Team members use a slicer to cut meats offered at the panini and deli station.
"We designed the project with efficient flow in mind," Schwandt says. "There are now direct lines from the main kitchen to all the cooking platforms in the dining area. The individual concepts have their own prep areas and storage, so there is now less need to work from the main kitchen. Walking paths behind all the service lines eliminate the need for employees to walk through the servery with carts to get from one area to another."
The contemporary servery's clean look and millwork patterns combine to make the room look spacious and inviting.In the front of the house, stations contain equipment visible to guests, who can watch team members complete preparation. Stations include such equipment items as tempered-glass food shields, undercounter refrigerators, pendant lighting, self-contained sink systems and mobile caddies. The finishes, colors and textures of the new service concepts have clean lines and tie the entire dining hall into a central theme. Station signage was constructed out of the same materials used on the millwork finishes. All of the countertops are dark granite, which adds a more elegant finish to the servery, and new lighting showcases the food. "What we got was a modern, updated look that makes all our regular customers and our visitors say, 'Wow,'" Cacciatore says.
When configuring the space, Samaan, Cacciatore and the design team wanted the entire serving area to have a seamless flow. "We were working in a limited space, and there was no easy access to plumbing or electrical connections," Schwandt says. "So the floor plan was designed with this in mind."
Breaking the floor and walls to install new plumbing was cost prohibitive and not a viable option. The solution was to build the platforms to include drainage tanks for the hot wells and build in self-contained hand sinks complete with hot water heaters, fresh water and drainage tanks.
"Another issue was disguising the electrical drops coming out of the ceiling," Schwandt continues. "We needed something to tie in with the new design. The usual electrical cable conduit was unattractive, so we fabricated 3-inch stainless steel power pole sleeves to give us a modern-looking, inconspicuous covering for our electrical runs."
At one end of the servery, a beverage station contains a dual coffee brewer for Peet's Coffee, coffee airpots, iced tea dispenser, iced tea brewer, cream dispenser, hot chocolate dispenser, juice dispenser, soda dispenser and agua fresca dispenser.
Wok'd, the Asian-inspired station, features two woks for cooking ingredients held in cold pans. Adjacent to the display case sits the deli and panini station, known as Pressed. This station's equipment package includes a frosted, tempered-glass food shield; a commercial toaster and a hot well for hot sandwiches such as pastrami dip, French dip, barbecue chicken and pulled pork. The station also contains a 60-inch sandwich prep refrigerator with a glass lid, an undercounter refrigerator, double panini press, a rapid-cook oven, two-well cold pans and an induction cooker. "Using the rapid-speed ovens in concert with the standard panini press allows us to cut the customers' wait time in half," Cacciatore says. The sandwich prep refrigerators with glass lids keep the ingredients at the proper holding temperature when the lid is closed and serve as a food shield when open.
For Roasted, the international and entrée station, team members cook chicken, pork, turkey and beef in a rotisserie oven. Eight spits allow the team to cook up to 56 chickens at once. Each day the menu features chicken and one other protein. This station also contains a hot food display case with a cured glass front similar to those found in supermarkets for displaying potatoes, mac and cheese and two or three vegetables prepared in the combi oven.
Adjacent to the case, team members carve meats to order from a warming unit heated below and above with hot lights.
Yolked, the breakfast station, features made-to-order eggs that staff prepare on self-venting infrared burners. Hot wells hold potatoes and other accompaniments. The station also features Self-Served, an area containing a bread display, a conveyor toaster for bagels and breads, cold pans, pendant lighting, a hot pan with drains and manifold, tempered-glass food shields, a waffle maker, a waffle batter dispenser, cereal dispensers, milk dispensers, juice and soda dispensers, and a tempered-glass food shield with heat lamps. The team serves breakfast in the morning and pasta in the afternoon.
Adjacent to Yolked is Frosted, the dessert station, which features a curved bakery display case containing cakes, cookies and desserts. These sweet treats are prepared at Glendora Café and Bakery, the campus dining operation located a mile from campus. The bakery also produces bread used elsewhere on campus by the dining services department. Also at Frosted sit a frost top and a countertop self-serve machine that uses an air pump to create a creamy texture in ice cream and yogurt mixes. This machine dispenses a nondairy, lactose-free, gluten-free soft-serve dessert.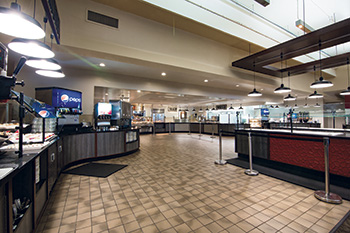 Yolked features breakfast and pasta menu items prepared on self-venting infared burneesSituated in another part of the servery, the Asian-inspired station, Wok'd, features all gluten-free menu items, including noodle dishes, stir-fries and soups. "We were challenged to find gluten-free sauces other than soy sauce, which is readily available," Cacciatore says. "We now develop our own recipes and make our own sauces."
When preparing stir-fries, team members use two woks to cook ingredients held in cold pans and display them on a 36-inch thermal shelf before portioning out for customers. This station also features pho the team produces by combining ingredients such as sprouts, spinach, bok choy, chicken, mushrooms, cilantro, chili peppers and broth made in the back kitchen. The pho stays warm in 11-quart soup wells. Two rice cookers (one for brown and the other for white rice) sit on this station's counter.
In the back of Wok'd, kitchen designers installed a work station for light prep. "We had to work around the plumbing issues because there was no water in that part of the room, so the design team put in hand sinks that are built into the millwork and slide out like a drawer," Cacciatore says.
The U-shaped salad station, Tossed, is a centerpiece of the servery with a cloud feature that hangs over the entire salad bar area. The station features a 48-inch refrigerated sandwich prep unit with a glass lid and cold pans holding ingredients for team members to prepare daily-featured tossed salads such as spinach with strawberries and walnuts or a Caesar salad or arugula and wild greens. Two soup options are kept warm in 11-quart built-in soup wells.
The other side of the U contains a section with local farm ingredients held in cold pans for prepared salads and another section with ingredients for make-your-own salads in cold pans. One side contains a low partition wall with frosted glass. Undercounter refrigerators store backup ingredients and have built-in, hideaway hand sinks that slide out from the counters.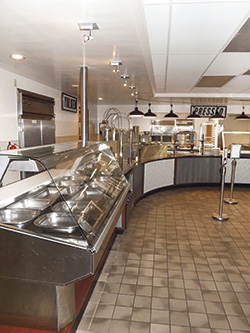 Frosted sits at left and a coffee station on the right.Old equipment in 1899 was replaced with Energy Star–rated equipment when available. All new lighting is LED, and chefs incorporate many locally grown ingredients into the menus. "We are cooking in smaller batches and mostly to-order," Cacciatore says. "This has reduced waste from overproduction and helps us maintain a consistently fresh product. We prepare and cook most of the ingredients on platforms in front of customers, which gives customers more assurance that they are receiving fresh, high-quality items." Though nothing new was added to the dishwashing area, the team composts all fruit and vegetable trimmings.
Since its opening a year ago, 1899 Dining Hall continues to receive rave customer reviews, and the 25 percent traffic increase remains consistent. The culinary staff's insistence on featuring fresh and often locally grown ingredients brings this operation an infusion of life that meets the original project goals of enhancing a sense of community and the overall perception of campus dining.
Facts of Note
Opened: June 2015
Enrollment: 10,000
Campus Dining: an all-you-care-to-eat dining hall, 1899; eight retail units; two convenience stores
Scope of 1899 Project: Servery remodel with equipment replacement, millwork additions and new signage; addition of 50 seats. Stations include Roasted, Yolked with adjacent Self-Served, Wok'd, Pressed, Frosted, Tossed
Size: 1,800 sq. ft.
Seats: 300
Average Check: $9.00
Total Annual Sales: $1,000,000
Daily Transactions: 850 to 900
Hours: 6:30 a.m. to 7:30 p.m.
Menu Specialties: Rotisserie favorites from Roasted station, Asian stir-fries and pho, paninis, tossed salad bar, made-to-order breakfasts
Staff: 8 full-time; 25 students part-time
Total Project Cost: $450,000
Equipment Investment: $108,000
Website: www.apu.edu/diningservices/about
Key Players
Owner: Azusa Pacific University, Azusa, Calif.
Associate Vice President, University Services: Roger Hodsdon
Executive Director, University Services: Samuel
Samaan, M.Ed., CFSP I, CASP
Director, Dining Services: Jim Cacciatore
Executive Chef: Daniel Durfort
1899 Chef/Manager: Maged Gerges
Architect: N/A
Interior Design: Partners by Design, Manchaug, Mass.
Foodservice Consultants: Partners by Design, Manchaug, Mass.; Dennis LaPlante, principal; Jim Schwandt, director of business development (Elizabeth, Colo.); John Keating, senior project manager; Ziggy Kulma, project manager
Equipment Dealer: Partners by Design, Manchaug, Mass.
Construction/Installation: Partners by Design, Manchaug, Mass.
Photos courtesy of Azusa Pacific University LLC; photographs by Nicole Moriguchi, Lindsay Parkes and Connor Fisher
Carved meats attract customers to Roasted.
Executive chef Daniel Durfort serves stir-fry at Wok'd.