The National Restaurant Association Educational Foundation (NRAEF) honored members of America's armed forces for excellence in foodservice with a series of awards.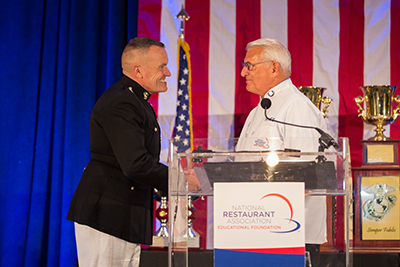 Major General Vincent Coglianese of the U.S. Marine Corps (left) greets Dick Hynes of the ITW Food Equipment Group during the awards ceremonFollowing is an overview of the military foodservice operators receiving awards in 2016:
The Philip A. Connelly awards (Army):
Best garrison food operation: HHC, 21st Special Troops Battalion, 21 Theater Sustainment Command, Kaiserslautern, Germany
Best active army field kitchen: 307th Brigade Support Battalion 1st Brigade Combat Team 82nd Airborne Division, Fort Bragg, North Carolina
Best Army Air Reserve: 423rd Transportation Company, Colorado Springs, Colo.
Best Army National Guard: HHD 110th Multi-Functional Medical Battalion, Nebraska Army National Guard, Lincoln, Neb.
The Marines W.P.T. Hill awards (Marines):
Best military/contractor garrison mess hall: Mess Hall 5500, Marine Corps Air Station Miramar, Marine Corps Installations West, San Diego, Calif.
Best full food service contracted garrison mess hall: Mess Hall 3120, Marine Corps Base, Marine Corps Base Camp, Marine Corps Installations West, Camp Pendleton, Calif.
Best active field mess: Marine Wing Support Squadron 172, Marine Aircraft Group 36, 1st Marine Aircraft Wing, Iii Mef, Okinawa, Japan
Winner for the best reserve field mess: Combat Logistics Regiment 45, 4th Marine Logistics Group, Marine Forces Reserve, Smyrna, Ga.
Captain Edward F. Ney Memorial Awards (Navy):
Best aircraft carrier: USS DWIGHT D. EISENHOWER (CVN 69), Naval Station Norfolk, Norfolk, Va.
Best small/medium afloat: Afloat USS ANTIETAM (CG 54), Naval Activity Yokosuka, Yokosuka, Japan
Best large afloat: USS WASP (LHD 1) Naval Station Norfolk, Norfolk, Va.
Best large ashore: Commander Fleet Activities Yokosuka, Yokosuka, Japan
Best small ashore: Naval Base Point Loma, Point Loma, Calif.
Best submarine: USS TEXAS (SSN 775), Pearl Harbor, Hawaii
Captain David M. Cook foodservice excellence awards:
Best foodservice operation (small category): USNS PECOS (T-AO 197), USNS RICHARD E. BYRD (T-AKE 4)
Best foodservice operation (large category): USS MOUNT WHITNEY (LCC 20)
John L Hennessey awards (Air Force):
Air Force region 1 category: Patrick Air Force Base, Cocoa Beach, Fla.
Air Force region 2 category winner: Joint Base Elmendorf-Richardson, Anchorage, Alaska
2016 John L. Hennessey awards for Air Force Reserves: Westover Air Reserve Base, Chicopee, Mass.
In addition, the Senior Master Sergeant Kenneth W. Disney foodservice award was presented to the 157th Air Refueling Wing, Force Support Squadron, Sustainment Services Flight, Portsmouth, N.H.