An event at the University of Massachusetts Amherst celebrates the Best Campus Food as designated by the Princeton Review.
Receiving top honors for "Best Campus Food" by the Princeton Review 2016 Edition is worthy of celebration.
That's exactly what University of Massachusetts Amherst, one of the campuses winning top honors, agreed was appropriate. But Ken Toong, executive director, auxiliary enterprises; Christopher Howland, director of purchasing and marketing, auxiliary enterprises; Martha Monaghan, special events manager; and dining services team members decided that celebrating alone wasn't enough. They invited other top-honor recipient schools to the UMass campus to showcase their cuisine on April 1. The event took place at Hampshire Dining Commons, where nearly 3,000 students came to sample the fare from 5 p.m. until 9 p.m.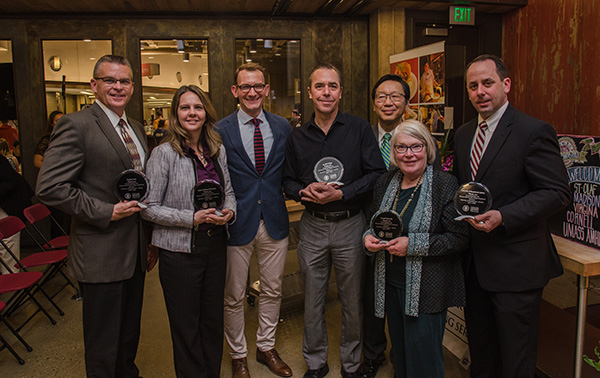 Receiving awards for "Best in Dining" are, from left, Ted Faulkner, director of dining services, Virginia Tech; Angela Ritchie, marketing manager, James Madison University Dining Services; Princeton Review's Robert Franek; Peter Abrahamson, general manager with Bon Appetit, St. Olaf College; Ken Toong, UMass Amherst Dining; Gail Finan, Cornell University; and Christopher Howland, UMass Amherst Dining.
In addition to UMass Amherst, Cornell University, Virginia Tech, St. Olaf College and James Madison University participated in this culinary extravaganza.
During the evening, UMass students, culinary staff and participating campus visitors walked through the Hampshire Dining Commons concourse where they watched as each college's chefs prepared several dishes, including entrees and desserts that are popular on their campuses. Each display station featured prepared food and displayed recipes and merchandising materials.
Each college presents dishes and merchandising materials.
Though UMass students always see culinary staff using equipment during regular meal service, as part of this event they saw staff use equipment to prepare menu items contributed by the other colleges.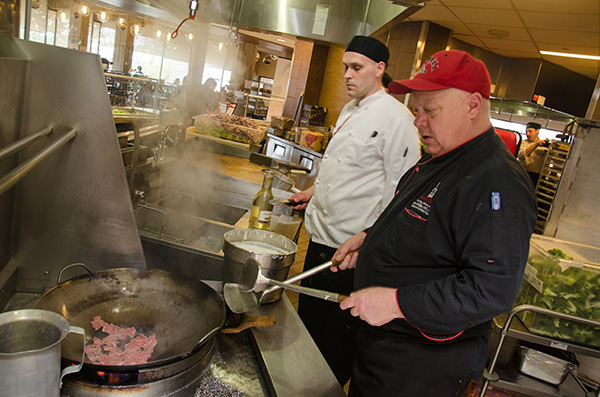 The Cornell University team uses the wok to prepare beef and broccoli.
"The equipment we all use doesn't get much attention but without the right equipment we never could produce high quality menu items and receive the recognition from Princeton Review," says Gail Finan, director of dining and retail services at Cornell University. Following strict HACCP guidelines to be certain sanitation standards are maintained is also crucial to high quality food production, she adds.
The James Madison University team assembles ingredients for their menu selections.
Also during the event, winners and students gathered in Hampshire Room, a glass windowed private dining room adjacent to the servery stations, to hear presentations by the four participating schools' dining services associates about their university's dining programs. Each school presented images of its own special events and dining facilities. Robert Franek, Princeton Review's senior vice president and publisher of The Best 397 Colleges, presented "Best Campus Food" plaques to each school.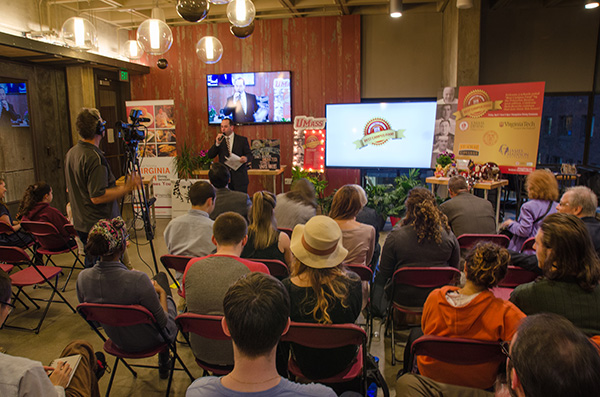 Christopher Howland speaks to a group of students about the Princeton Review honors.
"Bringing some of the best food schools under one roof to showcase campus dining excellence allows our students to experience what their peers from other schools like to eat," Toong says. The event also calls attention to UMass's accomplishments in sustainability, healthy eating, world cuisines and regional comfort foods.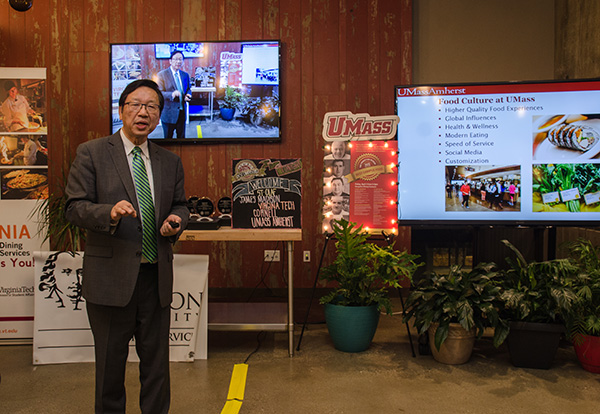 Ken Toong explains UMass Amherst's approach to a sustainable, high quality foodservice program.
Photographs by Keith Toffling, This email address is being protected from spambots. You need JavaScript enabled to view it.