African flavors topped the National Restaurant Association's 2016 What's Hot list, trending at 62 percent, above Latin American, Middle Eastern and Southeast Asian flavors. As a "mover and shaker," African flavors saw a 20 percent jump in popularity from 2015 to 2016.
On Fire: Nando's PERi-PERi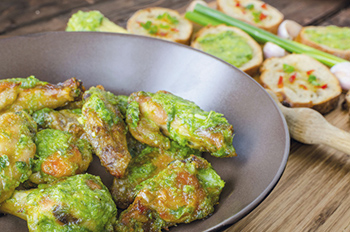 Nando's PERi-PERi, the South African-Portuguese chain known for its spicy flame-grilled chicken that is marinated for 24 hours, continues to expand across the country. The first Nando's opened in 1987 in Johannesburg, South Africa, and has since spread to 23 countries on 5 continents. Since opening its first U.S. location in Washington, D.C., in 2008, the chain has added more than two dozen restaurants across Virginia, Maryland, Chicago and Baltimore. In Chicago alone, Nando's PERi-PERi added four locations in just the past year, with more to come.
Wildly successful as a result of its cult following across the world, Nando's focuses on authentic, fresh food inspired by South African and Portuguese flavors in a design-forward setting with bright colors, earthy textures, sofa-style banquettes, Senegalese woven pendant lamps and unique artwork. The chain is a large collector of South African contemporary art. In the United States alone, there are more than 600 pieces of original art in Nando's restaurants.
Harissa: The "Hot" Ketchup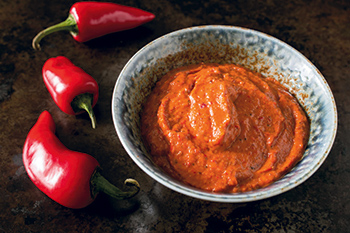 A spicy blend of hot chiles, garlic, cumin, coriander and olive oil, this Tunisian condiment has made its way into the American mainstream, rivaling Sriracha among ethnic "ketchups." Often available for foodservice operators in bulk canned form, many use the condiment to flavor soups and stews, add some kick to a house-made aioli, and spice up a marinade for chicken, fish and lamb.
Concept Closeup: Marcus Samuelsson's Streetbird Rotisserie
Opened a year ago in Harlem, Streetbird Rotisserie is celebrity chef Marcus Samuelsson's latest concept. The restaurant blends Samuelsson's Ethiopian and Swedish heritage as well as other global flavors with a focus on creative, delectable chicken and other dishes in a graffiti-decorated space inspired by the hip-hop culture of the '70s, '80s and '90s. In a riff on the traditional Ethiopian doro wat, the chicken stew includes injera flatbread, fresh cheese and a boiled egg in a hearty one-pot dish.
In the front dining area, repurposed materials, including locally derived wood and West African fabric, create a layered aesthetic on the banquettes, while Harlem church pews repurposed as benches are covered in vintage designer textiles from labels like Adidas, Gucci and Louis Vuitton.
African Cooking Equipment and Supplies
Open fire pit: African kitchens often center on open flames to grill, steam, roast and fry.
Cast-iron pots: Cooks often position these vessels over open fires and/or hot coals and use them to make porridges and stews. Cooks also use these sturdy vessels like a Dutch oven or frying pot.
Mortar and pestle: African cooking is characterized by its use of a wide variety of dried spices that are ground into blends, seasoning pastes and condiments using this versatile tool.
Tajines (tagines): These earthenware pots with a round base and curvy,
cone-shaped top are used heavily in North African cuisine for slow-cooking stews and other braises when set over hot charcoal. In modern uses, cast-iron versions can be set over gas or electric stoves.